Steve Burns' Surprising Career After Leaving 'Blue's Clues'
Children who were faithful fans of Blue's Clues were shocked when Steve Burns, host of the popular children's show, announced he was leaving the Nick Jr. series in 2002. His character Steve headed to college. The host and faithful friend of the animated character of Blue the dog led children through some important life lessons. So what did Burns do after leaving Blue's Clues? You'll be surprised at his career path.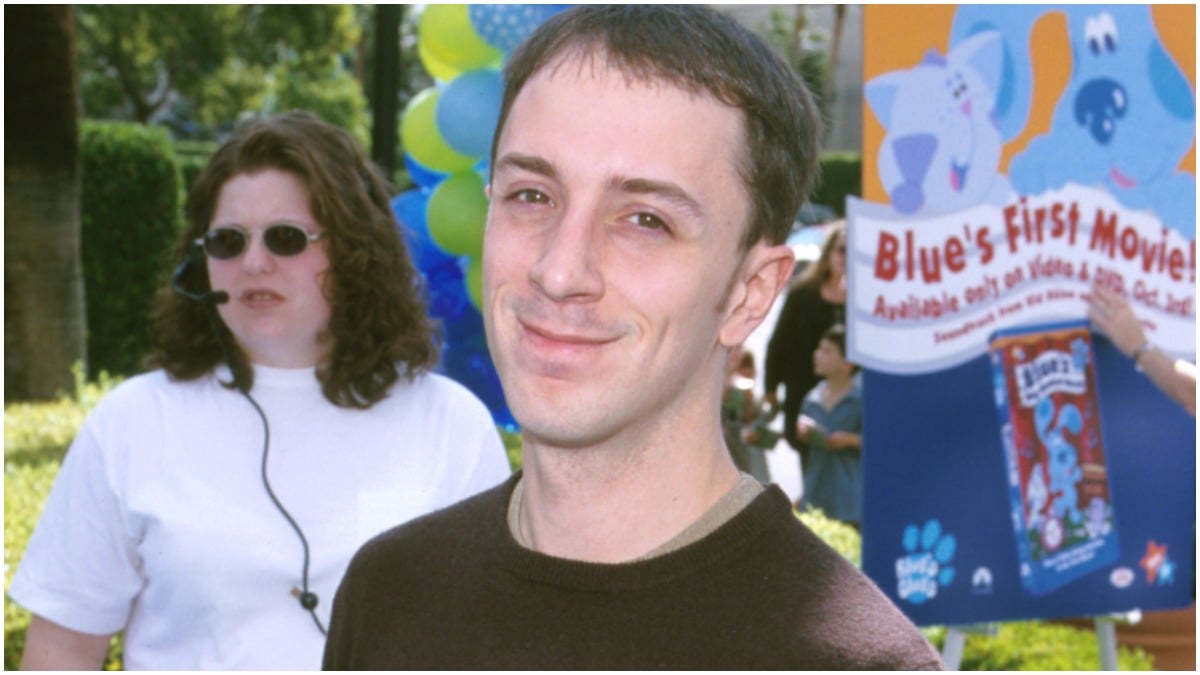 Was Steve Burns an actor before 'Blues Clues'?
Burns was born in Boyertown, Pennsylvania. He graduated from Boyertown Area Senior High School in 1992 and studied acting at DeSales University. He was discovered by an agent while acting in "A Midsummer Night's Dream" at the Pennsylvania Shakespeare Festival, reported The Reading Eagle. Burns earned raves for a 10-minute skit during the wedding scene at the end of the William Shakespeare comedy.
"Those reviews helped me get an agent," Burns said of the production. This led him to move to New York City, where he looked for work.
Burns then auditioned for a new Nickelodeon kids show titled Blue's Clues, where he would basically be performing alone in front of a green screen. Added in later were animated friends, including a dog named Blue, Mr. Salt, and Mrs. Pepper, Paprika, a dog named Magenta, Mailbox, Side Table Drawer, and Shovel and Pail.
Burns starred on Blue's Clues from 1996 through 2000. However, his episodes ran until 2002."The series began in 1996," he said, "and I left in 2000. But my episodes ran until 2002. So let's say it was six years. I made more than 100 episodes."
What did Steve leave "Blue's Clues?"
Burns left Blue's Clues and the character of Steve behind for personal reasons. He confirms that getting older and losing his hair confirmed his decision.
"I left the show because it was just simply time to go. I was pretty much playing a boyish, older-brotherish kind of character on the show. I was getting older; I was losing my hair; a lot of the original gangsters on the show, like the people who created it, were all moving on to other careers. It just felt like time. I just had a gut feeling like it was time to go," said Burns. to The Huffington Post.
Steve's goodbye in 2002 was strategic so that young viewers wouldn't be shocked or too upset. They made sure to find a good match to play Steve's younger brother Joe, portrayed by Donovan Patton.
What has Steve done since leaving the show?
Since departing the Nickelodeon show in 2000, Burns explored a music career. "I certainly wasn't leaving Blue's Clues to pursue a large music career because that never even happened. That was just a wonderful dream come true, [a] hobby thing that happened after Blue's Clues," he explained.
He joked that since he left the show, he has been "earnestly balding" and has done work as a voice-over actor. Burns said that while even on the show, he kept working in that field and joked, "If you hear a guy on TV that tries to sell you insurance and sounds like the guy from Blue's Clues, that's me.
His feelings on being such a memorable part of so many children's memories
Burns told The Huffington Post it felt "like a dream" to be a part of the kid's show. "Wait, people watched that all over the world?" he reacted.
"For me, it's a very different experience than it is for everyone else, but to know that people who watched Blue's Clues now have children that watch is a real brain-burner, that's for sure. But it's all just really cool. Maybe I'm Grover to somebody. That's awesome. That's just completely awesome," he said.
Steve Burns posted a video to Instagram on Sept. 8, 2021, where he addressed his departure from Blue's Clues in honor of the show's 25th anniversary.