Steve Carell Improvised This Hilarious Moment on 'The Office'
The Office was one of the funniest shows to ever grace television, thanks to Steve Carell's portrayal of Michael Scott. While the "World's Best Boss" was undoubtedly written well, Carell brought something unique to the role when he improvised during scenes. 
One of the funniest scenes from The Office was an improvisation from Carell.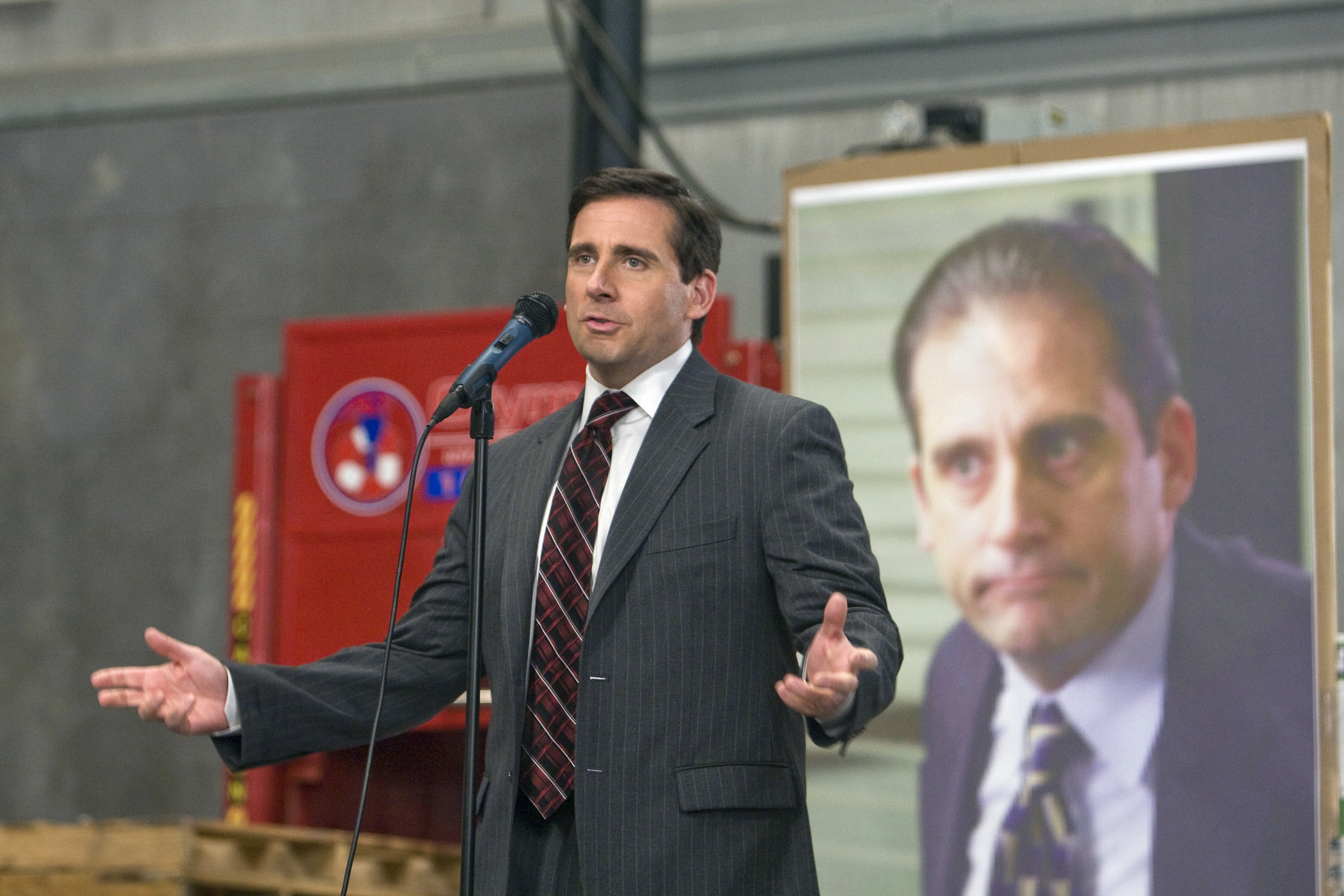 'Gay Witch Hunt' is an important episode of 'The Office' 
Fans of The Office probably remember the "Gay Witch Hunt" episode as "the one where Michael kissed Oscar (Oscar Nuñez). 
"Gay Witch Hunt" was the first episode of season 3. It featured a Jim-less (John Krasinski) Scranton branch — he had moved to Stamford, Connecticut after professing his love for Pam (Jenna Fischer) and getting denied — and a Michael Scott eager to demonstrate tolerance in the workplace. 
Naturally, Michael thought the best way to do that was to kiss the sole gay man in the office. 
There's an important message of tolerance hidden within the laughs 
As funny as that episode is, it also served as a critical commentary on a prevalent social issue at the time — homophobia in the workplace. 
"The writers did that a lot — poke at social issues that other shows would not," Baumgartner pointed out on his podcast, An Oral History of The Office.
When "Gay Witch Hunt" debuted on television, corporate America observed a "Don't ask, don't tell policy." Same-sex marriage was not yet legal, and people were still using "that's so gay" as an insult. 
As the first person of color playing a gay man on prime time television, Nuñez believed The Office could make anything comedy as long as the writing was done tastefully. For him, The Office was funny and intelligent because the writing "came from the right place." 
Fortunately, audiences and critics had nothing but good things to say about the iconic episode. 
"That reason that episode works is because it's reinforcing the belief that it's totally fine to have gay friends in your life," critic Emily VanDerWerff explained. "There is a joke buried in that episode that is very progressive in its values and the way it talks about what it means to be a gay man in America. But also the joke on its surface is 'Oh my god, Michael Scott is going to try and kiss Oscar." 
Ironically, that joke wasn't written into the original script. Carell felt like it was the right thing to do.
Steve Carell improvised the kiss in 'Gay Witch Hunt'
As a talented actor, Carell had a knack for knowing when to improvise in a scene. 
"Steve had an ability to understand the subtext of all the text [in a script]," writer Jen Salata explained. She called Carell's kiss with Nuñez "one of the best moments of the whole show."
In the original script, Nuñez explained how Carell was only supposed to hug him in that conference room scene. 
"[The kiss] was not scripted," Nuñez told Baumgartner.
He just did it. I thought at the time he was just messing around because he was bored.

[Then I thought] 'No, no, no.' He did it because he was just hugging me. Up to that point he kept hugging me, and that's nothing — not for an Office scene. Not for a conference scene. Something's gotta happen in that conference room.
And happen it did. 
"Whenever you come into the office, I want you to think about this," an uncomfortable Michael Scott said as he pressed his lips to Oscars. 
Carell's improvisation — as awkward as it was — worked. As Salata mentioned, "it was on story, it was on theme, and it was funnier than what was scripted."