Steve Carell Was the Best Part of 'The Office,' According to the Cast and Crew
Find out how Steve Carell was behind the scenes of 'The Office,' as told by some of his cast members and crew.
Steve Carell's Michael Scott is undoubtedly one of the best parts of The Office for fans. But behind the scenes, Carell was an all-around great guy, too. The cast and crew of The Office shared some of their favorite Carell memories on Brian Baumgartner's podcast, An Oral History of The Office.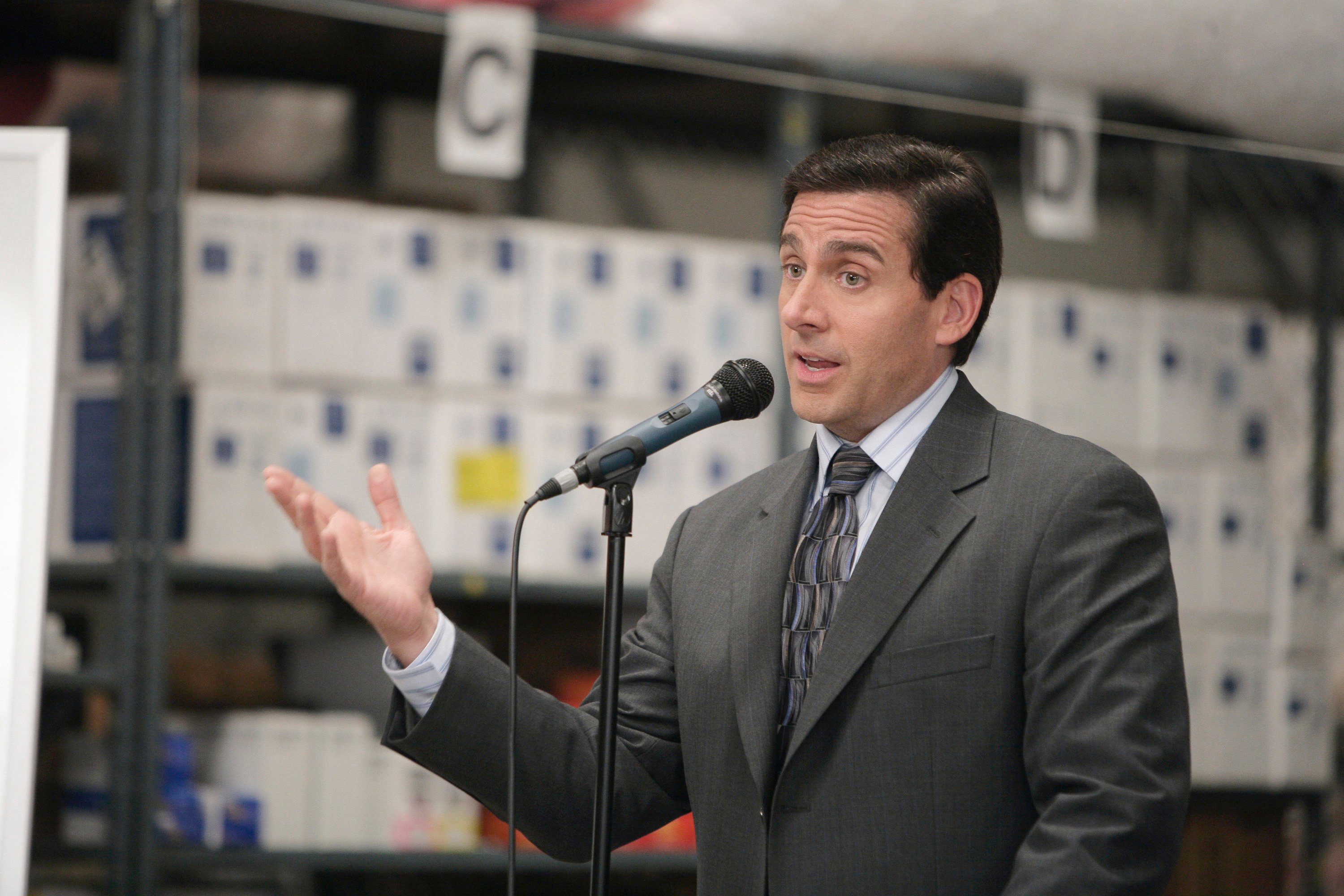 Steve Carell's last day on the set of 'The Office' was an emotional one
Baumgartner recalled Carell's last day on set fondly. After shooting the final scene — Jim (John Krasinski) and Michael's goodbye, there was a cast and crew party. 
"We all, en masse, walked over to the warehouse set and had a big party," Baumgartner said. "We retired Steve's number — number one on the call sheet. For the rest of the show, no other actor would be number one on the call sheet." 
The cast gifted Carell with a hockey jersey that had the number one on the back of it. Oscar Nunez remembered crying when they gave Carell his gift. "I had to excuse myself," Nunez said. Carell was going to be missed.
Greg Daniels had everyone tell their 'best Steve story' on Steve Carell's last day 
During Carell's farewell party, producer Greg Daniels wanted to commemorate Carell's time on the show. So, he asked that everyone share their favorite "Steve moment." 
From funniest takes to behind-the-scenes moments some people had never heard before, everyone revealed a special moment they shared with Carell. 
Key hairstylist Debbie Pierce recalled how kind Carell was to her, regardless of his fame. "Nobody really knew, but I was going through a situation with my hip," Pierce shared, continuing:
I was in a lot of pain and getting up and down on the van was very hard for me. Kim and all the gang, they kind of knew, so they would let me sit in the front when we would go on location.

This one day, we were all gathering into the van, Steve and some other actors, and I went to proceed to go in the back and he goes: 'Debbie, where are you going?' I said, 'I'm letting you sit here.' He said, 'You go and take that seat.'

I just thought that was such a kind thing because he is star of the show and he always did that. He would stand there at that van, he would hold the door, and help us in.
Regardless of how popular The Office got, Carell never let his fame cloud his judgment or attitude toward others. 
Steve Carell's kindness never went unnoticed on the set of 'The Office' 
Daniels also recalled several times where Carell went out of his way to help the cast and crew. Whether it was carrying crates of hair and makeup supplies or giving someone a laugh, Carell was a joy to have on set. 
"He did [nice things] so quietly and so subtly that nobody even knew it," Daniels said. "[Debbie's story is] just one example of [the stories] people talked about [on Steve's last day]." 
When thinking about what "went right" with The Office, Daniels said: "What went right was Steve Carell." 
When The Office began, Carell was just like his co-stars — on the rise. But even as he gained fame and notoriety, Carell never let that define him, especially on the set of the show.
"All of the pretention [and] self-importance that goes along with people who are known, he had none of it," Baumgartner said. 
"Steve Carell got really famous when he was 40-years-old," Daniels added. "That means that he has had to work for what he's gotten, so fame bounces off of him." 
Carell's positive and humble attitude was reflected on and off the screen. His co-stars, crew, and even fans are grateful to have gotten to know him.