Steve Carell's Surprise Appearance at 'The Office' Wrap Party in Scranton Made Everyone Lose Their Minds
When Steve Carell made an appearance on the series finale of The Office, fans were thrilled about his return. His character, Michael Scott, had left at the end of season 7 and the actor's return to the show had been kept a secret so the surprise would be special. When the series ended, Carell surprised fans again, showing up at the wrap party in Scranton, PA.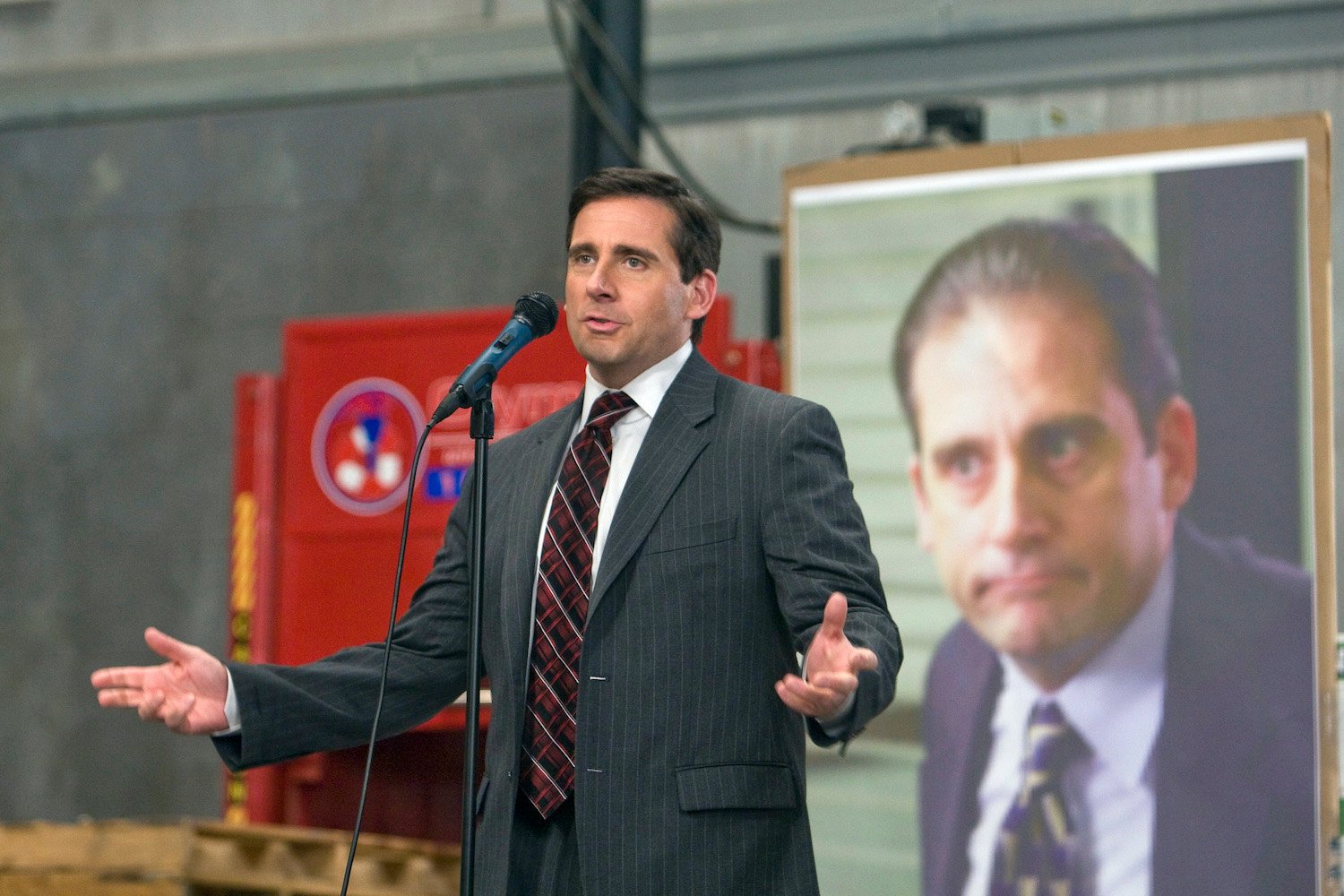 Steve Carell made a surprise appearance on 'The Office' finale
As The Office approached the end of the series, many fans wondered if Michael Scott would return for the finale. He did, but the special appearance had to be kept secret from everyone — the cast, crew, and the network.
During the Sept. 8 episode of An Oral History of The Office podcast, editor Dave Rogers explained, "We lied to everybody about Steve."
Host Brian Baumgartner shared how there were few people who knew the secret. "They lied to everyone else, including most of the cast, crew, and most significantly, the network."
The reason was simple. They didn't want any spoilers about Carell's return ahead of the series finale and were certain that NBC wouldn't have kept it secret.
Steve Carell wanted to be in a special parade at the wrap party event
Given its connection to Scranton, Pennsylvania, The Office held their wrap party in the city and it was a huge celebration.
Carell, the event organizers said, had wanted to be part of a big parade in a giant 'World's Best Boss' coffee cup, but they had to scrap the idea of his appearance because of security concerns.
During the podcast, Baumgartner discussed some of the specifics of that amazing Scranton wrap party in 2013 — and though Carell couldn't be in the parade, he did make an appearance.
"The parade was so crazy that Steve Carell could not even come. No giant coffee mug for him," Baumgartner said. Since the finale episode wasn't airing for another week and Steve's appearance on the episode wasn't yet known, the fans had no idea.
Fans lost their minds when they saw Steve Carell
Having Carell in the parade would have been mayhem and the organizers thought they wouldn't have been able to protect him from the crowds.
Carell did attend the second part of the wrap party celebration, a Q and A with the cast, at Scranton's minor league baseball stadium. Baumgartner said it was "the only venue big enough to fit all of the people who wanted to be there."
Jenna Fischer explained how the crowd went wild when Carell was announced. "The moment that Steve walked out on that baseball field, oh my gosh… the crowd just erupted. It was amazing."
When Carell walked out, one of the event organizers said the crowd "just lost their minds," sharing, "That is what happiness looks like, that's what joy looks like… everybody's faces were just lit up, including Steve's."