Steven Spielberg Once Explained Why He's Never Made an 'E.T.' Sequel
In Hollywood, nearly every hit movie inevitably gets some kind of sequel, spinoff, or remake. However, Steven Spielberg has resisted the possibility of a sequel to 1982 hit 'E.T. the Extra-Terrestrial.' And he once explained exactly why he's not interested in it.
Steven Spielberg might not have received his first Academy Award until more than two decades into his career. But the director of such hits as Jaws, Raiders of the Lost Ark, and Jurassic Park didn't wait long to establish himself as Hollywood's go-to blockbuster filmmaker. Spielberg's E.T. the Extra-Terrestrial even held the title as the highest-grossing of all time for years. Yet, Spielberg never made a sequel. Here's why he didn't want to.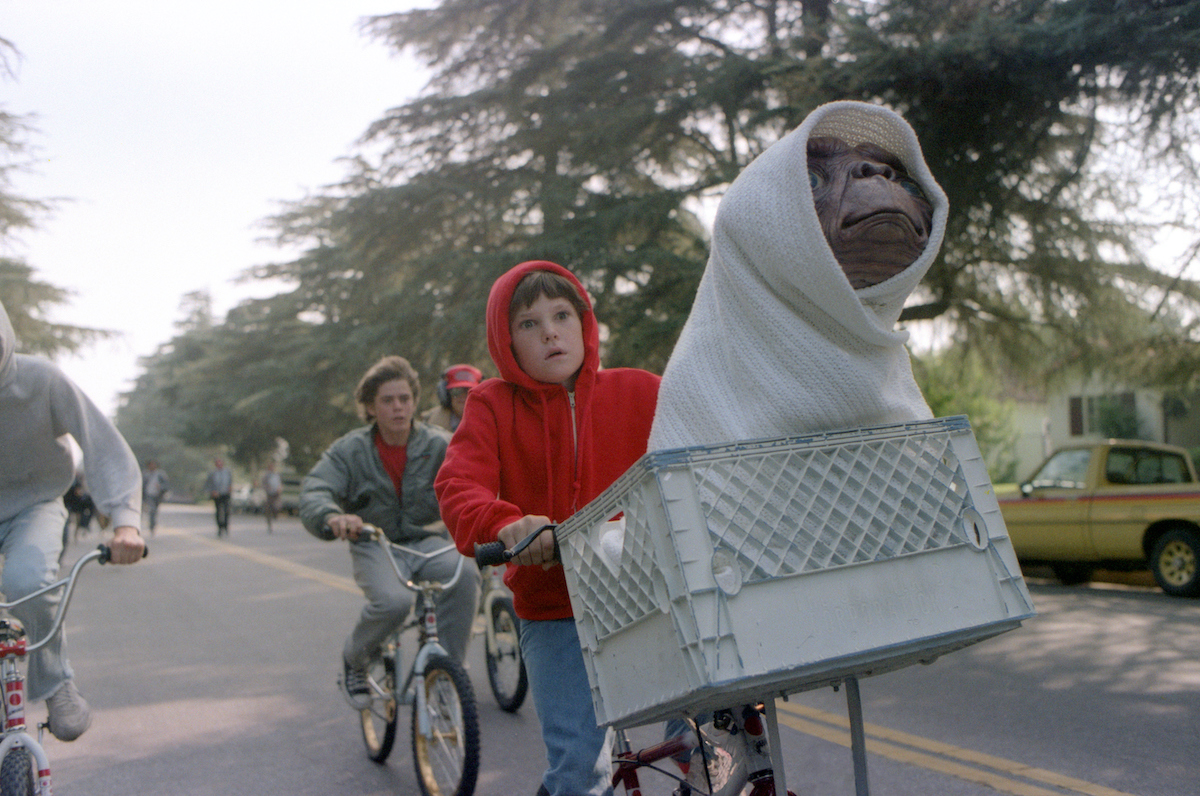 Does Steven Spielberg make sequels?
Granted, Spielberg isn't exactly averse to sequels. As a producer, he has shepherded countless franchises, including their sequels. These include Back to the Future, Gremlins, Men in Black, Transformers, and his own Jurassic Park. In the case of that last one, Spielberg even directed its first sequel, 1997's The Lost World: Jurassic Park, himself. He has since only served as an executive producer on subsequent installments.
The only franchise the director has stuck with over the years as a director is Indiana Jones. Spielberg helmed all four entries in that series, including the divisive Indiana Jones and the Kingdom of the Crystal Skull. However, the director has even stepped away from that franchise. James Mangold (Logan) will direct the upcoming Indiana Jones 5, with Spielberg only serving as an executive producer this time around.
Why 'E.T. the Extra-Terrestrial' never got a sequel
Yet, E.T. the Extra-Terrestrial remains the biggest Spielberg movie never to get a sequel of any kind. And in a 1985 interview with Rolling Stone, the director opened up about why he resisted revisiting that story.
"While I've thought about it, I still feel that all an E.T. sequel could do is disappoint people. Nothing will be as innocent. A sequel would be a business decision, and I am not prepared to make such a decision, using E.T. as the trump card. … I have personal feelings about this. I've gotten a lot of things from him in my life, beyond the commercial success.

I'm not sure I want to trade on that — just to do a movie that would bring in $300 million. I'm not chasing dollars now. I would love E.T. to be handled the way Disney used to handle their feature films. I would like E.T. to be released every five to seven years in movie theaters for another generation of children. E.T. is not a home cassette or cable experience. It has to be shared in a theater."
Initially, Spielberg even scrapped an alternate ending which would have left the movie open for a sequel. So it doesn't seem like his feelings have changed much in the decades. His hopes for periodic re-releases of E.T. haven't panned out. But the movie did return to theaters for its 20th anniversary in 2002.
Steven Spielberg is branching into musicals next
Rather than continuing to revisit his most famous movies, Spielberg has pushed ahead with a variety of other stories. Often, he brings historical dramas such as Munich, Bridge of Spies, and The Post — the latter two of which star longtime friend and collaborator Tom Hanks — to the screen. But he's about to try something new.
Even with his legendary career, Spielberg has never made a musical. But in 2021, he's taking on one of Hollywood's most famous musicals with a remake of 1961 classic West Side Story. Spielberg has previously revealed why he felt the time was right to revisit the story. And his version hits theaters on Dec. 10, 2021.