Stevie Nicks Helped George Harrison Write the Sequel to This Beatles Hit
Stevie Nicks likes to collaborate with other artists. She's recorded songs with Tom Petty, Don Henley, Dave Stewart, and Sheryl Crow. Not to mention, Nicks had a great partnership with Lindsey Buckingham and the rest of Fleetwood Mac. However, most people don't know that Nicks collaborated with George Harrison on a song in the late 1970s- one that was a sequel to one of George's hits with The Beatles.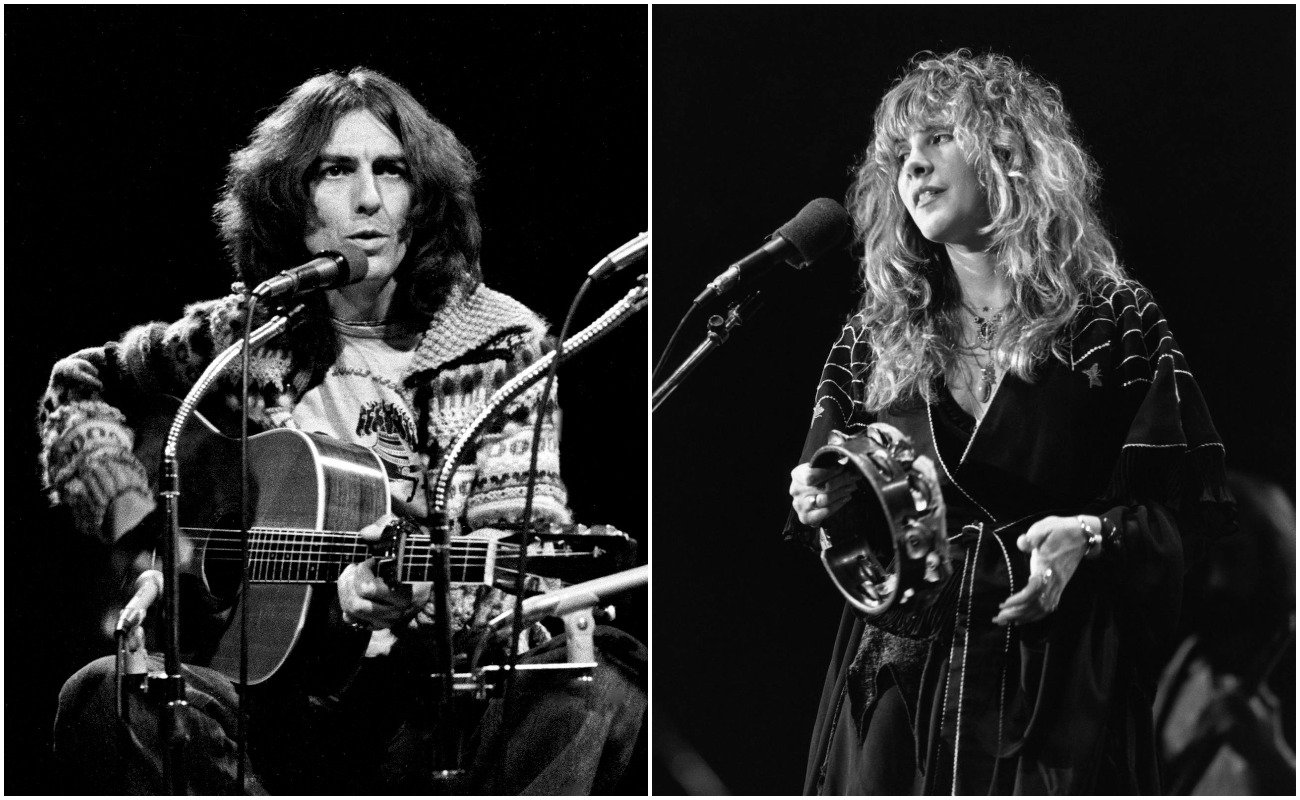 Stevie Nicks and George Harrison hung out together in Hawaii in 1978
Nicks and George spent some time together hanging out with a bunch of people in Hawaii in 1978. The purpose of George's visit to Maui was to write songs for his new album George Harrison, but also so he and his then-girlfriend and future wife, Olivia Arias, could relax before becoming parents for the first time.
"We spent some time just hanging out, and not really writing, but like pretending, trying," Nicks said (per Far Out magazine). "I got to spend like two days with a bunch of people, and him in Hawaii once. Also, when Rumours was coming out, I got to spend some time with him in Mexico, in Acapulco when there was a Warner Bros. convention."
Nicks said George was very charismatic. "He was handsome, he was debonair, and he was funny," she explained. "He liked Dave Stewart. They all have that certain je nais se quois that's just so attractive and easy to be with. You didn't know him, then you've known him fifteen minutes, and you feel like you've known him a long time."
RELATED: Jimi Hendrix Dedicated A Song to Stevie Nicks Before She Joined Fleetwood Mac
Nicks helped George write 'Here Comes the Moon'
In Graeme Thomson's book, George Harrison: Behind The Locked Door, Nicks says that although she is uncredited, she helped George write "Here Comes the Moon," the sequel song to George's popular Beatles hit, "Here Comes the Sun."
Nicks and George had a mutual friend in restaurateur Bob Longhi, and they all hung out in Hawaii. "We were writing a sort of parody of 'Here Comes The Sun,'" Nicks explained in Thomson's book. "Longhi was saying, 'You guys are always writing about the moon instead of the sun,' and I said, that's because by then we were all night birds."
Nicks is still a night bird. For most of her life, Nicks has had an extremely late bedtime. So it must have been great for Nicks to have someone to stay up late with her. During their late-night talks, George even gave Nicks some advice on being famous, something he tended to do with his friends.
"We just hung out and wrote and sang and talked," Nicks said. "I had been famous for not even quite three years and we were talking with George about being famous and what it meant and you had to give up." Being in one of the most famous bands in the world, George definitely knew what one had to give up to be famous.
RELATED: Lindsey Buckingham Says Stevie Nicks Was Like Trump During His Firing
Nicks keeps a photo of her, George, and Longhi on her whenever she tours
Nicks' time spent with George had such a profound effect on her that she keeps a photo of her, George, and Longhi with her when she tours. The picture is one of her most precious possessions and a motivational tool.
Nicks has to have the photo with her on tour as "a poignant reminder to never take performing on stage for granted," Far Out magazine writes.
"When I go on the road it goes right on my makeup mirror," Nicks once said. "So before I go on stage, whether it's with Fleetwood Mac or me in my solo career, the three of us are looking back at me, and that has been my inspiration every single night."
Looking at the photo has given Nicks the motivation on some of her rougher nights on stage. "There's lots of nights where you kind of go, I wish I didn't have to go on stage tonight, I'm tired, I don't feel like doing it, and I look at George Harrison and look at Longhi and look at me and I go: 'Well, you just have to, because it's important, it's important to make people happy, so get out of your chair, put on your boots and go out there and do your thing.'"
It's no wonder George and Nicks were able to become friends in a short time and squeeze out a tune, no less. We wish we could have been a fly on the wall for that one.