Stevie Nicks Once Said The 'Electric' Attraction With Lindsey Buckingham Will Never Die
Stevie Nicks and Lindsey Buckingham have a famously fraught relationship. Their eventual breakup was the inspiration behind one of Fleetwood Mac's top albums. While their relationship ended in the 1970s, Nicks admitted that the moment she realized it was truly over occurred years later.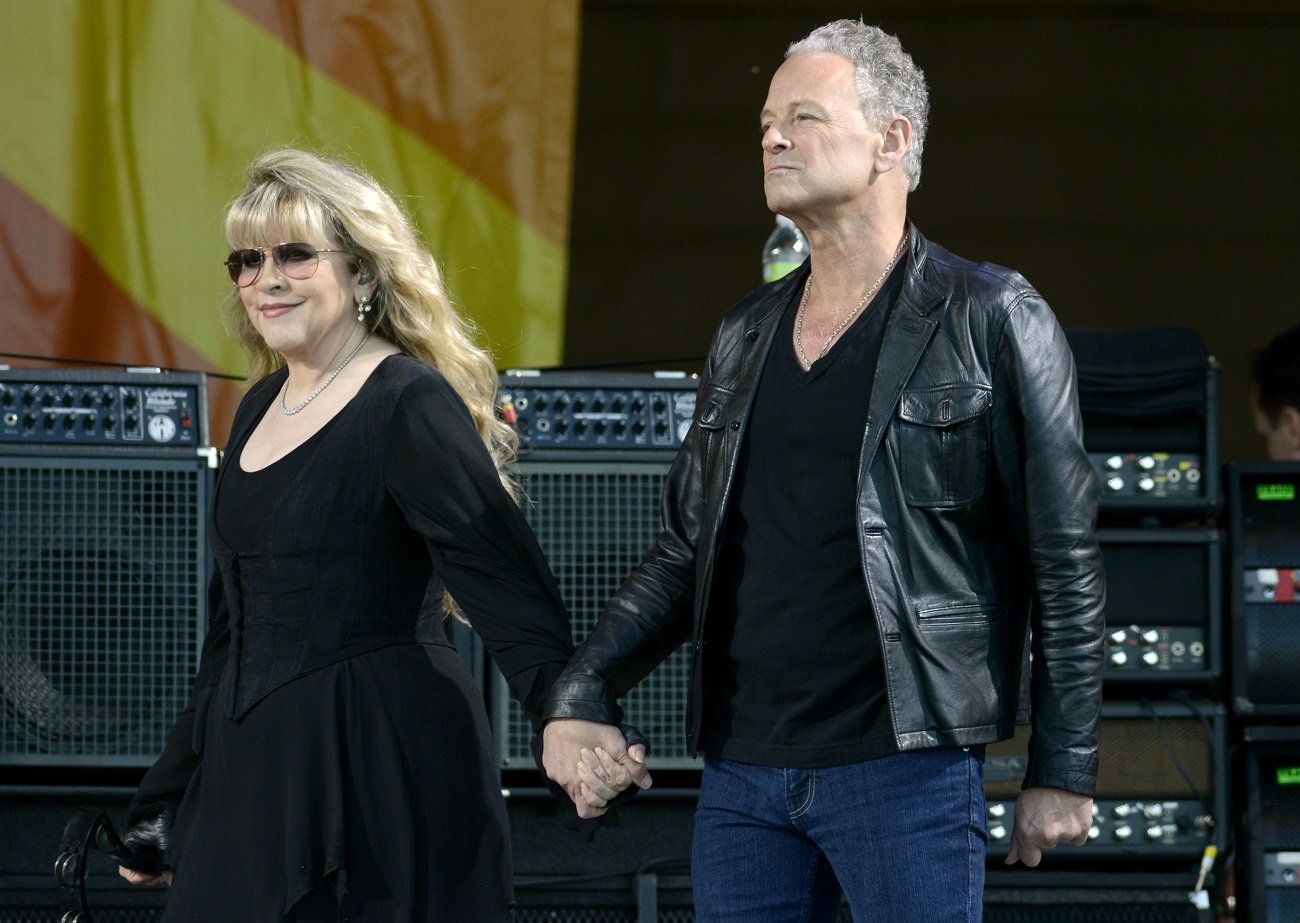 Stevie Nicks and Lindsey Buckingham had a turbulent relationship
Nicks and Buckingham met as high schoolers in California. Before any romantic connection formed, Buckingham asked Nicks to join his band, Fritz, as its lead singer. It wasn't until the band broke up in the early 1970s that Nicks and Buckingham became a couple.
In 1972, the couple moved to Los Angeles together to pursue music in earnest. They formed a group called Buckingham Nicks and released an album that flopped. Their label dropped them, forcing Nicks to pick up jobs while Buckingham worked on music. By the time they joined Fleetwood Mac in 1975, their relationship was troubled. While writing and recording their seminal album Rumours in 1977, the pair split up.
The Fleetwood Mac singer revealed when she knew it was over for good
Fleetwood Mac broke up in the 1980s, but they reunited in 1996. At this time, Nicks and Buckingham both said their relationship had improved.
"I don't feel like screaming at Lindsey right now… I'm not in a violent state of mind," Nicks told MTV in 2009.
While she said this state of calm took work, she added that they will always mean something to one another.
"That electric crazy attraction between Lindsey Buckingham and Stevie Nicks never dies, never will die, never will go away," she said. "He's married, he's happy, he has three beautiful children that I love. You know, he's found a good, happy, calm, safe place — but who Lindsey and I are to each other will never change."
Despite this, she acknowledged that the relationship was firmly over.
"It's over," she said. "It doesn't mean the great feeling isn't there, it must mean that … you know, we're beauty and the beast. It means that the love is always there but we'll never be together, so that's even more romantic."
She's able to pinpoint the moment when she realized this. Surprisingly, it came nearly two decades after the couple broke up.
"The day his first child was born," she explained. "I knew that was it…that was the definitive thing."
Lindsey Buckingham doubts Stevie Nicks ever got over him
In 2018, Fleetwood Mac fired Buckingham after his feud with Nicks reignited. Following the firing, Buckingham wondered if Nicks wasn't entirely over him.
"There were a number of years where I wasn't over her," he told The Times. "It is possible that she has never been completely over me either."
He said that ultimately, the pair never had enough time to heal from their breakup.
"We didn't have time to heal or move on in the traditional sense," Buckingham explained. "I think — and she was the one who moved away from me back then — that we both had to compartmentalize our feelings. That is not a healthy thing to do because those little compartments can remain sealed up for years, until things start seeping out when you don't realise."
Still, he said that he would be open to rejoining Fleetwood Mac if Nicks allows it.
"It would be down to Stevie having that epiphany herself. And hey, stranger things have happened. This is Fleetwood Mac. Anything is possible."
RELATED: Stevie Nicks Laid Out the Minimum Requirement to Be 'Mr. Stevie Nicks'