Stevie Nicks Thinks Reese Witherspoon Is 'Too Old' to Play Her in a Movie
Stevie Nicks thinks actor Reese Witherspoon is 'too old' to play her in a biopic. She doesn't even know if she wants her own biopic.
Many actors could play Stevie Nicks in a biopic, but the Fleetwood Mac frontwoman doesn't think Reese Witherspoon is the right fit. Initially, Nicks said the Legally Blonde actor was perfect for the role. However, the "Edge of Seventeen" singer changed her mind. Witherspoon is "too old" to play her.
Now, Nicks isn't even sure she wants a biopic.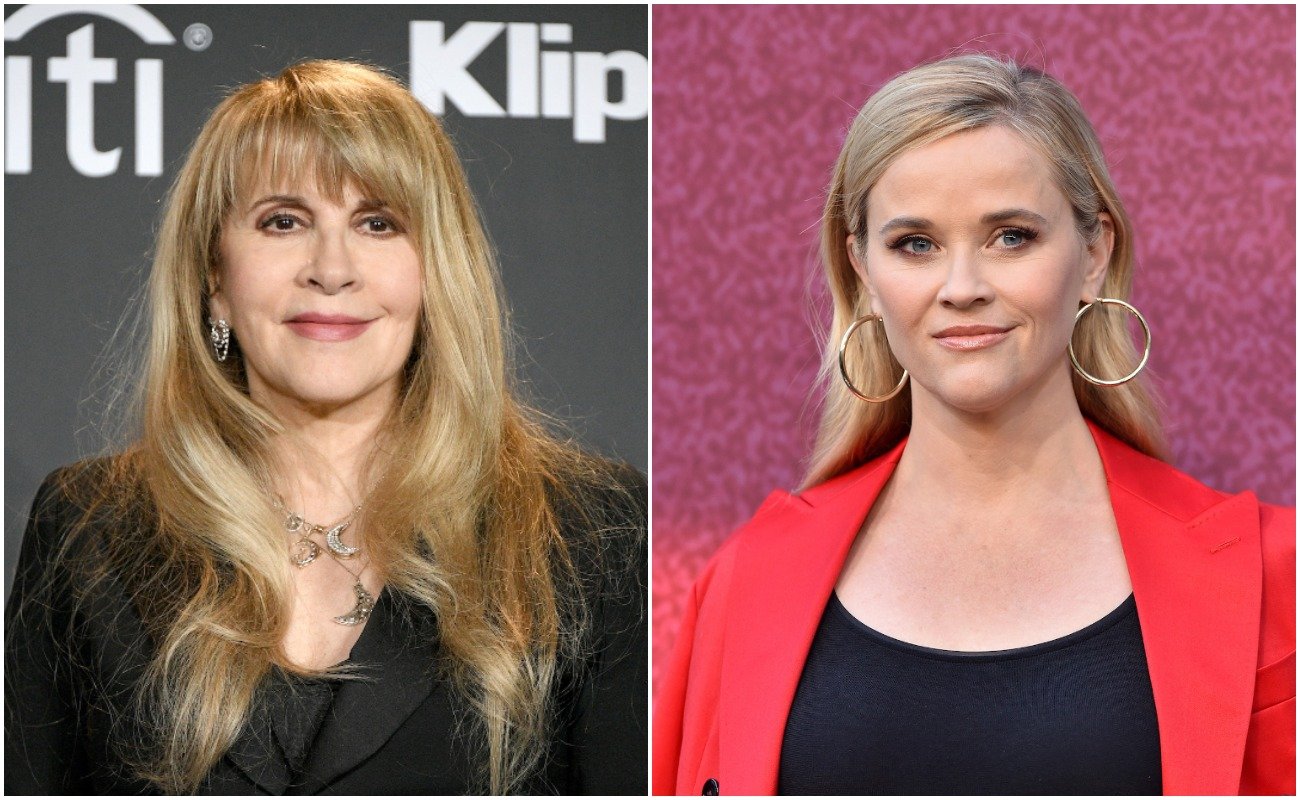 Stevie Nicks said Reese Witherspoon is 'too old' to play her
In 2013, Nicks told Entertainment Tonight Canada (per Rolling Stone) that Witherspoon would have been her first choice to play her in a biopic. However, it didn't happen fast enough, and Witherspoon outgrew the role.
"I've already told [Reese] she's almost too old," Nicks told the outlet at the premiere of her documentary, In Your Dreams. Nicks revealed her aspirations for Witherspoon, then 37 years old.
"I love her, but she's like, 'I could play your mother.' I'm like 'O.K.,'" Nicks said.
Whether she gets some role in a Stevie Nicks film or not, Witherspoon is capable of starring in a biopic. In 2005, she won an Oscar, Golden Globe, and SAG Award for her role as June Carter in the Johnny Cash biopic Walk the Line.
Nicks doesn't know if a biopic would be able to explore her entire life and career
In 2021, Nicks spoke to Tim McGraw on the latest episode of "Beyond The Influence Radio" on Apple Music Country (per Louder Sound). She contemplated the different ways she could document her life and career.
A biopic wouldn't fit everything. Writing a memoir wouldn't do either. There's just too much to say, and she would have to write a series.
"It would be such a long movie," Nicks said. "You know what I mean? That would be the problem, because what I just told you, I have like thousands of more hours that I could tell you stories that would just make you laugh so hard.
"I think that what I would do first and only lately have I thought this, I might sit down at some point across the kitchen table with some of my girlfriends who have been there for a lot of it and put on a tape recorder and just start talking from the very beginning." So maybe a really long podcast?
"If I could get it into a book, it would be like Twilight. It would be like four books. And then, if I thought that was great, then I might say, 'Well, maybe we could do like a four part thing' I used to say, 'Absolutely no,' not writing a book, not making a movie and don't ask me to make a musical. I hate them. Hate them. Hate them, except for Wicked. Wicked is my favourite.
"I don't have a problem sharing what's happened to me in my life, because most of everything that's happened to me, I think has been pretty marvellous. So all that, I would love to tell people and really about all that, I'm not that private. I'm willing to sit and tell you the whole damn story."
Nicks doesn't want Lindsay Lohan to play her either
Witherspoon isn't the only actor Nicks doesn't want to play her. She is completely against Lindsay Lohan getting the role.
"She's never going to," the Fleetwood Mac singer told CNN in 2011, according to the Huffington Post. "That's never going to happen unless she cleans up her life and becomes the great actress I feel she can be. Everybody thinks I hate her, and it's not that at all."
Fans thought Nicks hated the Freaky Friday actor because of her previous comments. In 2009, the New York Times asked about Lohan playing her on film. Nicks snapped, "Over my dead body. She needs to stop doing drugs and get a grip. Then maybe we'll talk."
"I just want her to get it together," Nicks continued to CNN. "I was completely messed up for a long time and I got it together. She's a very talented girl… if she could get it together, she could have a really big career and she could do great things."
Meanwhile, Shailene Woodley has expressed her desire to play Nicks.
"Her music has sort of been throughout my entire life," Woodley told Vanity Fair in 2014. "[Fleetwood Mac] was always a part of something I listened to. And I also just love sort of who she is and that there's no one in the world like Stevie Nicks. She was never the next anything. She was the first and only Stevie Nicks, and she was brave and she was strong, and she was her, no matter what that meant."
However, if Nicks does decide to do a film, we know whoever she chooses to play her will be great and that the movie will be worth the wait.