'Still With You' by BTS' Jungkook Lyrics Explained
Jungkook is the vocalist behind "Euphoria" and "My Time," also releasing "Still With You" on Soundcloud. Here's what we know about this BTS member's solo song and ARMY's interpretation of the lyrics. 
Is 'Still With You' written by Jungkook?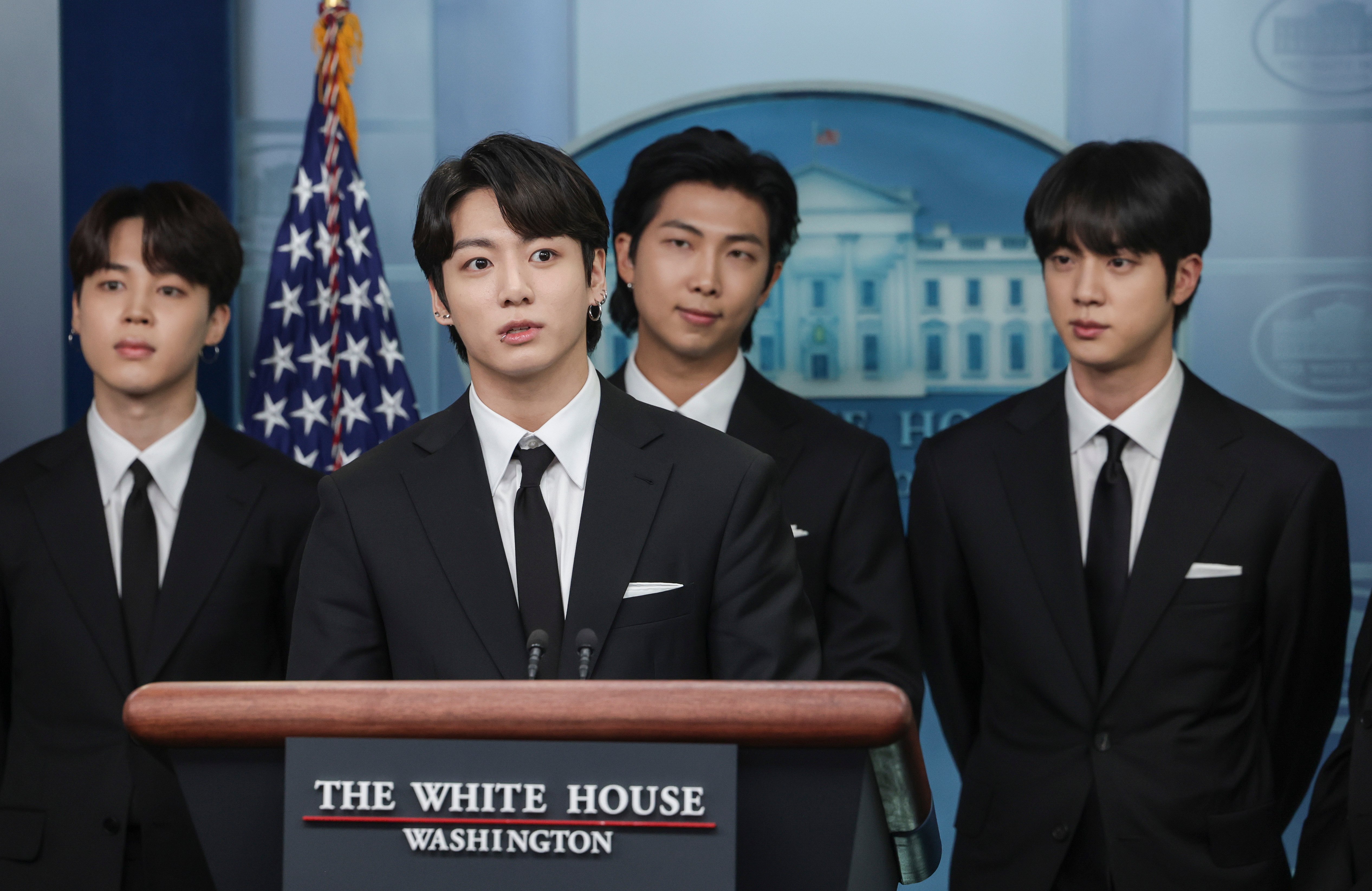 Jungkook is BTS' "Golden Maknae," often lending his voice to group songs like "Butter" and "Dynamite." This vocalist also writes and performs solo music, including the original track "Still With You."
According to Songfacts, Jungkook wrote and produced this track with BTS' longtime collaborator Pdogg. It was initially released on Soundcloud in 2020, quickly earning millions of streams from fans.
The lyrics of 'Still With You' by BTS' Jungkook explained
"Still With You" by "JK of BTS" was released on Soundcloud in June 2020 — just weeks after BigHit postponed the Map of the Soul tour, a world tour later canceled due to safety concerns surrounding the COVID-19 pandemic. 
"Behind faint smiles looking at me," some lyrics read, according to a fan translation to English. "I'll draw beautiful purple light. Our steps might not match. But I want to walk this path with you. Still with you."
These "Still With You" lyrics could be interpreted as Jungkook's reflection on the pandemic. That's especially true because the song's Soundcloud URL link reads "thankyouarmy2020." ARMYs shared their analyses of this solo song.
"From the first translations, it seems like a song about intensely missing someone," one Reddit user wrote. "The lyrics paired with the nostalgic sound make it very sad, almost regretful. Loved the image of a memory of dancing alone in the rain… It's also touching that he put a reference to purple as well."
Some ARMYs noticed similarities between this song and other BTS hits. Another Reddit user noted, "I feel like we've waited a long time to have another song like 'Rain' and Jungkook went above and beyond and gave us one with similar feeling but updated."
Jungkook hasn't officially explained the symbolism of this song nor has the track been released on streaming platforms like Spotify or Apple Music. With "Still With You" sporting such a different sound from "Euphoria" and "My Time," though, ARMYs are excited to see what Jungkook's solo mixtape has in store.
Several BTS members are focusing on solo music in 2022
Thanks to a recent interview with Billboard, ARMYs learned that Jungkook's solo mixtape is officially in the works. Fans have unofficially nicknamed the project "JJK1" on social media. 
"When I create something and come back to it later, I feel like I can do better. But then Suga gave me a piece of advice that it doesn't have to be perfect," the now-purple-haired member said in the new interview. "So I'm working hard searching for my own color."
However, Jungkook isn't the only BTS member currently working on solo projects. Both V and J-Hope have hinted at upcoming original songs. Following the release of Proof, BTS revealed they'll be taking a "making time" to pursue solo careers. 
RELATED: Why Jungkook Thinks 'I Need U' Is a 'Special' Song for BTS