'Stillwater' Star Matt Damon Says Phil Jackson Cursed Him and Mark Wahlberg Out While They Were Sitting Front Row at the 2008 NBA Finals
Matt Damon is known for being an avid Boston sports fan. The Massachusetts native has long been supportive of the Red Sox and Patriots but goes especially hard for the Celtics.
The Stillwater star is such a diehard fan that he sat courtside to watch the Celtics take on the Lakers in the 2008 NBA Finals. Somehow, he ended up seated right next to the Lakers bench, alongside his buddy Mark Wahlberg. 
Unfortunately, the Lakers staff wasn't too happy about the Celtics-lovers sitting so close to their bench. In the midst of a historic Celtics comeback, former Lakers head coach Phil Jackson screamed expletives at Damon as the Oscar-winning actor cheered on his favorite team.
Matt Damon sat right next to the Lakers bench during the 2008 NBA Finals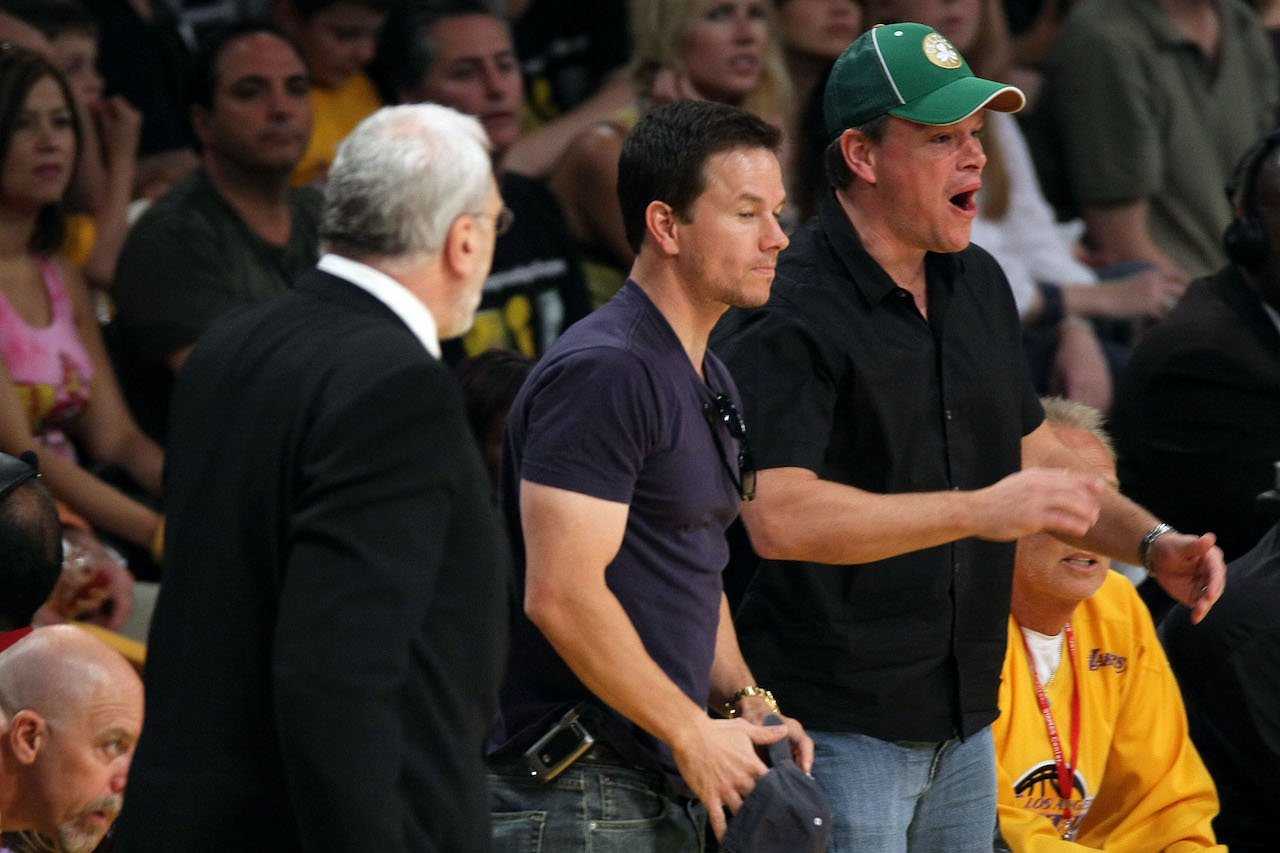 Damon recalled the bizarre incident during a recent episode of Hot Ones, after being asked if he had a lasting memory of Game 5 of the 2008 NBA Finals.
"Absolutely, I have a great f—— great memory of that game," he said, smiling. 
Damon revealed that he and Wahlberg had secured front row seats right next to the Lakers bench, which didn't go over well. 
"These seats are next to the Laker bench," he said. "So literally, we sat down and the guys who work for the Lakers are looking like, 'You gotta be kidding me. They gave 'em to you guys?' They were riffing about it."
The Celtics made an amazing comeback against the Lakers
For most of the game, the Lakers were beating the Celtics handily. However, the Celtics rallied and made an unforgettable comeback causing Jackson to call a timeout.
"This game, we were down like 21 points, it was something incredible. And sure enough, these guys, they come back all the way. And it gets capped with Paul Pierce, 'The Truth,' driving down the lane, laying the ball in and it hits the glass. And by the time it hits the glass — it hasn't even gone through the hoop — Phil Jackson's up calling a timeout to try to stop the bleeding."
Phil Jackson cursed out Matt Damon and Mark Wahlberg in front of everybody 
As Celtics fans, Damon and Wahlberg were understandably excited that their team made a comeback. Unfortunately, Jackson was in no mood to hear their cheering, snapped on them unexpectedly. 
"And Wahlberg and I are going absolutely crazy," he said. "We jump up, and we're like 15 feet from Phil Jackson. And Phil Jackson turns and points at us, and he goes, 'Sit down, and shut the f— up!'. 
Even though most people probably wouldn't want to get yelled at in front of thousands of people, Damon loved the spectacle.
"And we were like, 'Ahhhh!'" Damon recalled. "Like, we made it into the Celtics-Lakers rivalry. Just as bit players, but — and Phil, he's known for being so zen. …. I mean, it was like, probably one of the worst moments of his professional career. It was like, 'Oh God, not this again. … It was funny, it was a moment."
RELATED: Why Matt Damon Said It Was 'A Little Terryifying' Working On the Set of Clint Eastwood's 'Invictus'