'Stranger Things' Season 4: Why Cary Elwes Needs to Return as Hawkins' Slimy Mayor
Cary Elwes knows how to play a slimy character. That's why he was so perfect as Mayor Jim Kline in 'Stranger Things' Season 3. Here's why we think he needs to return in 'Stranger Things' Season 4.
We're only a few months away from Stranger Things Season 4, and folks have plenty of questions that need answers in the upcoming season. Showrunners Matt and Ross Duffer have previously said the Netflix series will conclude with five seasons, so it doesn't look like everything will be wrapped up with a bow in season 4. However, there's one character we think needs to make a comeback. 
Cary Elwes, best known for his role as Westley in The Princess Bride, played Larry Kline in Stranger Things Season 3. He was the town's corrupt mayor and added an extra layer of evil to the series due to his shady business dealings around the new Starcourt Mall. Audiences saw Mayor Kline hauled off to jail in the season 3 finale, but could he return for Stranger Things Season 4?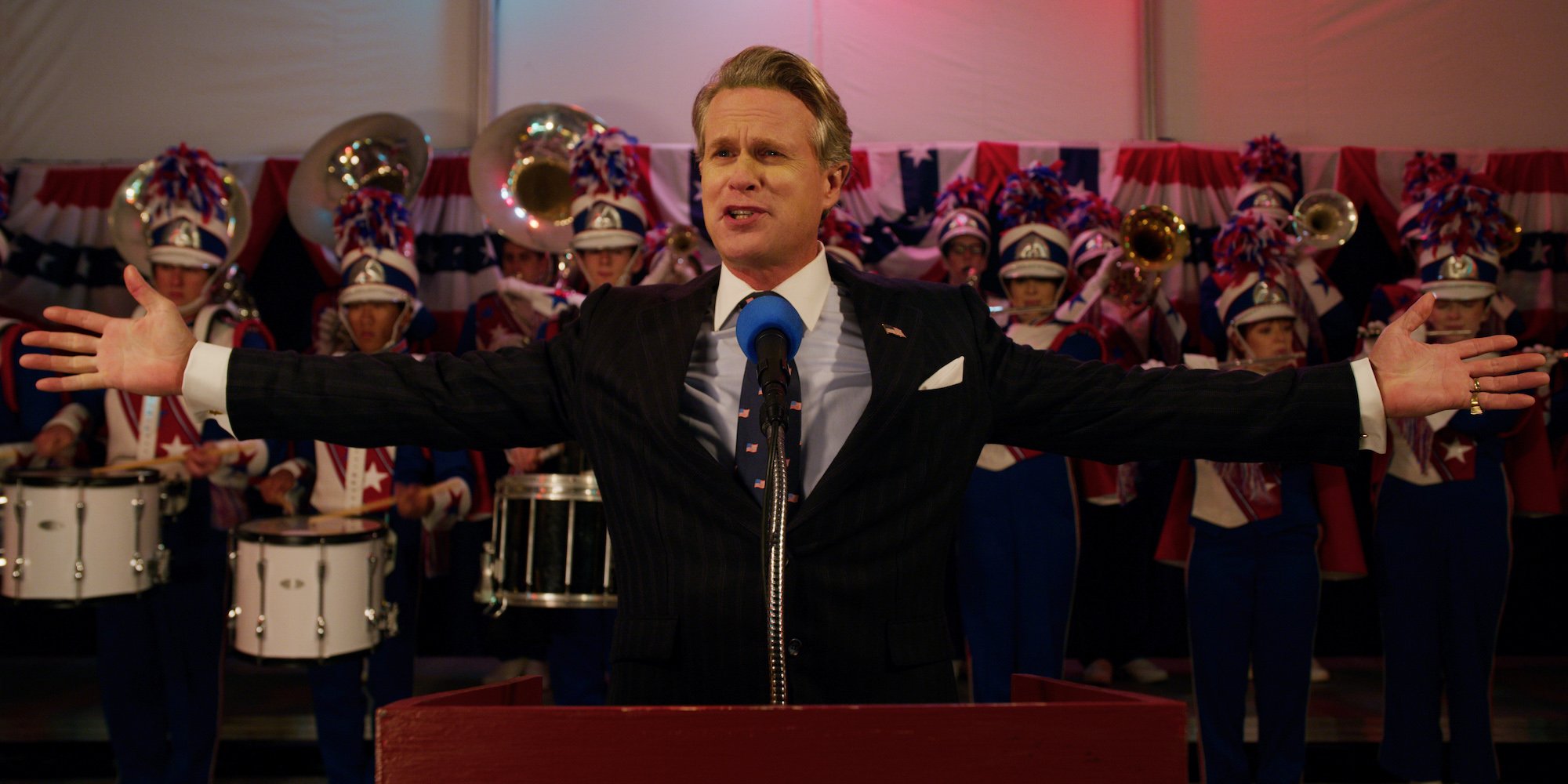 Cary Elwes never got to flex his acting muscles as Mayor Larry Kline
There's a reason Elwes got the role of Kline, to begin with, and that's due to his incredible acting. He's got just the right amount of smarminess to portray the corrupt Kline. Stranger Things Season 4 could use that in its favor. While the most terrorizing villain is likely to be something (or someone) known as Vecna, it wouldn't hurt to have Mayor Kline pop up to complicate things for the kids in Hawkins.
Plus, we already know he survived. With his political connections, we're sure he used those to pull some strings regarding his sentencing. Even if Kline didn't know the details of the Russians' plans for opening the Gate under Starcourt Mall, he definitely knew they were up to no good. This means he has at least some information to hold over their heads.
Hopper and Kline have a history the show could explore in 'Stranger Things' Season 4
Stranger Things Season 3 showed us a new side of Chief Jim Hopper as a dad. However, we also got to see a little more about his job as chief of police. A large part of the plot in season 3 revolves around Hawkins' residents' anger toward the new Starcourt Mall. The shiny new place for kids to hang out and shop resulted in locally-owned businesses going out of business. Season 3 shows Hopper dealing with protests regarding the new mall and Kline's corrupt business dealings that set everything in motion.
When Hopper confronts Kline about the protests and realizes Kline is in cahoots with the Russians, he talks about several other incidents when Kline got himself into hot water. While we doubt that Hopper will have time to worry about Mayor Kline (heck, we don't even know if Hopper will make it back to America in season 4), Kline could potentially screw things up even more for Hopper. 
Mayor Kline could easily be more than a one-dimensional villain
Stranger Things has proven more than once that the show knows how to write a multi-dimensional villain. All audiences have to do is look at the character arcs of Billy Hargrove and Steve Harrington. Both characters were initially supposed to be villains that were easy to hate. However, Joe Keery's portrayal of Steve quickly made the Duffer Brothers change their minds. Dacre Montgomery asked that Billy have a bit of a backstory to explain his awful behavior. 
Stranger Things Season 4 could easily do the same with Elwes' role as Kline as well. We're already wondering how the series will explain the disappearance of so many people in Hawkins. It would at least be amusing to watch Kline scramble to figure out a story to go along with it. 
We're sure if Elwes makes an appearance in Stranger Things Season 4, there would be news about it by now. On the other hand, they've surprised us before. For now, it looks like we'll have to wait. Stranger Things Season 4 premieres in the summer of 2022.