'Stranger Things:' This "Underlying Message" Drew in Millie Bobby Brown
This "underlying message" in 'Stranger Things' is what drew Millie Bobby Brown to the role. Get the full story here.
Millie Bobby Brown – the breakout star of Stranger Things, the 15-year-old fashion icon, and the UNICEF ambassador – became a household name when she first appeared as Eleven in the sci-fi Netflix phenomenon. Though taking on small parts in Modern Family and NCIS a few years prior, her breakout performance in Stranger Things put her on the map.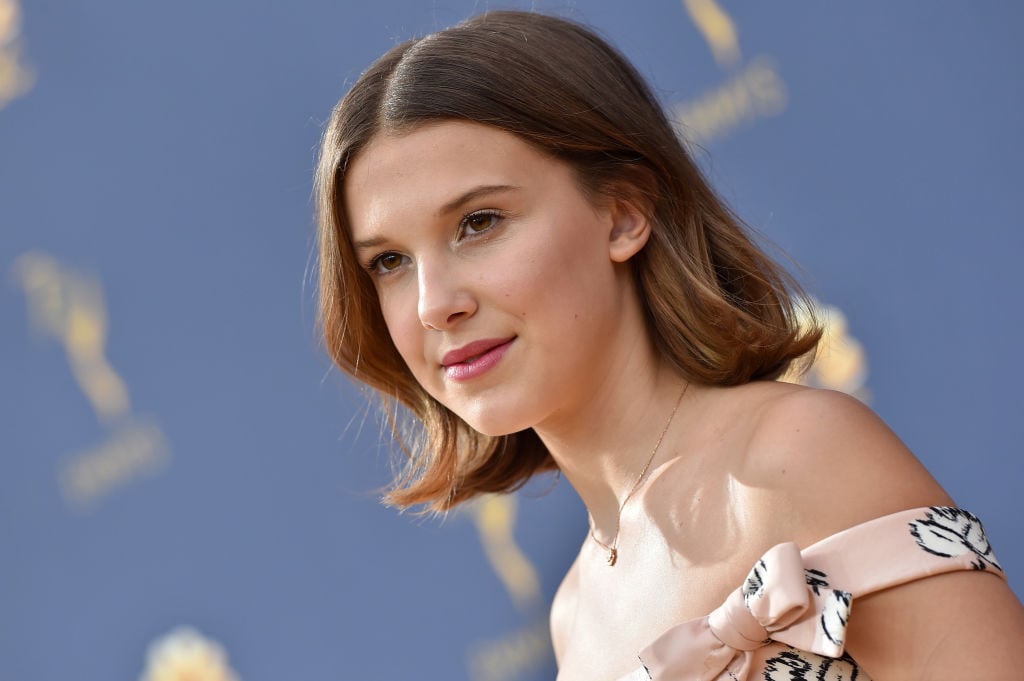 Millie Bobby Brown is now an anti-bullying and LGBTQ+ advocate, using her celebrity status to inspire the youth. However, she's quite capable of inspiring those double her age as well. Never afraid to make a risky fashion choice – or show off her quirky personality – Millie Bobby Brown seems set for stardom. However, without Stranger Things, she would not be the A-lister she's slowly becoming.
During an interview with Teen Vogue, Millie Bobby Brown discussed Stranger Things, as well as her creative pursuits outside the entertainment industry. Millie Bobby Brown explained that she's always drawn to projects with an "underlying message" she can relate to. She then went on to discuss the enticing message existing at the core of Stranger Things, and how she knew the project was right for her.
Millie Bobby Brown on what drew her to 'Stranger Things'
Teen Vogue asked Millie Bobby Brown, "As the youngest UNICEF Goodwill Ambassador and someone who entered the public eye with Stranger Things at a very young age, what draws you to projects creatively?" Brown stated:
"I think it's important to make sure that I'm attaching myself to the right material, things that are appropriate for my age, characters that I relate to and connect to, and things that have an underlying message. I mean, something that I feel so passionate about, and the reason that I love working with UNICEF, are the underlying issues and messages through my work. With Stranger Things, it's embracing yourself. Bullying goes on in schools, bullying goes on online, but in Stranger Things, it's really about embracing your individuality. And in Godzilla: King of the Monsters, the underlying message is conservation for animals in nature and climate change. And I think that I love being part of projects that have messages."

Teen Vogue 

Millie Bobby Brown was drawn to Stranger Things' emphasis on individuality. The show makes it cool to be an individual – to be a unique person who does not mesh with their surroundings. 
While being an individual is rarely accepted, Stranger Things celebrates the rare quality, which enticed Millie Bobby Brown. As an anti-bullying advocate, it should come as no surprise that this message caught Brown's attention. 
What draws Millie Bobby Brown to a "particular message?"
During the interview, Millie Bobby Brown went on to discuss the various missions she has stood behind (in her short career), as well the qualities that draw her to particular messages and causes. However, the young actress finds it difficult to limit herself, for something worthy of attention will always spontaneously sprout up. When discussing "how she choose[s] a message", she explained to the interviewer:
"I don't think there's a limitation at all to what you can stand for. I mean, for me, there are so many issues with children's rights, you can't just pinpoint one thing. Yeah, there's bullying, and yes, there's exploitation, and yes there's the fact that there's no clean water in some countries that are not as privileged as others. I can't pin myself to one thing because I will feel immediately like I'm being drawn to something else."
While Millie Bobby Brown is drawn to several different causes, she attaches herself to children's rights. As an adolescent herself, who better to speak up for a community than someone who is a part of it?