Stray Kids Members Recommend 22 Songs on Spotify's Idol Lounge
Stray Kids picked 22 songs for their Spotify's Idol Lounge playlist. Five tracks from the groups new EP, 'ODDINARY' made the cut.
Stray Kids recently took over Spotify's Idol Lounge to personally recommend some of their favorite songs. Each member can be heard explaining why they choose specific songs before their picks play. The 22-song curated Spotify playlist contains a mixture of Stray Kids songs, western artists, and other K-pop groups.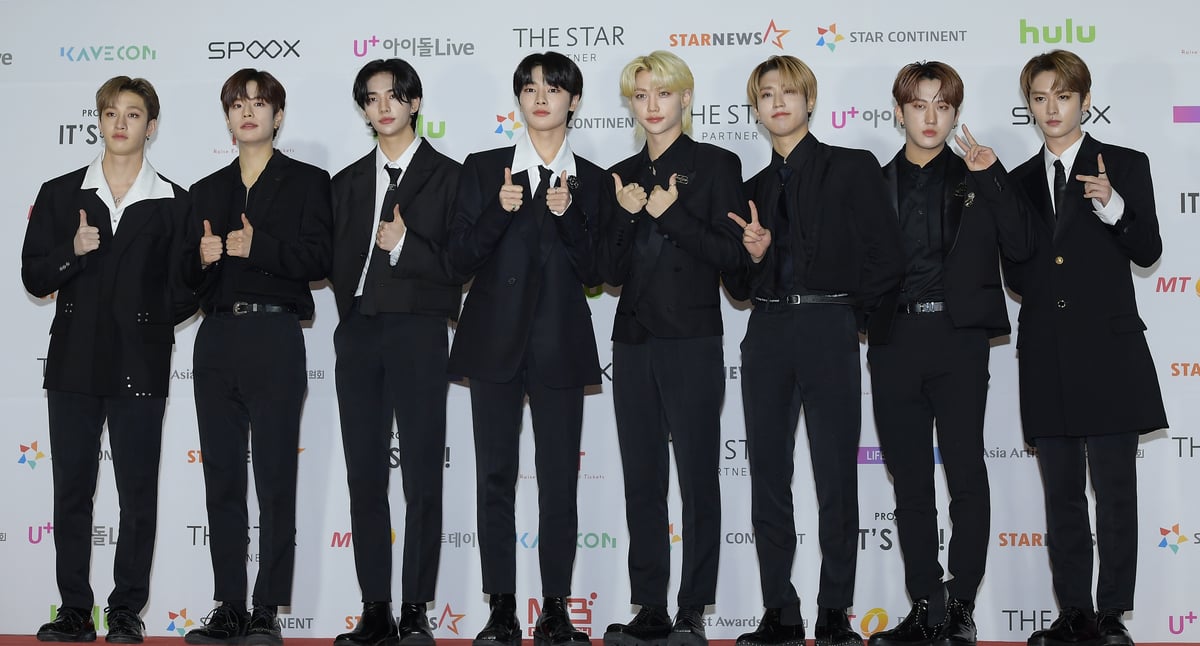 Stray Kids recommend 5 'ODDINARY' songs
On April 24, Stray Kids dropped an exclusive playlist on Spotify of their favorite songs at the moment. Each member of the eight-person K-pop group recommended two to three songs with a short recording introducing one of their picks.  
The playlist starts with "VENOM," the first track off of Stray Kids chart-topping new album, ODDINARY. Next, group leader Bang Chan introduces his first pick, Twice's "Scientist." Bang Chan said, "They're fantstic people. The song itself is really great too. The days are getting warmer so I thought it'd be a really great song to lift the mood up." He also recommends "Bad Habits" by Ed Sheeran and Stray Kids "MANIAC," the first single from ODDINARY.
Lee Know recommends "Talking to the Moon" by Bruno Mars. He said, "when i listen to this song, it gives me a good vibe and i feel so good, and his voice is so good too." Lee Know also suggested, "Too Good at Goodbyes" by Sam Smith and "Charmer" by Stray Kids. 
Changbin recommends "A Lot" by John K, "INVU" by Taeyeon, and "FREEZE" by Stray Kids. Hyunjin recommends K-Drama original soundtrack song "HeeJae" by Sung Si-kyung, "LILAC" by IU, and "Lonely St." by Stray Kids.
Olivia Rodrigo, John Legend, and Adele recommended by Stray Kids members
Rapper, singer, and producer Han recommends "On the Ground" from BLACKPINK's Rosé. He also added "Ordinary People" by John Legend to his picks. 
Australian-born Felix recommends Olivia Rodrigo's "traitor." He said, "It helps me ease my mind after a long days work. Just listening to this song, it's very touching." He also picked "Warm on a Cold Night" by HONNE and Amine.
Suengmin recommends "Mean It" by Lauv and LANY. He also included "Let It" by solo artist and 2NE1 member CL. The youngest member of Stray Kids, I.N, picked "City of Stars" by Ryan Gosling from La La Land as one of his recommendations. He also added Adele's "Easy on Me," and "Voiceless" from Day6 member, Wonpil. 
Stray Kids song recommendations
Bang Chan
"SCIENTIST" – Twice
"Bad Habits" – Ed Sheeran
"MANIAC" – Stray Kids
Lee Know
"Talking to the Moon" – Bruno Mars
"Too Good at Goodbyes" – Sam Smith
"Charmer" – Stray Kids 
Changbin
"A LOT" – John K
"INVU" – Taeyeon 
"FREEZE" – Stray Kids
Hyunjin
"HeeJae" – Sung Si-kyung
"LILAC" – IU
"Lonely St." – Stray Kids
Han
"On the Ground" – Rosé
"Ordinary People" – John Legend
Felix
"Traitor" – Olivia Rodrigo
"Warm on a Cold Night" – HONNE, Amine
Seungmin
"Mean It" – Lauv, LANY
"Let It" – CL
I.N
"City of Stars" – Ryan Gosling
"Easy on Me" – Adele
"Voiceless" – WONPIL
Stray Kids will soon embark on a sold-out world tour
2022 has proven to be Stray Kids most successful year yet, and there are still plenty of months left for the group to continue dominating the charts and selling out arenas. Their Maniac tour recently sold out all seven US dates before adding two more shows; one in New York, and one LA. (These dates also sold out.)
Stray Kids will start their tour in Seoul, South Korea, before going to Japan and the United States. More dates will be added soon. The Maniac tour will be part of the JYP Entertainment group's ongoing ODDINARY promotions. 
The album debuted at No. 1 on the Billboard 200 in March. Stray Kids became just the third K-pop group to reach the achievement behind BTS and SuperM. 
ODDINARY is still the No. 1 album on Billboard's World Chart. It also hasn't left the Billboard 200, becoming the longest-running K-pop album on the chart for 2022. ODDINARY was the first album to top the Billboard 200 and Top Album Sales charts since Adele's 30 in Dec. 2021.