'Succession' Actor Nicholas Braun Would Play Dakota Johnson's Boyfriend 'In Any Movie'
In Succession, Nicholas Braun's onscreen family and coworkers are played by a cast of impressive actors. While the cast is close — Braun's Instagram is full of pictures of them — he said there's one actor outside the HBO show who he'd work with on any project. He explained his affinity for Dakota Johnson and why he'd play her boyfriend in "any movie."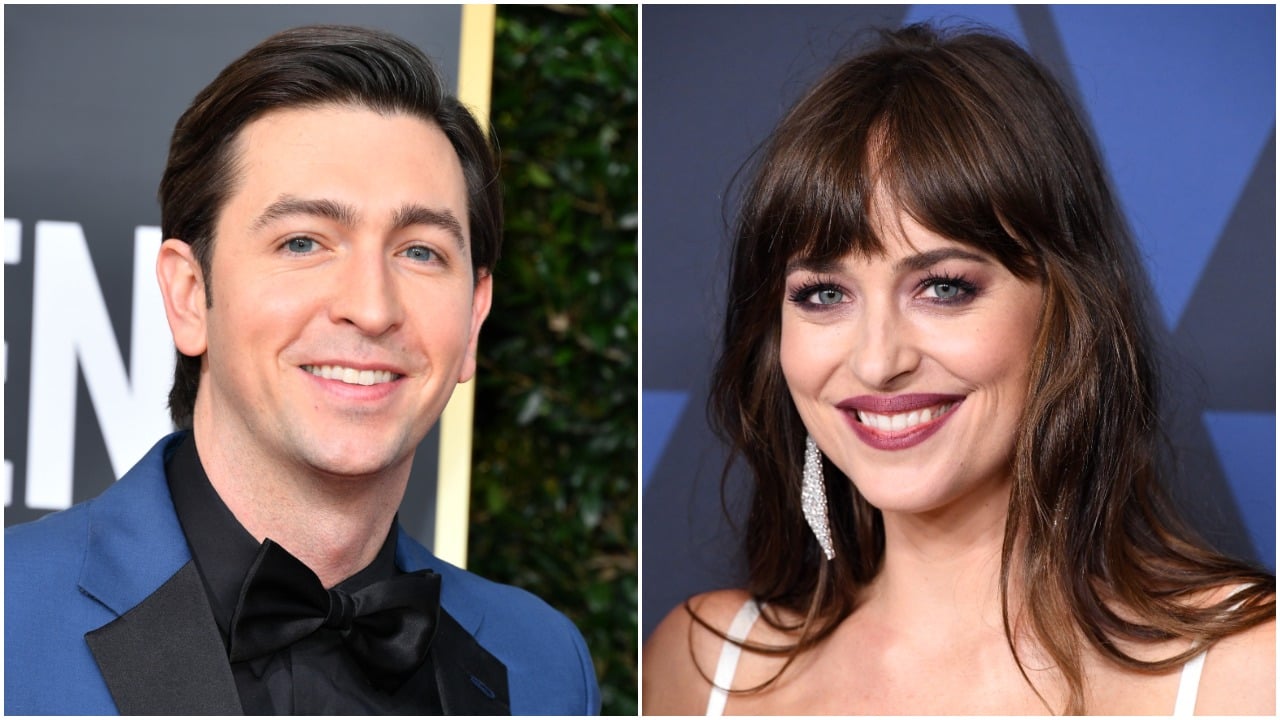 Nicholas Braun and Dakota Johnson starred in 'How to Be Single'
In 2016, Braun appeared in How to Be Single as Johnson's college boyfriend. Though she breaks up with him at the beginning of the movie, he continues to appear throughout the film. Johnson doesn't expect the breakup to last, but Braun's character quickly moves on, leaving her reeling. In part, Braun was drawn to the film because he can relate to its plot. 
"I'm going through different phases of it," he revealed to Backstage. "I've never had a long-term relationship that ends so you can sample around, which is kind of what Dakota's character wants to do here, but I think you get into your mid-20s, and all rules go out the window and you get a little claustrophobic. I have friends who've been in six-, seven-, eight-year relationships who are finding themselves in rocky times because it's this part of life where it's, like, 'I can't lock it in yet!'"
The 'Succession' actor says he'd love to play her onscreen boyfriend again
Though the couple doesn't last onscreen, Braun said he loves getting the opportunity to work alongside Johnson. Johnson evidently feels the same way, as Braun says she asked him directly to join the film. 
"[Dakota] reached out to me and said, 'Hey, do you want to play my boyfriend in this movie?' he shared.
According to Braun, the decision to join the cast was an easy one.
"I would play her boyfriend in any movie," he explained. "I love her as a person. I love working with her. I feel like we found a lot of nice little moments [on film], and sometimes it doesn't come as easy. But with her, it really does."
Nicholas Braun and Dakota Johnson have acted in multiple films together
Lucky for Braun, he has appeared in more than just How to Be Single with Johnson. In 2015, Braun and Johnson acted as a couple in the short film In a Relationship. The 19-minute short digs into the realities of a couple's life and the causes of a breakup. The mockumentary style adds a rawness to the story.
Before that, they appeared in the 2014 comedy film Date and Switch. While they don't play a couple in this film, they portray a pair of high school friends who have a few will-they-won't-they moments. 
Based on their movie history together, it's clear why Johnson asked Braun to join How to Be Single as her boyfriend. While they haven't appeared in any movies together recently, both are rising stars in Hollywood, so there's always a chance for the future.