'Succession' Season 3: Roman and Gerri's Sexual Tension; Could it Become More?
Amidst the fighting between the Roy family siblings in HBO's Succession is the strange sexual tension between Roman Roy (Kieran Culkin) and Gerri Kellman (J. Smith-Cameron). It seems odd, and viewers don't quite understand what is going on there. However, it stemmed from some history off-screen, and it sounds like it continues in Succession Season 3. Could it eventually become more than only sexual tension between the two characters?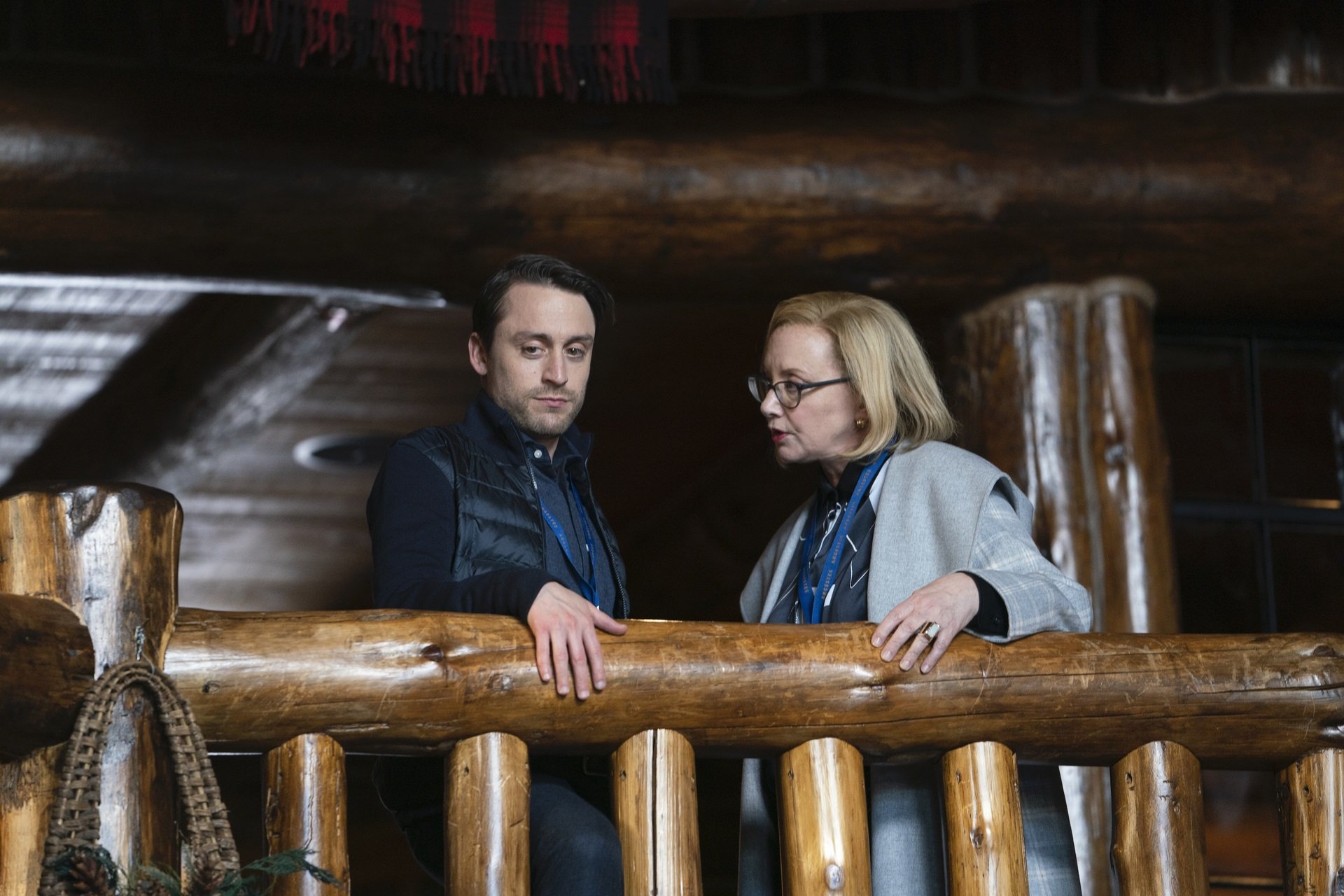 'Succession': What is up with Roman and Gerri's sexual tension?
From the beginning of Succession, something is going on with Roman and Gerri. It's odd because she's Waystar RoyCo's general counsel, and he's the unpredictable son of Logan Roy (Brian Cox). They have a strange relationship that only gets weirder as the episodes progress. 
Then in Succession Season 2, Roman finds himself sexually aroused while talking to Gerri on the phone. She realizes that he enjoys it when she degrades him. So, Gerri continues to talk dirty to Roman while he masturbates in his hotel room. Things continue to escalate between the unlikely pair when they spend the weekend at the Pierce family estate. Roman finds himself in Gerri's room and ends up pleasuring himself again while Gerri arouses him with more dirty (and strange) talk. The two stand on opposite sides of a door. Will anything more come of their weird sexual tension in Succession Season 3?
The sexual moments between Roman and Gerri stemmed from the actors flirting off-screen
Culkin and Smith-Cameron worked together long before they became Roman and Gerri on Succession. Both starred in the 2011 film Margaret, directed and written by Smith-Cameron's husband, Kenneth Lonergan. Culkin also starred in several of Lonergan's plays, so Smith-Cameron got to know him very well long before they starred in Succession together.
"I've gotten to know him over a long time," Smith-Cameron told Vulture. "I feel like it did really inform the Gerri-Roman thing, our history. It makes for this shorthand you have with someone."
RELATED: 'Succession' Fans Moved on to 'The White Lotus' — Is It a Similar Series?
Smith-Cameron believes that the weird thing between Roman and Gerri in Succession stems from how the two actors behave around one another.
"It's our past," Smith-Cameron added. "But it's also the way my character evolved into a niche in sync with his character. It's like the beginning of a beautiful friendship like they're like partners in crime."
Could Roman and Waystar's general counsel ever have a relationship?
In the same interview with Vulture, Smith-Cameron explained what Succession director Mark Mylod told her about the Roman and Gerri thing.
"In episode one, I remember Mark Mylod saying, 'Lean into Roman, a little foreshadowing,'" she recalled to the outlet. "I was like, 'What foreshadowing?' And he went, 'Oh, has no one told you about that?' Then he said, 'Yeah, there's gonna be something.'"
RELATED: 'Succession' Season 3 Throws COVID-19 Out the Window Although 1 of the Actors Died From It
Although the weird sexual tension moments already happened, could the director be alluding to something more between the two Succession characters? 
Succession Season 3 premieres in October 2021 on HBO and HBOMax.