'Succession': Tom and Shiv — Matthew Macfadyen and Sarah Snook's Real-Life Partners Revealed
Tom Wambsgans and Shiv Roy have a tumultuous marriage in Succession Season 3, but what are Matthew Macfadyen and Sarah Snook's relationships like in real life? Although 47-year-old Macfadyen admits he had to watch another man kiss his wife, his relationship with Keeley Hawes is infinitely better than that of Tom and Shiv. Snook's marriage to Dave Lawson is fresh and new compared to Tom and Shiv's in HBO's Succession. Take a look at Macfadyen and Snook's off-screen romances. 
[Spoiler alert: This article contains light spoilers from the Succession Season 3 Finale — Episode 9 'All the Bells Say.']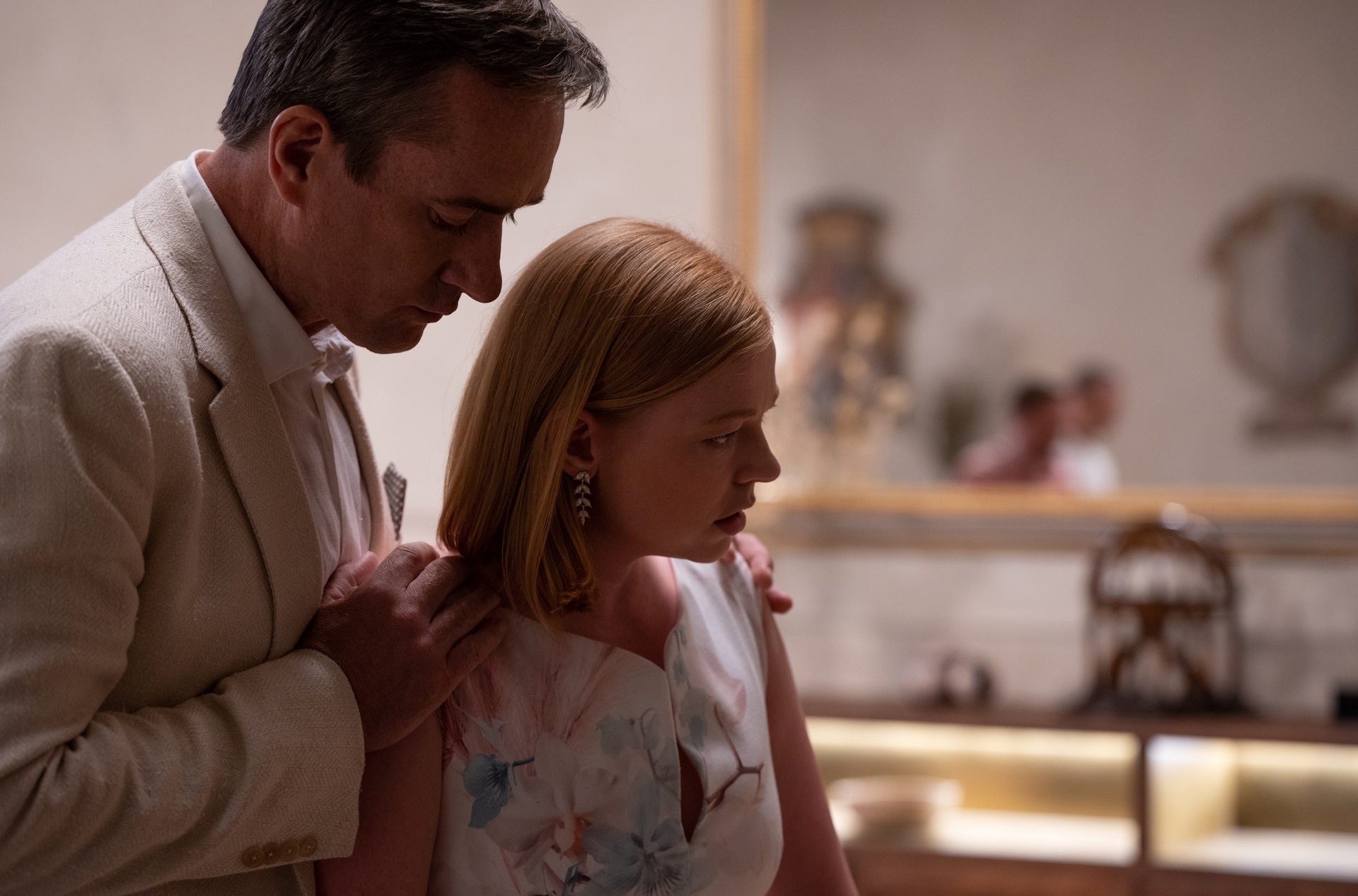 Who is Matthew Macfadyen's wife?
It sounds like Matthew Macfadyen's on-screen relationship between Tom and Shiv in Succession is nothing like his almost 20 years with Keeley Hawes. The couple met in 2002 on the set of Spooks and continues to act together today. In an interview with The Sunday Times, Macfadyen admitted that it's not an easy profession to sustain a marriage in.
"You can get quite close to the actors you're working with and all that stuff," he told the outlet. "It's odd."
Plus, both actors kiss other people on screen. Macfadyen said he takes it in stride when asked if it's uncomfortable to watch his wife in an intimate scene with another man.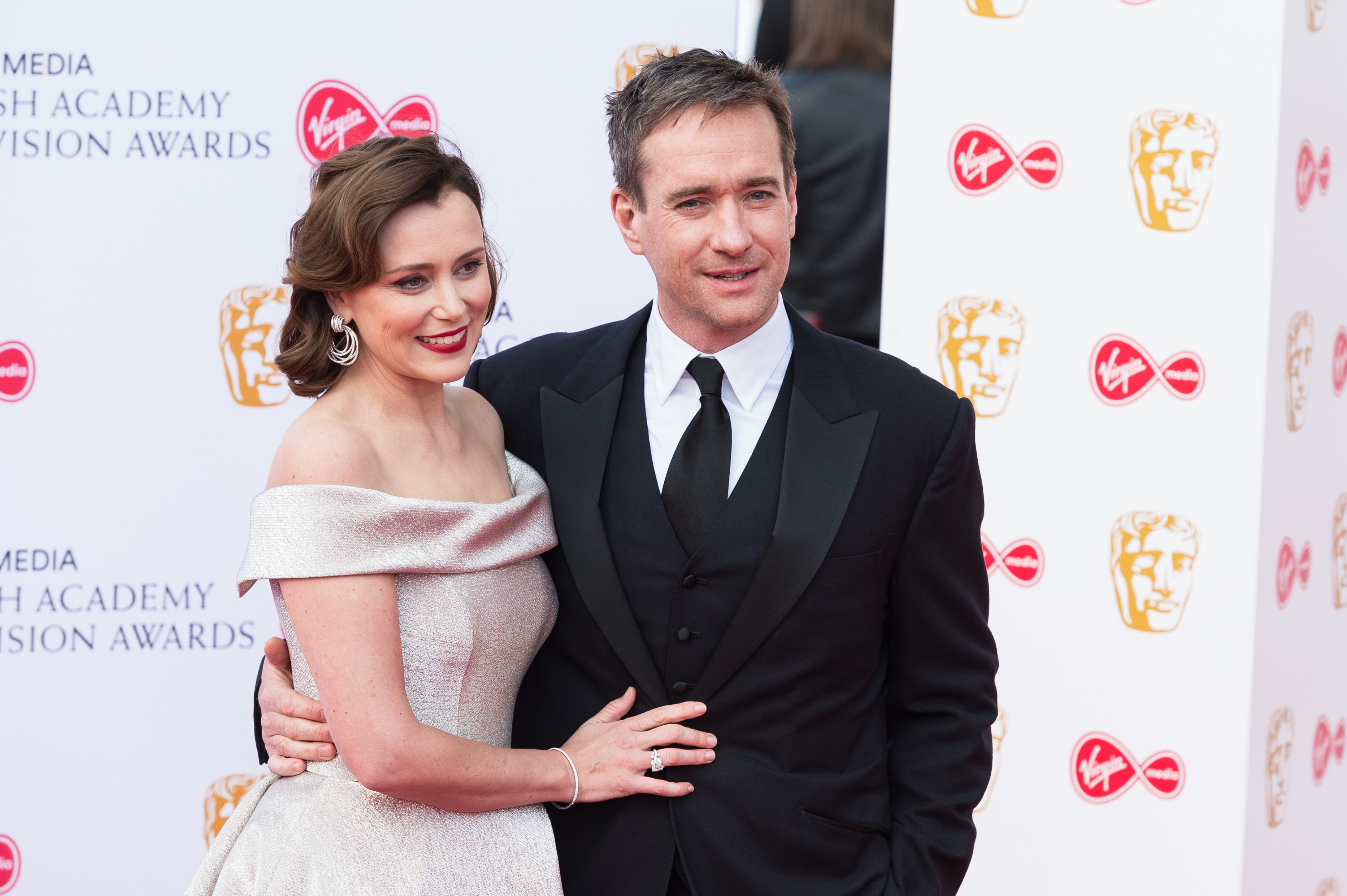 RELATED: 'Succession' Season 3: Where Was the New Season Filmed? Did the Cast Travel to Sarajevo?
"It's just weird," he tried to explain. Since Macfadyen is an actor, he knows what it's like to be part of an intimate scene. He says it's "the least sexy thing you can possibly imagine."
The couple works around their careers as performers. Macfadyen and Hawes have a longstanding rule not to be away from their children for more than three weeks at a time. However, they broke the rule during filming for Succession Season 3 because of the coronavirus COVID-19 pandemic. They have two children together, Maggie,17, and Ralph, 15. Macfadyen is also Hawes' son's stepfather from her previous marriage, Myles, 21.
Who is Sarah Snook's husband?
Succession cast member Sarah Snook's marriage with her husband, Dave Lawson, is newer than Macfadyen's. Snook and Lawson married in February 2021 in a wedding ceremony that Shiv Roy would never allow. According to Town and Country Magazine, it was a petite backyard wedding, but they hope to have a larger reception with friends and family after the pandemic.
Snook told the outlet that Lawson was one of her friends in Melbourne during the COVID-19 lockdown. They fell in love, got married, and bought a house before filming Succession Season as Shiv and Tom. The couple plans to have a larger wedding reception with family and friends.
RELATED: 'Succession': Creator Jesse Armstrong Calls Out Fans Obscure Theories — 'It's Not This Show'
'Succession' Season 4 predictions for Tom and Shiv after that season 3 finale
When the Succession Season 3 finale ended, it looked like Shiv knew precisely who told her father, Logan Roy (Brian Cox), about the planned coo. Shiv, Roman (Kieran Culkin), and Kendall (Jeremy Strong) intended to stop Logan from selling the company to GoJo. However, when they arrived, it appeared that Logan knew their plan and renegotiated the terms of his divorce with his ex-wife. Before Tom walks in to ask Shiv what's wrong, Logan claps him on the back, pleased with his son-in-law. Shiv watches the interaction but puts her game face on when she talks to her husband. Tom comforts Shiv, but her eyes shoot daggers as the scene ends. 
From Shiv's interaction with Tom in the Succession Season 3 finale, it's evident that she's playing the game. She answered her husband's question as if he didn't already know what was wrong with her. It's likely the two will continue onward with their cat-and-mouse game in Succession Season 4.
All three seasons of Succession are available for streaming on HBO and HBO Max.