BTS' Suga Didn't Wear Braces on His Upper Teeth — They're Just Naturally That Perfect
He's a rapper, a songwriter, and a dancer. Suga is also one of the seven members of BTS, appearing in the "Dynamite" music video alongside the other idols. For their reaction video, the other performers noticed something special about this rapper — his teeth.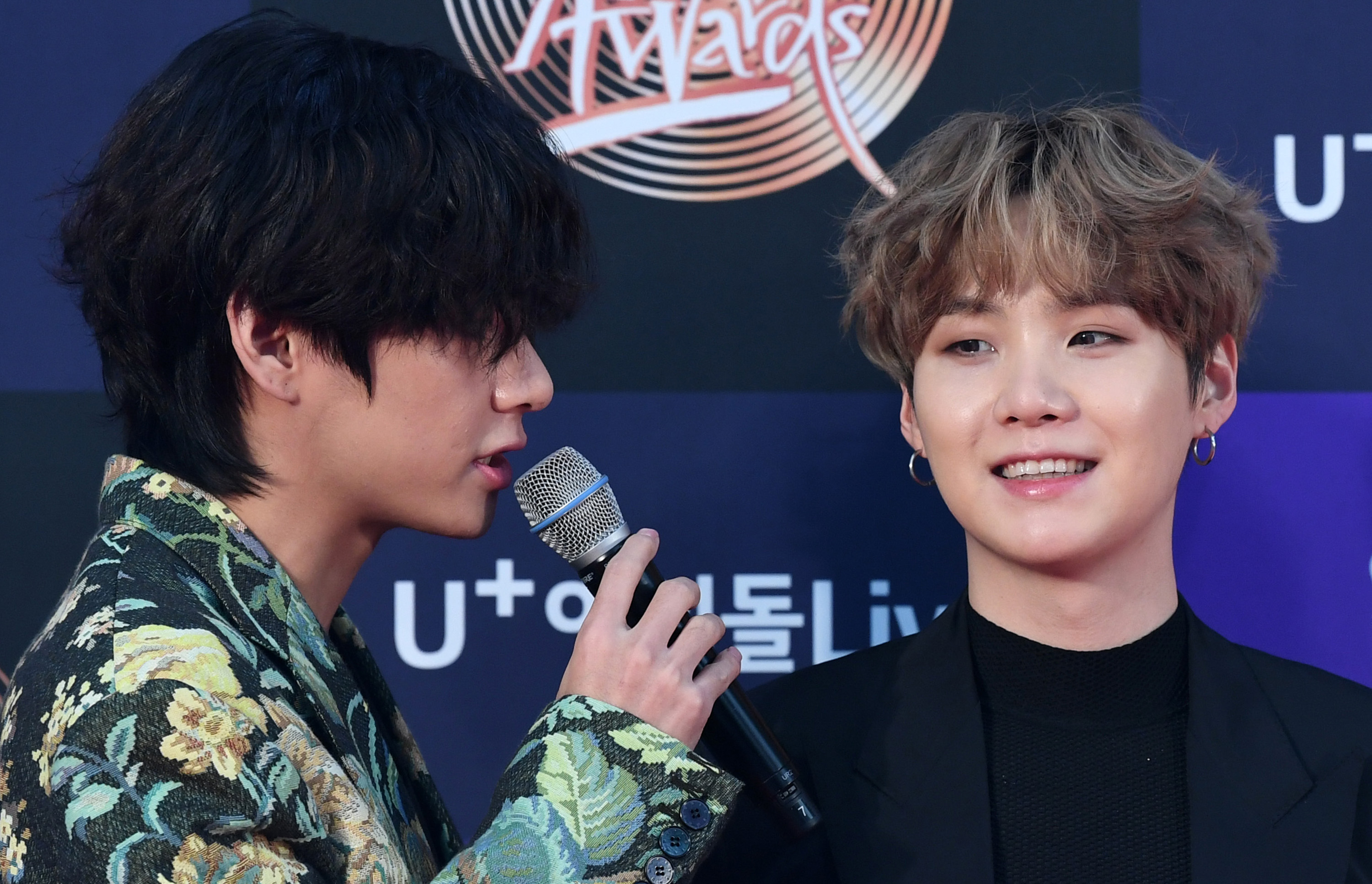 Suga is one of the three rappers in BTS, alone with J-Hope and RM
Sometimes he's savage, other times he's super sweet. Min Yoongi, also known by his stage name Suga, is one of the three rappers in BTS, as well as the solo artist behind a few different mixtapes. Aside from his solo project, Suga performs and writes songs alongside RM, like "Respect," and by himself, like "Interlude: Shadow."
He also appears in a number of group songs, including their recently released single, "Dynamite." In the YouTube music video, he sported a few looks, even getting compliments on his teeth from the other members.
RELATED: Is Jungkook the Last BTS Member to Create a Solo Song? Here's What We Know About 'Still With You' and the Mixtapes of These K-Pop Idols
Suga said he never had braces on his top teeth
When BTS releases new music videos, the members typically have a chance to view the finished product together and share their reactions with fans. "Dynamite" is no different, as one Bangtan Bomb from August 2020 showed the boys watching their latest creation.
The members had a chance to give commentary in their second viewing, which mostly consisted of Jimin shouting "stop" at different moments. When he shouted stop at Suga's part, the members all started complimenting the rapper on his teeth, which were very visible in the still image.
"Your teeth are very even," Jin said according to the translation on the video, with RM asking, "did you wear braces?"
"I didn't on my upper teeth," Suga responded. "Upper teeth are from my parents."
Technically, Jin is the lead visual for BTS, and the boys were sure to complement the oldest member, as well. In a separate video, they reacted to the "B-Side" music video, which they nicknamed the "BTS Side."
RELATED: Jimin From BTS Finally Puts the 'Dumpling Incident,' Mentioned During 'The Late Late Show With James Corden,' to Rest
Suga wore the same earrings from the music video for the reaction
In the same video, V asked about Suga's earrings from the set, which were the same earrings he was wearing during their reaction video. Suga explained that he'd been wearing them since the "Daechwita" music video, which released in May 2020.
This song came along with Suga's second-ever solo mixtape, released as his alter-ego stage name, Agust D. Suga also has a hand in writing and producing a number of songs for BTS' upcoming deluxe album, titled Be.
The "Dynamite" music video is now available on YouTube. Music by BTS, including their recently released album, Map of the Soul: 7, is available for streaming on Spotify, Apple Music, and most major platforms.