'Summer House': Craig Conover Teased Feud With Austen Kroll This Summer – Was Kristin Cavallari the Cause?
Craig Conover and Austen Kroll teased on their podcast this summer they were feuding. Could the whole Kristin Cavallari hook up be the cause?
Craig Conover and Austen Kroll from Southern Charm cryptically shared on their Pillows and Beer podcast in August that they were feuding, but never revealed why. But now Conover may have spilled on Summer House why they had a fight – and it may have had something to do with Kristin Cavallari.
In the past, Conover, Kroll, and Cavallari laughed off the rumors that Cavallari had hooked up with Kroll or Conover. They insisted they were just friends, which was why Conover's reveal that he indeed hooked up with her came as a shock to some fans. She continues to deny it, but he doubled down and said when he's in Nashville, they'll hook up.
Craig Conover said Austen Kroll 'hates' that he hooked up with Kristin Cavallari
Lindsay Hubbard confirmed with Kroll that Conover was the one who hooked up with Cavallari and ended up telling Conover's girlfriend Paige DeSorbo. At the time, Conover and DeSorbo weren't exclusive, but DeSorbo was hurt.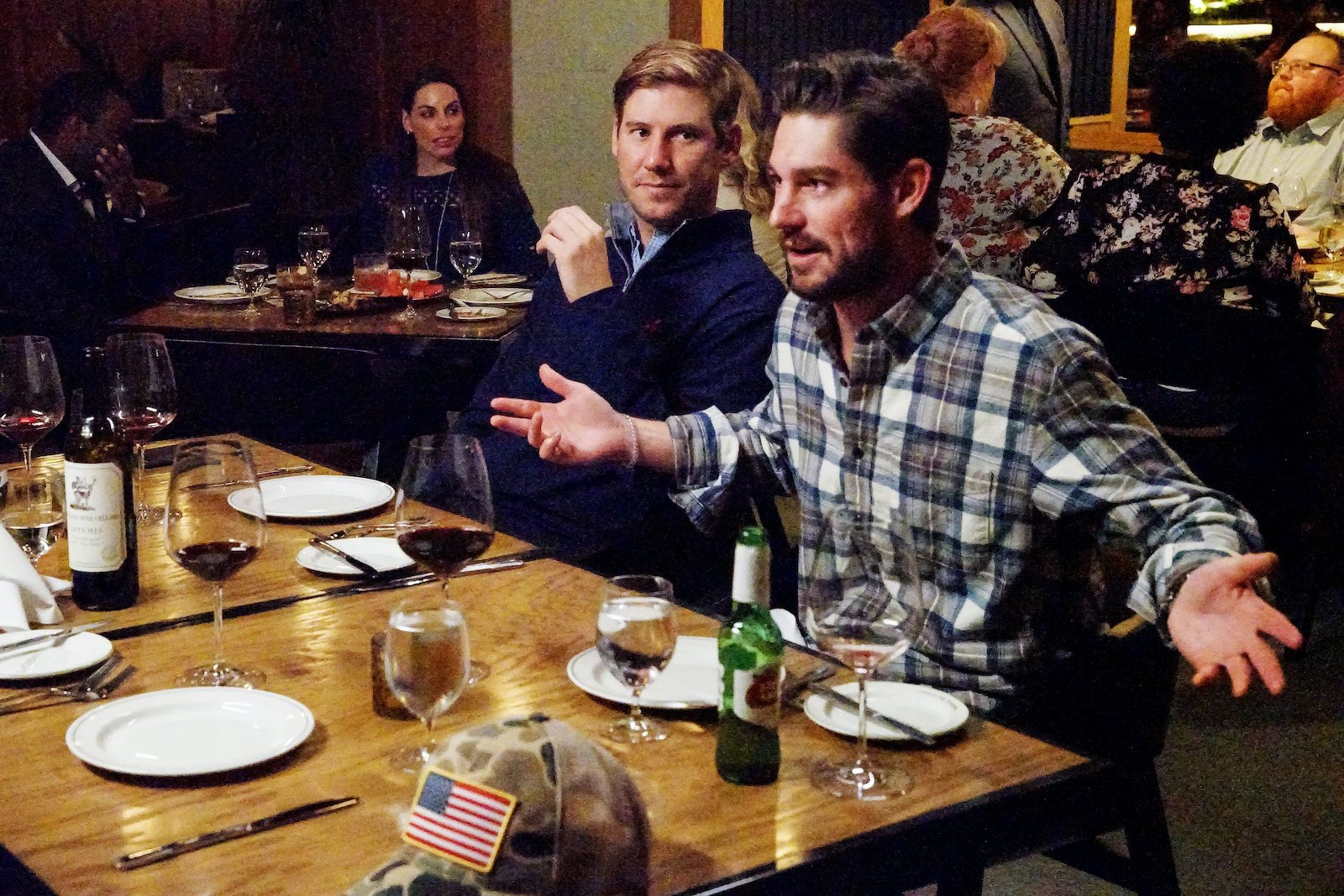 So when Conover was confronted, he lashed out at DeSorbo and Hubbard. But later, once DeSorbo and Conover could be alone, she asked about the conversation Hubbard and Kroll had about the hook-up.
"He hates it," Conover said about Kroll. "He hates that I was making out …" Conover added, "I hooked up with her before." He then added that he is still hooking up with her. "If I'm in Nashville, do I have someone I might go [out with]? Yeah," he replied. "Paige I will never lie. You and I are not exclusive right now. You didn't wanna be because you just got out of a relationship."
Austen Kroll and Craig Conover had been 'squabbling' over the summer
Conover and Kroll recorded a podcast episode not long after he was in the Hamptons. That's when the guys teased that they hadn't been speaking to each other. "Austen and I have been squabbling," Conover said on the podcast.
"This is the first time Austen and I have spoken since Minnesota," he said. Conover and Kroll spent July 4th with Luke Gulbranson in Minnesota.
Conover added, "I decided to go to New York. I had a blast. And I definitely went in hot. I did what people wanted me to do and I got to New York. It was actually really fun. I think I was mad at Austen for not coming because I would have loved to share the city with him."
"I was a little bummed with Austen for not coming," Conover continued. "But only because you like sharing experiences with your best buds. So I went up to the city and I had a nice time. You know it was the first time I'd really been back and missed it. And actually considered getting a month-long place there."
Luke Gulbranson heard about the hook up, but Kristin Cavallari denied it
Craig Conover and Austen Kroll did not mention Cavallari on the podcast. But the subject seemed to come up during their Minnesota trip. That's when Gulbranson learned Conover and Cavallari hooked up. "I knew about the Kristin thing because I was with Craig on the 4th of July," Gulbranson told US Weekly. So I knew about it. I didn't know how things were gonna go down. It wasn't my place to say anything, but apparently, all this stuff happened. I heard about it, but I didn't hear about it until after the fact."
But Cavallari maintains she and Conover never got romantic. She joined him on the podcast in Feb. 2021 and joked about how he said he "slid" into her DMs. "But from my perspective, Justin [Anderson], my best friend, you guys had been speaking," Cavallari said. "So I DM'd you, 'slid into the DMs' and I said thank you for the masks. We're coming to Charleston in a month or whatever. I was like I think we're all gonna hang out."
"Because you already had this connection with Justin," she added. "It wasn't romantic. It wasn't flirty. You never told me you had a girlfriend because it never got to that place."