'Summer House': Hannah Berner's Shocking Podcast Episode Resurfaces of Her Making Dangerous Mental Health Jokes
Hannah Berner's Summer House cast members dragged her for remarks she's made on podcasts during the first installment of the reunion. But one podcast that was not discussed was one where she joked about another cast member's mental health.
She commented about the anguish Luke Gulbranson had over his ex-girlfriend in the podcast, Puddles with Andrew Collin. Berner then snarked about the state of Gulbranson's mental health, which seemed to surprise the podcast host. Since the episode resurfaced on social media, fans have demanded that Berner's own podcast sponsor, mental health company Better Help, look into the remarks she made.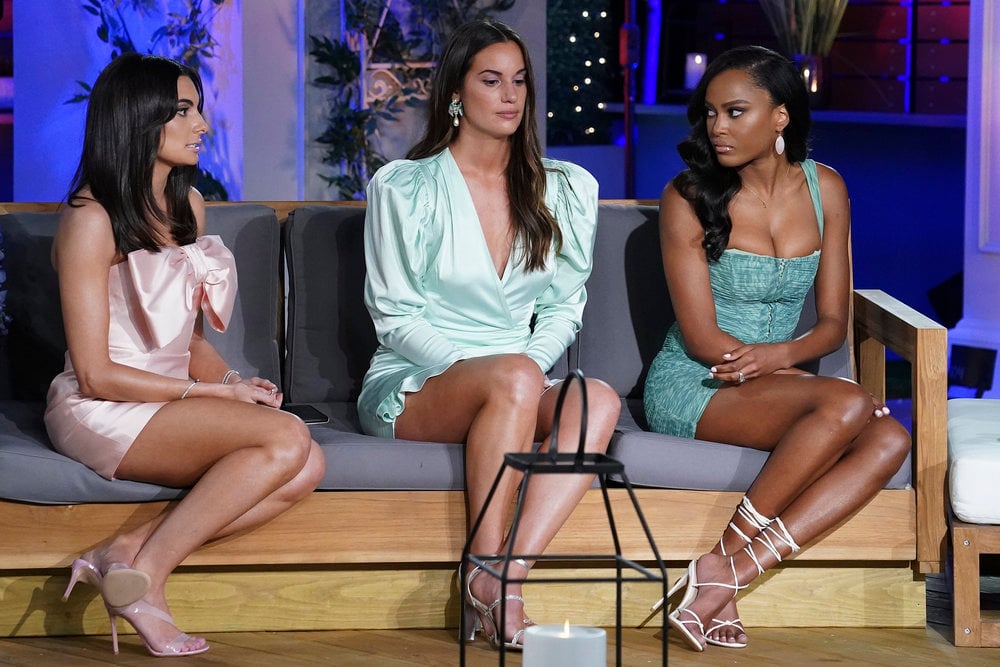 Even the podcast host seemed shocked by Hannah Berner's comment
Berner appeared on a February 2020 episode of the podcast, which was when she and Gulbranson were allegedly still close friends. At the beginning of the season, she insisted she and Gulbranson talked consistently throughout the winter, which made the shocking comments even worse.
During the podcast episode, she couldn't understand how distraught Gulbranson was over his ex-girlfriend, caustically making controversial remarks about suicide. Podcast host Andrew Collin was taken aback, but she seemed unbothered by her remarks. "You literally said that?" he asked her. When she replied yes, he just said, "Geez" looking uncomfortable.
Collin then asked Berner if she went over to check on Gulbranson. "No," she laughed. "I could tell he wanted attention." Then she added that she asked him if he just wanted to have sex and was going to tell him to bring a condom.
Hannah Berner made triggering comments about other cast members on podcasts
And while this episode did not resurface during the first part of the reunion, comments Berner made about Carl Radke did. Berner's podcast activity quickly became a topic and Radke called her out.
"Be real, be real Hannah, please," Radke said during the reunion. "Like even a couple of weeks ago, yeah Luke [Gulbranson] had some unfavorable things that went on the show. You make a meme and lean into it. I get it's funny but it's not funny because it's about us."
"You said things about everyone in this room," he added. "It has been hurtful on some levels. Mine, truthfully really f**ked me up. You said I have a drug problem on a podcast."
Berner implied that Radke snorted Adderall on a 2019 podcast. Radke's brother Curtis died of an accidental overdose during the summer of 2020, which was documented this season. Radke has been open about how he's struggled to confront his brother's death but also his own relationship with alcohol. He shared during the reunion he was in a very dark place this past winter. But Radke has been completely sober for the past 90 plus days.
Hearing Berner's callous remarks about the cast prompted Kyle Cooke to walk off the stage. "She's actually said this exact thing on a podcast," he said about comments she started making during the reunion. "You're the most self-absorbed person I've ever met in my entire life."