'Summer House': Kyle Cooke and Amanda Batula Are Still Planning Their Wedding Despite Season 5 Tease They Already Married
Did they or didn't they? Kyle Cooke and Amanda Batula from Summer House are seen having a quarantine wedding with Carl Radke as the officiant. So did they make it official?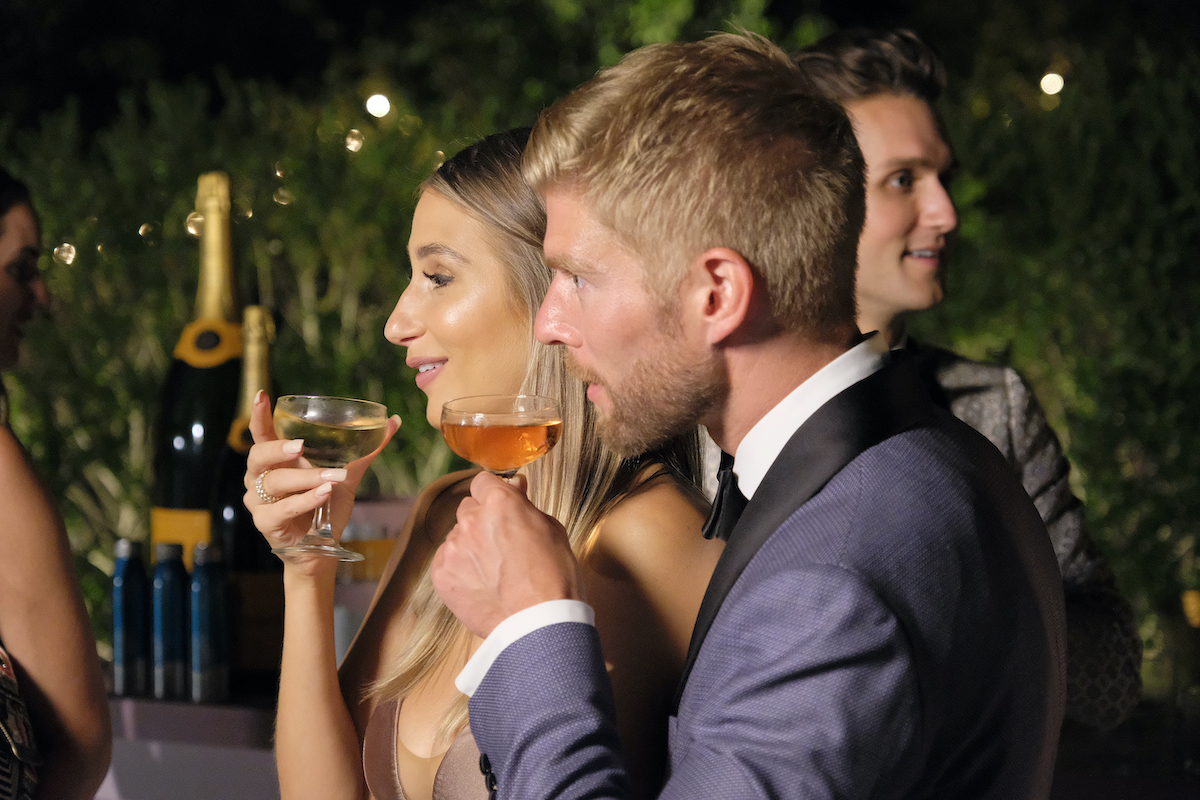 "You'll have to wait and see," Cooke told E! "We certainly contemplated it man…By the time the summer came to an end we'd been engaged for two years, it was kind of like, 'What do you want to do?'"
"We're still postponing our big celebration with immediate and extended family and friends and what not, but we had fun with our friends this past summer," Cooke teased. The hint means Cooke and Batula are still planning a wedding and Cooke opened up about their plans.
COVID still has the couple in wait and see mode
Cooke and Batula were supposed to marry this fall but the couple postponed their nuptials due to the ongoing threat of COVID-19 (coronavirus). Cooke shared a photo on Twitter on "date night" which would have been the day after the couple was supposed to marry. "Last night we were supposed to get married," he shared in a tweet on Sept. 19. "But instead went on our first date in NYC since the lockdown. Crazy times in a crazy world makes me appreciate what we have more than ever. I love you [Amanda Batula]."
He told E! he planned to visit a prospective wedding venue the following day. "I feel like a lot of people are in this catch 22," Cooke explained. "You've got all this money down, most people probably haven't even been engaged for two plus years."
RELATED: 'Summer House': Did Lindsay Hubbard's Relationship With Stephen Traversie Survive Season 5?
"But yeah, it's stressful, it adds more stress to the equation and we're just trying to figure it out," he continued. "There's a lot of unknowns and our wedding was technically speaking postponed and by the time our new date comes around it's kind of like I don't know if enough has changed. We'll have to wait and see."
The couple had trouble finding a venue pre-COVID
Batula recently modeled wedding gowns and shared the looks on her Instagram story, Bravo's Style & Living reports. The bride-to-be has been wedding planning purgatory, even pre-COVID. The couple missed out on their first choice for a wedding venue because the location wouldn't allow the Summer House production company to film the nuptials.
Last Feb., fans wondered if perhaps the couple was stalling due to cold feet. "Just as there are no rules for dating, there are no rules for engagements (except the tv show)," Batula shared on Instagram. "Some people elope, go to city hall, plan their wedding in less than a year, or are engaged for 5+ years before getting married. Kyle and I went through a lot right before getting engaged, and I am so glad he is so excited to get married, but I needed more time."
RELATED: 'Summer House': Amanda Batula Reveals Why Her Wedding Venue Fell Through
"I also want our wedding to be the wedding of our dreams and I need the time to make that happen," she added. "After months of looking, we found what we though was the perfect venue. When it fell through, I couldn't just pick up where we left off because I felt like we exhausted all of our options. I felt defeated. Of course there are many other aspects to this story but I'm not looking to write a novel here so I wanted to clear this one thing up. You can make all the assumptions you want about our relationship and engagement. You can place all the bets on if we'll get married or not."
Summer House Season 5 kicks off on Thursday, Feb. 4 at 9/8c on Bravo.