'Summer House': Kyle Cooke Storms off Stage After Hearing Hannah Berner Accused Carl Radke of Having Drug Problem on a Podcast
Hannah Berner's podcast past came back to haunt her during the Summer House Season 5 reunion as the cast relives what Berner has said about many of them in the past.
Berner was clearly in the hot seat during the reunion and Kyle Cooke shared how Berner was "talking sh*t" about him on a podcast only days earlier. "Be real, be real Hannah, please," Carl Radke said during the reunion. "Like even a couple of weeks ago, yeah Luke [Gulbranson] had some unfavorable things that went on the show. You make a meme and lean into it. I get it's funny but it's not funny because it's about us."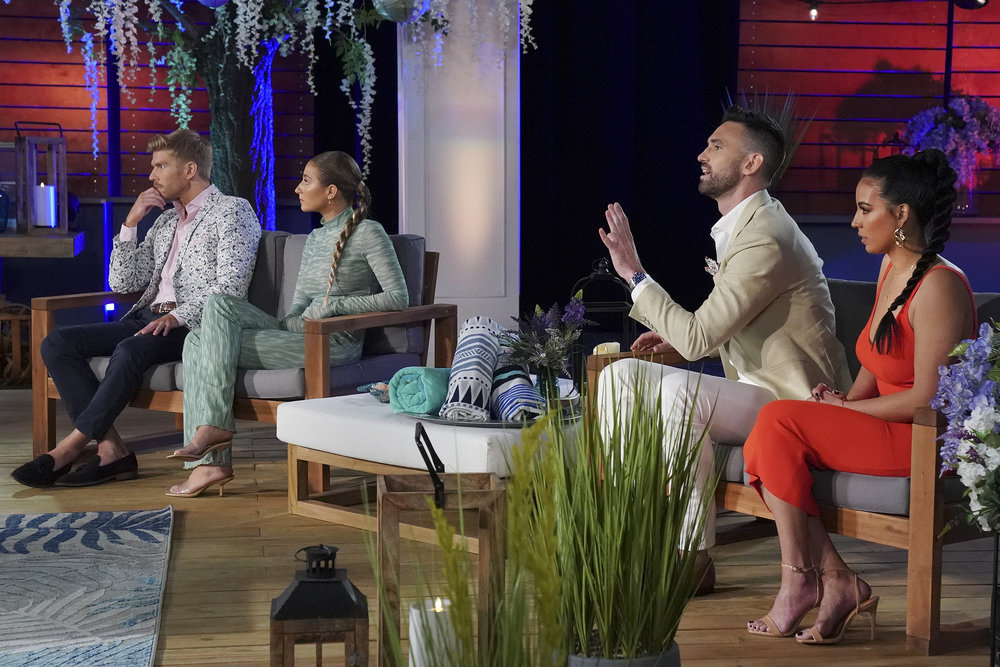 Carl Radke calls out Hannah Berner for the 'Adderall' remark
But then Radke revealed something Berner said about him on a podcast that was pretty serious. "You said things about everyone in this room," he continued. "It has been hurtful on some levels. Mine, truthfully really f**ked me up. You said I have a drug problem on a podcast."
Berner denied ever saying that, but The Dipp did a recap of every disparaging remark Berner said about each cast member. "After doing a bit of sleuthing, I have determined that Carl is likely referencing Hannah's 2019 appearance on the Everything Iconic With Danny Pellegrino podcast," according to The Dipp.
RELATED: 'Summer House': Luke Gulbranson and Lindsay Hubbard's 'Hookup Footage' Never Surfaced This Season?
"When asked by Pellegrino how the Summer House stars drink so much one night and have still have energy to film the next morning, Berner said, 'Well, I think there's a lot of Adderall going around.' She continued, saying, 'Let's just say one morning Carl's nose was bleeding when we were playing tennis. I was like, 'How much Adderall are you snorting?' And he was like, 'What?' And I'm like 'You're an idiot.'"
Berner denied it and Cooke became extremely heated. "Are you f**king kidding me?" Cooke lashed out at Berner from his seat.
"I made a joke about Adderall …" Berner said. But Radke shot back telling her it wasn't a joke. DeSorbo tried to defend Berner, but Cooke reminded everyone that the podcast was picked up by the press.
Kyle Cooke hit his boiling point and walked off the set
Host Andy Cohen then turned to Cooke and Amanda Batula asking for an example of what Berner has said about them. "You have literally been talking sh*t about me for several months," Cooke said.
Berner became tearful over remarks she made about how she gets paid to be Cooke's friend.
"I think part of the challenge was just when you film with someone that's constantly podcasting and constantly on other people's podcasts, for better, for worse, the pot gets stirred," Cooke recently shared with ET. "A lot of s**t was talked prior to leading up to the summer, and it wasn't just about me. It was about almost everybody in the house."
RELATED: 'Summer House': Ciara Miller Regrets Not Hooking up With Carl Radke
Batula and Cooke then addressed Berner's recent comments on the Everything Iconic With Danny Pellegrino podcast. Berner said that Cooke told her to thank him for giving her a career. "That was after she told me she gets paid to be my friend," Cooke said to ET. "Boom. There you have it."
Cooke and Berner battled during the reunion but he couldn't take it – he walked off set. "She's actually said this exact thing on a podcast," he said while starting to walk away. "You're the most self-absorbed person I've ever met in my entire life."