'Summer House': Lindsay Hubbard Has 'No Regrets' About Luke Gulbranson, but Is She Speaking to Hannah Berner?
Lindsay Hubbard and Luke Gulbranson's Summer House hookup may have dinged her relationship with Hannah Berner.
While Hubbard and Berner had issues in the past, hooking up with Gulbranson may not have helped to make their friendship any stronger. Previews tease that Hubbard and Gulbranson hook up during season 5. Hubbard, who was currently in a relationship in the house, likely has a falling out with boyfriend Stephen Traversie. Hubbard has revealed that she and Traversie have since broken up.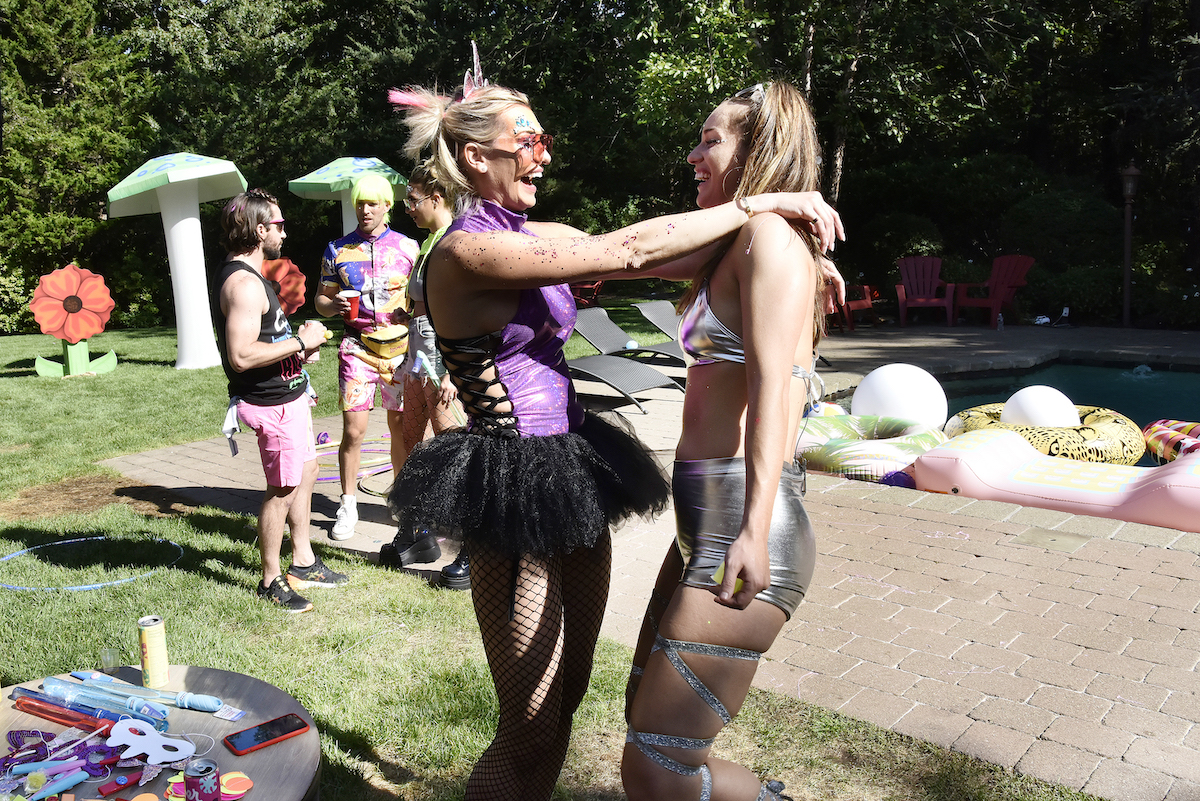 Lindsay Hubbard has 'no regrets' about Luke Gulbranson
Hubbard recently expressed that she doesn't regret anything with Gulbranson, but added that she hasn't really gotten any closer with Berner either.
"I absolutely adore Luke," she told Style Caster. "He's a genuinely good guy. I think he tends to get himself into some messy situations with girls and I'm no exception to that. You're going to have to wait and see how that unfolds for yourself. Listen, we all do crazy things. We're all human. I don't regret anything, let's just say that."
But Hubbard knows that this hookup had to impact her relationship with Berner. Berner melted down when Gulbranson brought another woman, Ciara Miller, into the house. Miller and Gulbranson had romantic intentions and this was news to Berner. She and Gulbranson got into an explosive fight, but they eventually seemed to cool their anger toward each other.
Lindsay Hubbard and Hannah Berner only text at this point
Hubbard and Berner started the season in a fight. Hubbard was angry that Berner spoke negatively about her on a few podcasts. And Berner was angry at Hubbard because she was left off her guest list when the cast got together.
While they quickly resolved their conflict during the first few episodes, romance with Gulbranson may have set them back.
"Hannah and I have a very complex relationship," Hubbard told Style Caster. "It's very sisterly. There are a lot of similarities between us and there are a lot of differences. A lot of lessons I learned at her age, I've already learned, and I'm just waiting for her to catch up. But I do think Hannah means well. I think she does have a good heart. Now, we share a couple of texts and DMs back and forth with each other, but we don't necessarily pick up the phone and call each other and hang out."
Are Luke Gulbranson and Hannah Berner still friends?
Berner and Gulbranson also seem to have experienced a friendship setback. Gulbranson told Showbiz Cheat Sheet he and Berner definitely had a misunderstanding about their relationship. Plus he was shocked when she confronted him this season.
"Hannah and I after the show, we continued to be in contact," he said. "And it fizzled out from being anything serious. And that is why I was so cautious that summer. I didn't want to hurt her and have things be all f**ked up and weird." 
"We became really good friends and we drew a line in the sand and had a conversation about it," he continued. "It was very clear to me she was dating other people and living her life. And that was it."
"Like I said, I was under the impression we were friends," Gulbranson said. "And I've been very open and honest with her," he added. "She had a boyfriend going into the summer. So you just have to wait and see and watch things unfold throughout the season. But, yeah I think the audience will know and I definitely think it's going to be entertaining."
Adding, "I think when it comes down to it, you're going to have to watch the season, and then everybody can determine to themselves if we're friends or not."  While he still follows her on Instagram, Berner no longer follows Gulbranson.