'Summer House': Lindsay Hubbard Says, 'There Was Blood' During the Huge Season 5 Fight
Lindsay Hubbard from Summer House relived the physical altercation the entire cast gets into at the front door of the Hamptons home.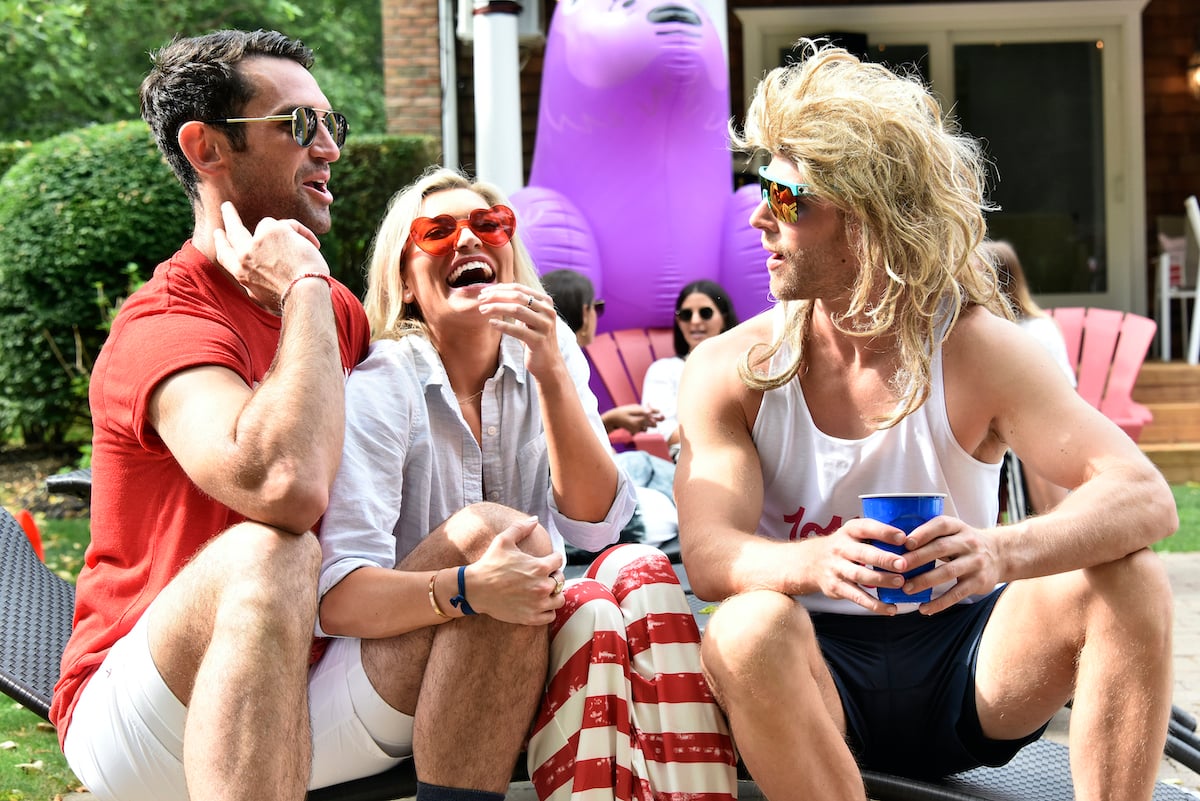 The season 5 trailer showed the cast fighting at the door as the production crew had to get involved. Hubbard, who was trying to steer clear of the drama this season, said there was literally no way to avoid getting involved in both physical and verbal smackdowns this season.
Lindsay Hubbard tried to break up a fight amongst the guys
The fight at the door is yet to play out, but Hubbard said she ended up being the one to body slam another cast member. "There was blood," she told ET. "I don't know how there was blood. There was a lot of, you know, boys talking through the walls to each other, a lot of yelling from the upstairs to the downstairs, and I was just in my room enjoying a cocktail."
But then somehow she got dragged into it and tried to break up the fight. "I, like, body-slammed Kyle against the front door of our house," she recounted. "I was just like, no, no, no, no, no!"
She added, "I don't know what's happening, but if it makes it out to the driveway, that's when there's more space and more room, and less opportunity to contain and control the situation."
"So, you know, we all just sort of launched at the guys to hold them back and I just happened to body-slam Kyle [Cooke]," she continued. "And spider-monkey him and use my feet as leverage on the door and hold him from getting out the door. I can't wait to see that footage alone, because I somehow became like a WWE champion."
The 'Summer House' had a slew of verbal fights too
Plenty of verbal fights ensue, several that directly involve Hubbard. She teased that Amanda will be an adversary at some point this summer.
"I always have a target on my back every single summer, I breathe — I breathe! — and they come at me," she recalled. "In that situation, a rumor had started and Amanda was trying to justify it and I was like, 'Oh, come on. There's no justifying this insane rumor…'"
"I was like, how many summers can you just possibly yell at me?" Hubbard continued. "If it's not talking behind my back, now you're creating a rumor? … I like to shut it down when that's happening, especially to me. No one else is going to defend me, I might as well defend myself."
Lindsay Hubbard also had conflict with Stephen Traversie
Of course she also sparred with (now ex) boyfriend Stephen Traversie. Hubbard said the writing was on the wall that the relationship wouldn't last and she admits to staying too long.
"I don't typically regret anything, I just try to learn from mistakes and move forward," Hubbard remarked. "I, unfortunately, stay in things a little bit too long." Cracks in Hubbard and Traversie's began to show during the latest episode when Hubbard confided in Danielle Olivera that it seemed to be a one-way relationship.
The couple eventually called it quits. Watching the footage back has helped Hubbard realize why. "I was very decisive in that moment and there was no going back," she said. "And now I'm watching why. Now I'm watching back as to why I was decisive."
Summer House is on Thursday at 9/8c on Bravo.