Sunny Anderson's 4-Ingredient Pulled Pork Recipe Features Peanut Butter, to the Dismay of Some Reviewers
Peanut butter and pork may sound like an odd pairing. But Food Network personality Sunny Anderson's Pulled Pork recipe stars both ingredients to the delight of many reviewers and dismay of others.
Sunny Anderson's Pulled Pork may call for just four ingredients, but one of them is peanut butter. While the Food Network personality's dish might seem a little unusual, many reviewers on the culinary channel's site were delighted with it.
Still, some home cooks gave the recipe a firm thumbs-down.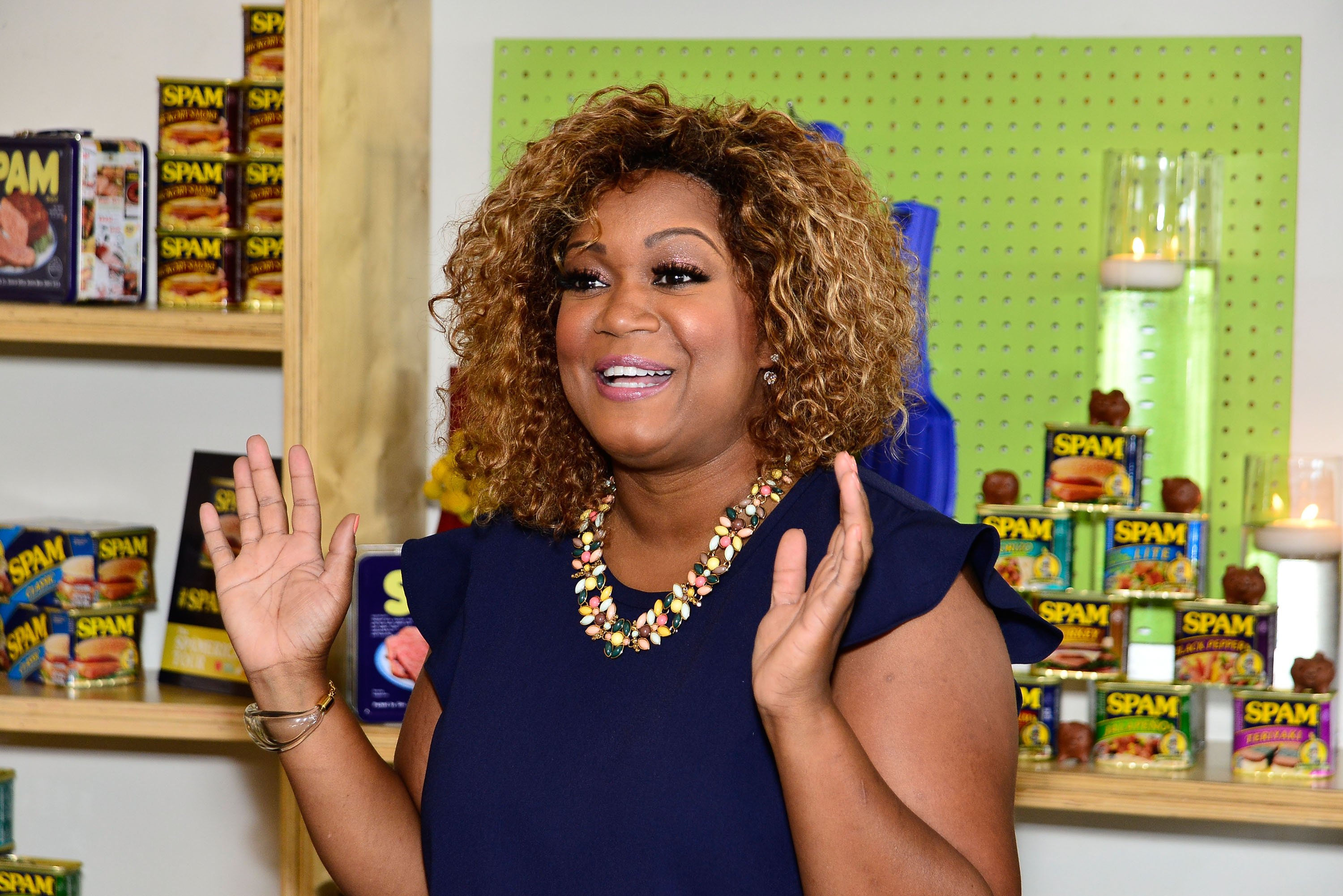 How Sunny Anderson makes her bold dish
Anderson seasons her pork shoulder cut generously all over with a spice rub of salt, pepper, and ground cumin. "When I say rub, I mean it," she says in the Food Network video, below for this recipe. "Just get on up in there and rub it in." The co-host of The Kitchen adds that "if you don't have cumin, you can always use like steak seasoning or just go into your pantry and find something you like that you think would be great with your pulled pork."
The shoulder is placed in a slow cooker on low for eight hours, along with a sauce made up of jarred salsa, cumin, and "our secret and fun ingredient, peanut butter" that's poured right over the pork before cooking.
Anderson explained her thinking behind adding the nut butter to this savory dish: "Listen, I just thought this up one day and thought maybe it would work, tried it, and it works! So good! Even my brain was like 'I don't know, I don't know,' but it's rich, it's creamy, it adds a little nutty flavor."
Get the complete recipe, video, and reviews on Food Network's site.
For some home cooks, Anderson's dish is a no
Some reviewers on Food Network's website who tried Anderson's recipe simply were unsatisfied with the final result.
"I wasted a pork butt. My husband thought it was so bad he has banded [sic] me from Food Network. Hopefully, he will forget this soon," one cook said.
Another reviewer said, "My husband and son liked it, but I didn't.  Looked like throw up lol.  Most of [Anderson's] recipes are great, but won't be making this again."
Others rued the loss of so much meat, writing, "Peanut butter and salsa did not go together. We were very disappointed," and "This was an absolute bomb at my house and very expensive to boot I even tried rinsing off the pork because I couldn't really afford to have such a large amount of food go to waste…"
Anderson's unusual pulled pork recipe is a 'flavorful' delight for many Food Network reviewers
Still, numerous home cooks overwhelmingly loved the daring dish, with one chiding those reviewers who gave the dish a low rating.
"For those naysayers who made this recipe and did not like it, you're nuts! I just made it and it tasted fabulous. … Will make it again and again. Thanks, Sunny!," one wrote.
Another said, "Great and different tasting pulled pork flavor. The whole family liked it. The type of salsa used would definitely make all the difference…I used homemade salsa, and it was terrific."
For anyone hesitating to try the recipe for fear it'll be too peanut buttery, this reviewer offered reassurance saying, "The pork was tender and moist and the sauce thickened with the peanut butter and was a good texture. It didn't taste like peanut butter and it didn't taste like salsa.  It was savory, flavorful and was good.  SO easy."