Sunny Anderson's 7-Layer Tex Mex Salad With Cornbread Croutons Is the Ultimate Summer Supper
Light and healthy meets spicy and cheesy in Food Network star Sunny Anderson's Layered Tex-Mex Salad.
Food Network star Sunny Anderson delivers just the right summer dinner recipe with her multi-layered Tex-Mex salad.
With layers of beans, cheese, lettuce, salsa, and more, Anderson's delicious salad satisfies cravings for something light and something spicy.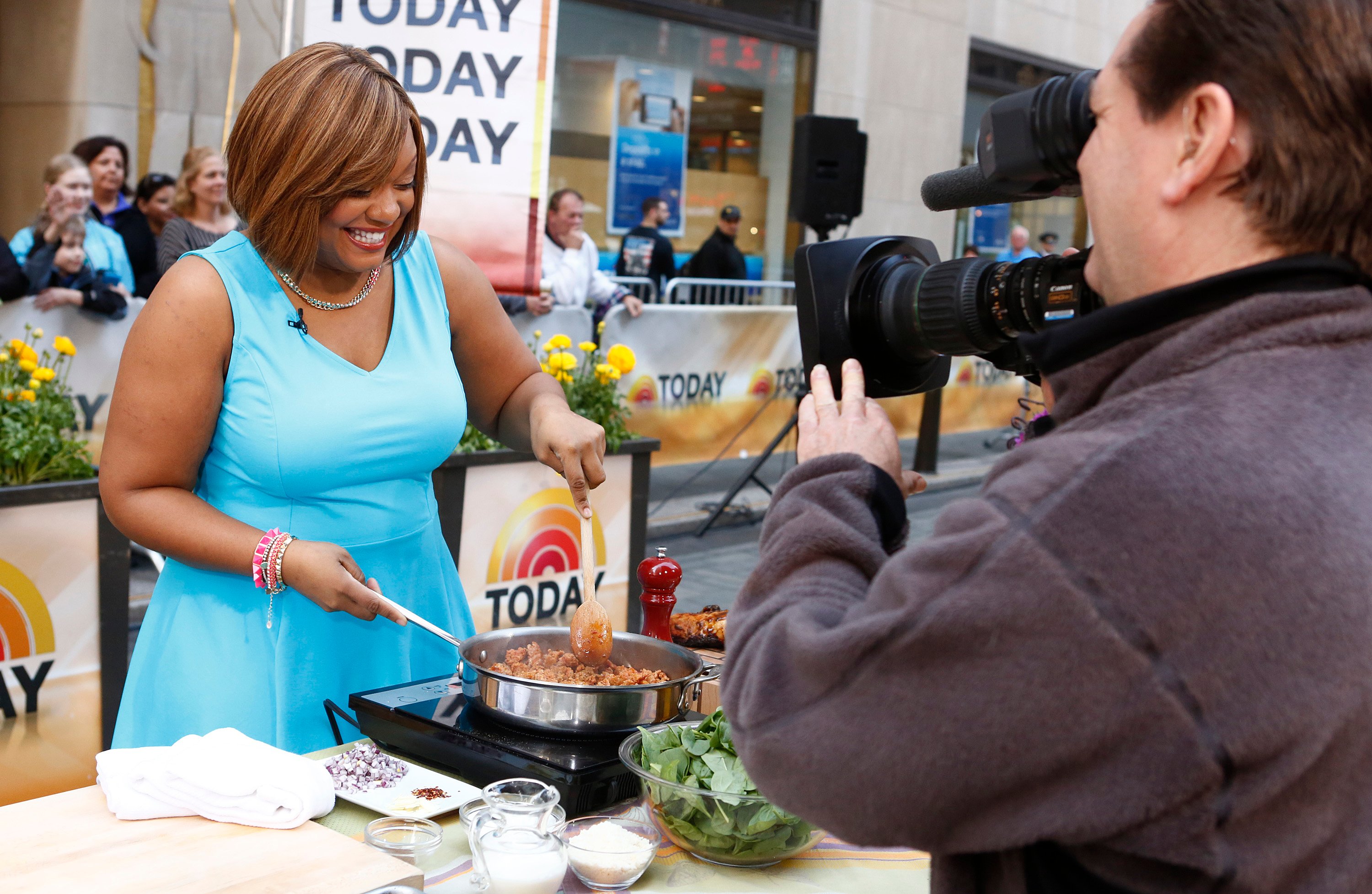 Anderson's salad is layer upon layer of flavor and texture
The co-host of The Kitchen's salad recipe calls for a box of cornbread mix, an egg, milk, canned black beans, Sazon seasoning, salsa, tomatoes, romaine lettuce, and grated Monterey Jack and cheddar cheeses. 
For the creamy lime dressing, you'll need cilantro leaves, red wine vinegar, lime zest and juice, sour cream, fresh garlic, honey, and extra-virgin olive oil.
"I really, really love the flavors of Tex-Mex food," Anderson said in the Food Network video, below, for this recipe. "My first job in San Antonio, Texas, was at a burger joint. But right after that, I worked at a Mexican food place. Let me tell you, I was taking food home almost every night."
The Food Network personality's salad comes together easily and gorgeously
Anderson starts by placing the dressing ingredients in a blender. She emphasizes the importance of the lime zest in the dressing: "It's all because I just love the oils that are in the skin. Anytime I put lime juice or lemon juice in something, zest is going to go right behind it."
And the chef adds that sometimes necessity really is the mother of invention, explaining that the dressing was something that "all just came out of me figuring out how to use up some cilantro before it went bad in my fridge."
She said she realized that "it's not good enough and crunchy enough to go on the taco like lettuce. I'm going to have to blend it away into something," which turned out to be her zesty and creamy dressing.
As for the layers in her salad, Anderson places each ingredient in a clear, high bowl or dish (in her case, she used a clear trifle bowl for an impressive presentation). The beans go first, then a layer of shredded cheddar cheese, then salsa with Roma tomatoes, followed by the shredded Monterey Jack cheese, then the lettuce, and creamy lime dressing.
For the culinary personality, the best part of the salad has to be the cornbread croutons, which are sprinkled on top of the festive salad. They're made with fresh cornbread, which is cubed. "We're going to throw them on top of our Tex-Mex salad."
Get the video, reviews, and complete recipe on Food Network's site.
Lots of reviewers went ga-ga for Anderson's flavorful salad dressing
With so many textures and flavors, there's a lot to love in Sunny Anderson's summery salad. And while many reviewers on Food Network's site loved the salad, some didn't bother with it and went straight for the creamy dressing.
"I did not make the salad. Instead, I have been searching for a good lime dressing for some fish tacos. This dressing is it! It is completely off the hook! …  Wow, so so good. I could sit and eat this dressing like soup it's so delicious!," one home cook wrote.
Another agreed, saying, "I too have not made the salad, but the dressing ROCKS!!"
Still, there were many fans of the salad: "I served this salad for the first time to my monthly Recipe Group and everyone thoroughly enjoyed it. We sat outdoors on the patio and the salad was light and refreshing."