'Super Pumped': Travis Kalanick Was Not Involved With the Series
Joseph Gordon-Levitt plays Uber CEO Travis Kalanick in the Showtime drama Super Pumped: The Battle for Uber. Kalanick himself was not involved with the series, but Gordon-Levitt did have a wealth of material from which to draw. He also did a bit of research on his own.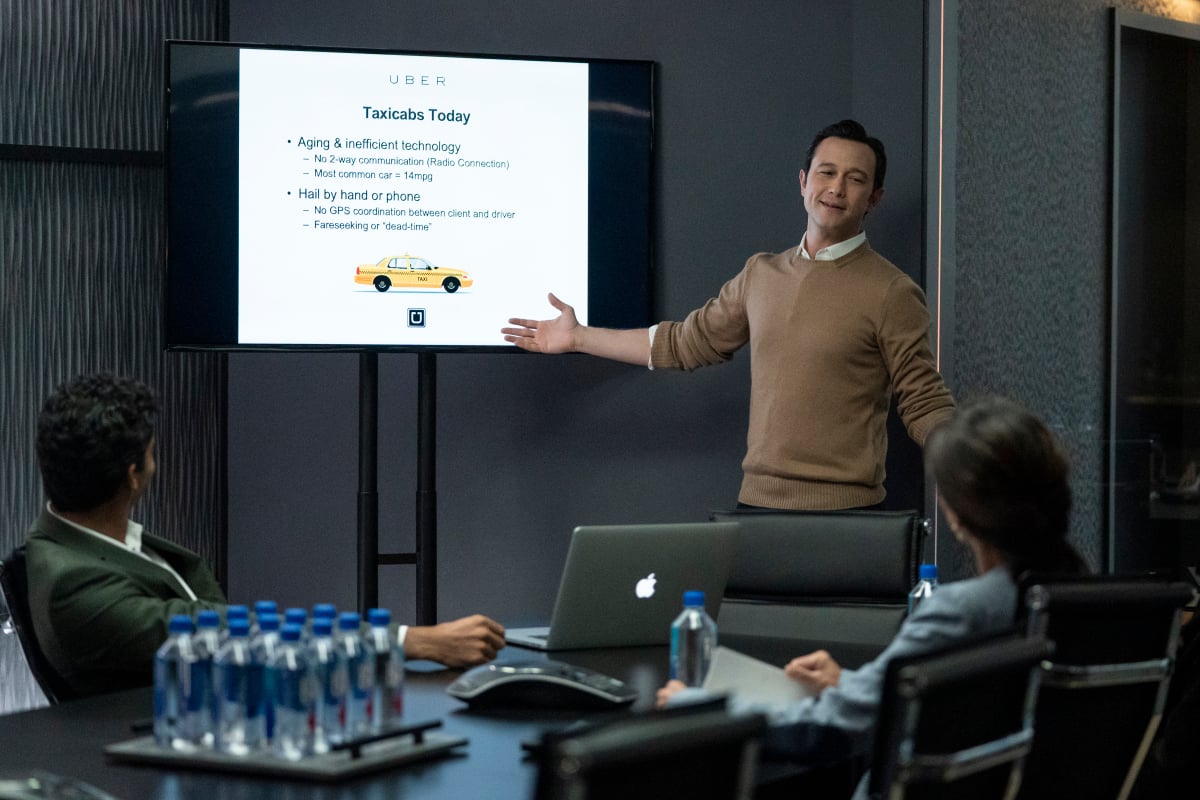 Gordon-Levitt was on a Television Critics Association Zoom panel for Super Pumped on Feb. 23. Here's what he said about Kalanick. Super Pumped airs Sundays at 10 p.m. on Showtime.
Travis Kalanick had many opportunities to contribute to 'Super Pumped'
David Levien, Brian Koppelman, and Beth Schacter wrote, executive produced and served as showrunners for Super Pumped: The Battle for Uber. The show is based on Mike Isaac's book. Kalanick declined Isaac's request to contribute and a New York Times request for comment. So, Levien, Koppelman, Schacter, and Gordon-Levitt trusted Isaac's research and interviews with over 200 sources. 
"We wanted it to be based on the research and the book, and not be swayed by personal feelings one way or the other by interacting with him," Levien said in the New York Times.
Joseph Gordon-Levitt filled in the blanks on Travis Kalanick
Gordon-Levitt relied on Isaac's research, but in portraying Kalanick, he wanted to convey more than just the facts. So Gordon-Levitt set about diving deeper than the research and media coverage of Uber.
"I was really intent on not reducing Travis to his headlines," Gordon-Levitt told the TCA. "I really wanted to show a whole and multifaceted human being. It's probably a lot more flattering a portrayal than a lot of the press around him because the press doesn't focus on him as a whole human being. The press more focuses on the particular decisions that he made and actions that he took as the leader of this company because that's really more the place of journalism and nonfiction. Whereas the place of a dramatization is to dive into the humanity of him."
Super Pumped: The Battle for Uber is definitely a warts and all look at Uber. Kalanick made some cutthroat decisions, but Gordon-Levitt refrained from judging him.
It's of utmost importance not to judge any character you are playing. I've played characters guilty of far worse things than anything Travis ever did and still done my best not to judge but to try to empathize. That's one of the things I love about acting is really putting myself in the shoes of such a wide variety of people. I also think that we all have it in us to be that kind of beast. It's a basic primal-animal thing to want to just take and get what you want, and who cares what that means to anybody else? Travis leaned into it really hard, harder than most of us do. That was a lot of fun to play, allowing myself to, kind of, indulge that inner beast that I think we all have.

Joseph Gordon-Levitt, Television Critics Association panel, 2/23/22
Joseph Gordon-Levitt spoke with Uber staff
Though he did not speak with Kalanick himself, Gordon-Levitt did speak with other people who worked with him. Gordon-Levitt's goal was to capture something research couldn't convert.
"I'm not a journalist, I'm an actor. So, my job is not just to relay what happened," Gordon-Levitt said. "My job is to relay how it felt and who is the whole human being making these things happen, and I'm of the opinion that all human beings are complicated. Reading the book, reading a lot of the press around Uber, a lot of the focus is on these incredible things that Travis did both good and bad. I wanted to find out, 'Okay. But how does it actually feel to be in a room with him? What's he really like?'"
Gordon-Levitt said he learned both positive and negative things from Kalanick's associates. He hopes to convey them within the fact-based episodes of Super Pumped: The Battle for Uber.
"So, all of the things that you see in the show, from the book side, they are things that really happened," Gordon-Levitt said. "But then, from the, kind of, human side, at least from what I was playing, those are things that I heard about from talking to people that were there.
RELATED: These Are Things Your Uber Driver Is Silently Judging You For