'Superman & Lois' Season 2 Premiere Recap: Is Smallville Doomed After Episode 1?
The Kents are back and so is the drama in 'Superman & Lois' Season 2. The premiere featured friction between Clark and Lois, and the episode introduced a new threat.
The finale of The CW's Superman & Lois Season 1 showed the Kent family in a good place following the defeat of Tal-Rho. However, fictional characters in superhero shows can never stay happy for too long. So the finale ended with John Henry Irons' daughter — Natalie — crashlanding in Smallville. Now, in the Superman & Lois Season 2 premiere, the characters are dealing with the fallout, and we have a recap of everything else that went down during the hour.
[Spoiler alert: This article contains spoilers from Superman & Lois Season 2 Episode 1, "What Lies Beneath."]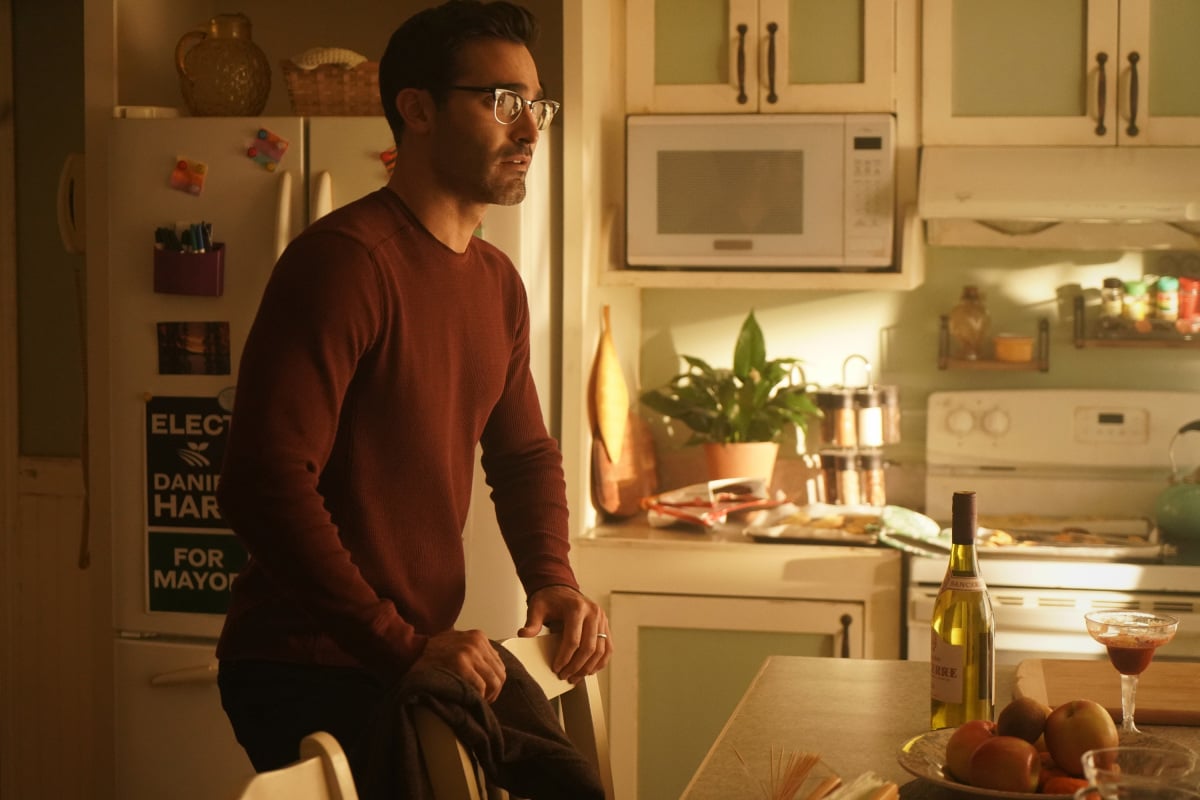 Clark and Lois are on the outs in the 'Superman & Lois' Season 2 premiere
To recap the Superman & Lois Season 2 premiere, we have to start with Clark and Lois. The episode takes place three months after the events of the season 1 finale. And, unfortunately, after Natalie came into their world, Lois has been pulling away from Clark and everyone else around her. There's noticeable friction between the couple and between Lois and her boys. Plus, she's having trouble agreeing with Chrissy regarding recruits at the Gazette.
The audience later discovers that Lois is upset with herself for how she acted toward Natalie when they first met. Lois didn't do anything when Natalie called her "mom," and now the reporter feels like she knows what her mother must have felt when she left her, her sister, and her dad.
Clark reassures Lois that she's nothing like her mother. And after finally opening up to Clark, Lois reaches out to Natalie, who is struggling herself.
Natalie has trouble fitting in on the new Earth
In the Superman & Lois Season 2 premiere, the audience gets a recap of what the past few months have been like for John and Natalie. The father-daughter duo moved to Metropolis, where they plan for Natalie to attend the high school she went to on her Earth. However, Natalie has not adjusted well to Earth-Prime.
She constantly fights with her dad, and she even admits to him that she wishes she had never come there. Natalie goes as far as saying that she wanted to die back on their Earth.
Thankfully, Lois convinces Natalie to talk to her. And the two seem to come to an understanding regarding the nature of their relationship. Lois and Natalie agree to be in each other's lives as friends. In the end, John and Natalie decide to come back to Smallville. And Lois invites them to stay with the Kents until they find a permanent residence.
Jordan and Sarah are off to a rough start
As for Jordan and Jonathan, the Kent boys deal with the complexity of teen romance in the premiere.
Sarah returned from camp in episode 1, and Jordan was excited to see her, but Sarah didn't seem to feel the same. He made a bunch of grand gestures, none of which made her happy. Either something happened at camp, or Sarah is confused about her feelings for Jordan. Whatever the case may be, it's not looking good for Jordan and Sarah.
Elsewhere, Jonathan has a new girlfriend named Candice — what happened to Tegan? — and Lois awkwardly caught the two of them making out. This, of course, led to "the talk" between Clark, Jonathan, and Jordan.
Is Doomsday the villain of 'Superman & Lois' Season 2?
To end the recap of the Superman & Lois Season 2 premiere, we have to discuss the new head of the DOD — Lt. Mitch Anderson. He and Superman do not get along due to Anderson wanting Superman to commit his allegiance to America and Superman wishing to save the world, not just America. The superhero even saves a North Korean submarine early in the episode. So, because of this, Anderson creates a new team of superpowered individuals.
The recruits are a part of the Superman of America program, and they wear the House of El crest on their suits. Clark, of course, isn't OK with Anderson stealing his symbol. But there's nothing he can do to stop him.
Besides dealing with Anderson, Clark is also plagued by mysterious earthquakes in Smallville, which seem to originate from the Shuster Mines, and terrible headaches. And it's not till the very last shot of the episode that the audience begins to understand what is causing the tremors. At the mines, a hand is seen bursting through rock. Has Doomsday arrived in Superman & Lois?
During an interview with TV Insider, showrunner Todd Helbing revealed there are multiple Big Bads in season 2. He said, "They all start out maybe unrelated — 'unconnected' might be a better way of describing it — but they start to merge. That's really all I can say, only because if I tell you, if I give you one little tidbit, everybody out there is gonna know who it is."
Helbing added, "So, you see the first tease at the end of the premiere. In episode 2, you're gonna get a little bit more, another piece. And then in episode 3, you're gonna find out outright what it is."
Everything we know about 'Superman & Lois' Season 2 Episode 2
Following the recap of the Superman & Lois Season 2 premiere, things are bound to get even crazier for Smallville in episode 2. David Ramsey, known for playing John Diggle in the Arrowverse, directed the second hour of the season, titled "The Ties That Bind."
The synopsis reads, "Clark opens up to Lois about his ongoing struggle with visions and admits that there is only one person who might be able to help. Meanwhile, Lana receives some unexpected news, and tensions begin to rise between Lois and Chrissy. Lastly, Sarah breaks plans with Jordan to spend time with Natalie."
Superman & Lois Season 2 airs Tuesdays at 8 p.m. ET on The CW.