'Supermarket Stakeout': Alex Guarnaschelli's Net Worth and What the Chef Calls Her Most Memorable Meal
As much of a staple on Food Network as flour and sugar, Alex Guarnaschelli appears on the network's most popular programs including Chopped, The Next Iron Chef, The Kitchen, and, of course, Supermarket Stakeout.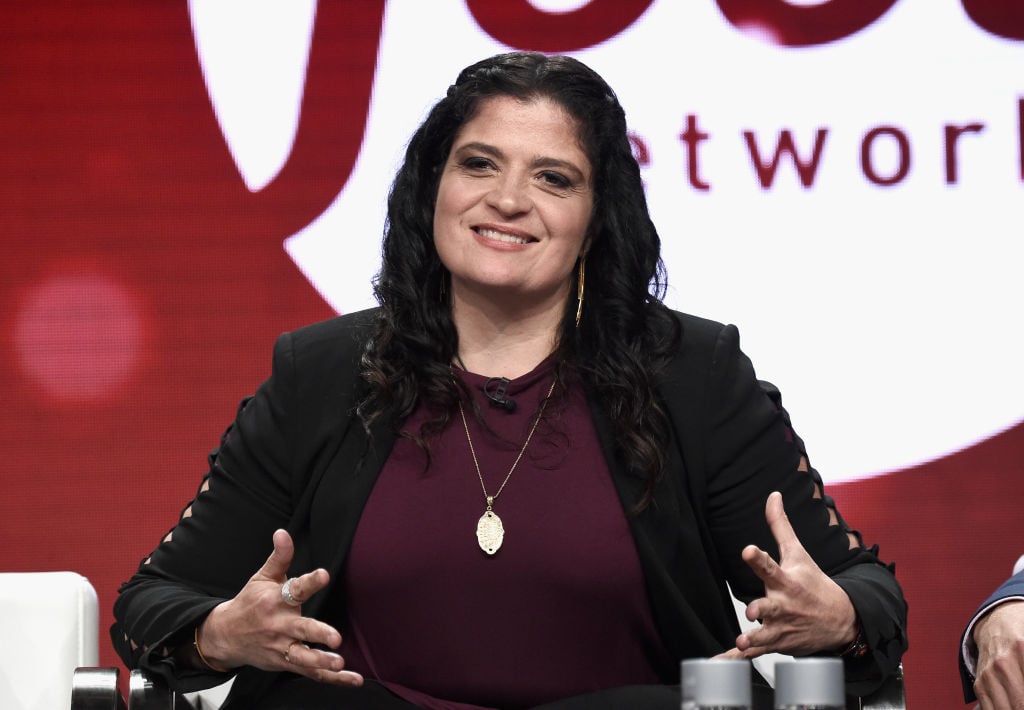 She signed a new contract with the channel last year, ensuring her at once level-headed and dynamic presence for years to come.
Alex Guarnaschelli says her mother has been the biggest influence on her vocation
The renowned chef, who has made a name for herself at Michelin-starred restaurants including Guy Savoy in Paris and Daniel in New York, calls her mother, Maria, herself an accomplished cookbook editor, one of the greatest influences on her life.
"[My mom] has been a force of nature for me," Guarnaschelli told Thrillist in 2017. "She leads by example as much as by teaching. She is always cooking something and my dad and I are always eating it! My mom has cooked so many tremendous meals. . ." 
The Chopped judge and cookbook author reflected on how her mother's determination gave her the courage to persist in her profession, despite occasional setbacks.
"I have so many standstill moments while working," she admits. "Times when I doubted myself or my choice of profession, she would always tell me to forge on. She would recount her own experiences and give examples — analogies that help me see things more clearly. She tells me the truth I sometimes don't want to hear and delivers the message bluntly. Invaluable."
What Guarnaschelli has learned about restaurant work
The 47-year-old chef talked to The New York Times in 2007 about the dynamics that take place in the kitchen of a restaurant. She opened her own restaurant, Butter, where she serves as executive chef, in 2002.
"It's amazing the relationships you forge in a kitchen. When you cooperate in an environment that's hot. Where there's a lot of knives. You're trusting your well-being with someone you've never before met or known. I am so devoted to my staff. Devoted to them personally as people. It isn't just about the baby carrots. If people don't have their heads screwed on, they're not going to be effective at working."
The mother of 12-year-old daughter Ava is showing that dedication lately, through the current global health crisis that has crippled the restaurant industry. She is participating in a GoFundMe effort called "Save BUTTER Employees" to raise as much money as possible for the needs of her restaurant's staff during this time.
Her net worth and the meal that remains her favorite
Alex Guarnaschelli's net worth is $2 million.
She's back now in Supermarket Stakeout's second season, which premiered Mar. 2020. Food Network's president, Courtney White, said of the popular program, "Supermarket Stakeout quickly became a must-watch for our viewers in its first season and we are so excited to deliver another season this soon."
As for the chef's favorite meal? If you guessed that her mom had a hand in it, you're right. "My mother cooked me a birthday dinner at home when I was 11 or 12," she told Food Network. "Scallops in their shells and my favorite chocolate caramel cake. All the recipes are in my new cookbook. Best meal I can ever remember eating."