SuperM's First Studio Album 'Super One' Debuts at No. 2 on the Billboard 200
SuperM are back on the Billboard 200 chart with their studio album Super One. The K-pop group released the album on Sept. 25, and the ranking marks SuperM's second appearance on the chart since their 2019 debut.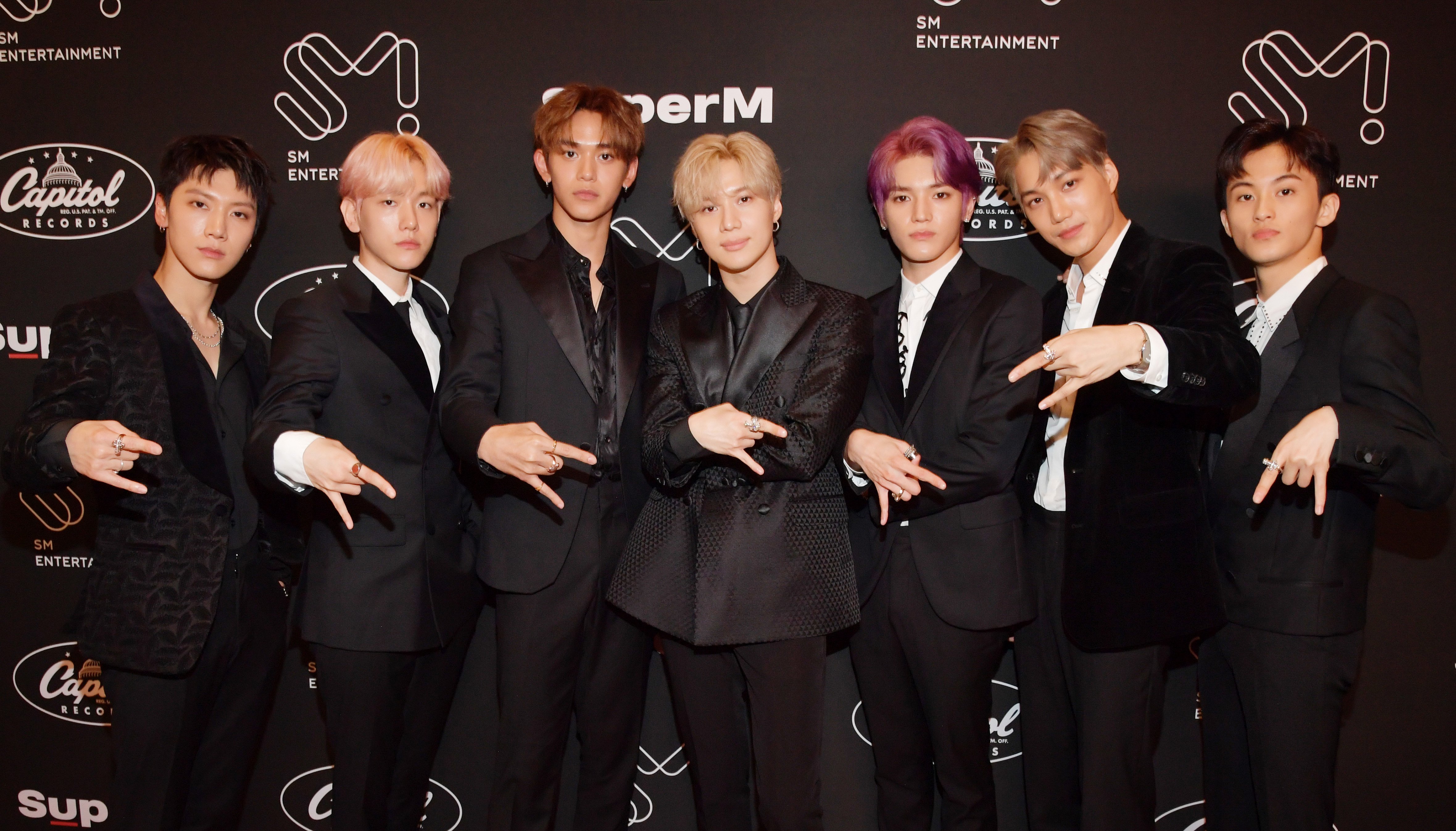 'Super One' debuted at No. 2 on the Billboard 200
SuperM released their eponymous EP in 2019, and the EP debuted at No. 1 on the Billboard 200. This made SuperM the first K-pop group to ever debut at No. 1 on the chart. With Super One, the Korean band landed in the top 10 spots of the Billboard 200 for a second time.
According to Billboard, the album achieved "104,000 equivalent album units" and "101,000 are from album sales, 3,000 from SEA units (equaling 5.2 million in on-demand streams of the set's tracks) and a negligible sum from TEA units."
Billboard also added that "The set's sales were bolstered by many merchandise/album bundles sold via the group's official webstores, including a range of items co-branded with Marvel. In addition, sales were encouraged by more than a dozen variants of the album released across digital and CD formats, including a Target-exclusive version with different packaging and a poster."
Machine Gun Kelly's album Tickets to My Downfall ranked No. 1 on the Billboard 200 chart with 126,000 album units. While Super One ranked No. 2 on the chart, Billboard revealed on Twitter that Super One was actually the top-selling album of this past week, beating out Tickets to My Downfall. When looking at album sales alone, Super One earned 104,000 album units compared to Tickets to My Downfall's 63,000 album units.
A look at SuperM's first studio album
SuperM's album Super One features three singles: "100," "Tiger Inside," and "One (Monster & Infinity)." "100" and "Tiger Inside" were pre-release singles, and the lead single "One (Monster & Infinity)" was released alongside the album. All three songs show SuperM's variety as a group, and "One (Monster & Infinity)" is a combination of two of the album's B-sides, "Monster" and "Infinity."
Super One has a total of 15 tracks: "One (Monster & Infinity)," "Infinity," "Monster," "Wish You Were Here," "Big Chance," "100," "Tiger Inside," "Better Days," "Together at Home," "Drip," "Line 'Em Up," "Dangerous Woman," "Step Up," "So Long," and "With You."
What SuperM want fans to take away from the album
The release of Super One comes in the midst of the coronavirus (COVID-19) pandemic. In an interview with ELLE, Baekhyun, Taemin, Kai, Taeyong, Ten, Lucas, and Mark explained their thoughts on the album and what they hope fans think of it.
"We want our fans to know that despite the distance, we are together in spirit," Taemin told ELLE. "We created this album wanting to give back to our fans who give us unconditional love and support. Hopefully through our music, they can feel the positive energy and find happiness and hope to help get through this difficult time together."
Going forward, fans can expect to see performances and more content focusing on the members' offstage personas.
"Fans have already seen our powerful, energetic side through our performances. Now, we want to get closer to the fans and show them more of our 'human' side — who we are off-stage. Of course, we'll continue to bring great performances but at the same time, we want fans to feel comfortable approaching us and not feel so distant. Most importantly, I want fans to find comfort and positive energy in our music," said Baekhyun.