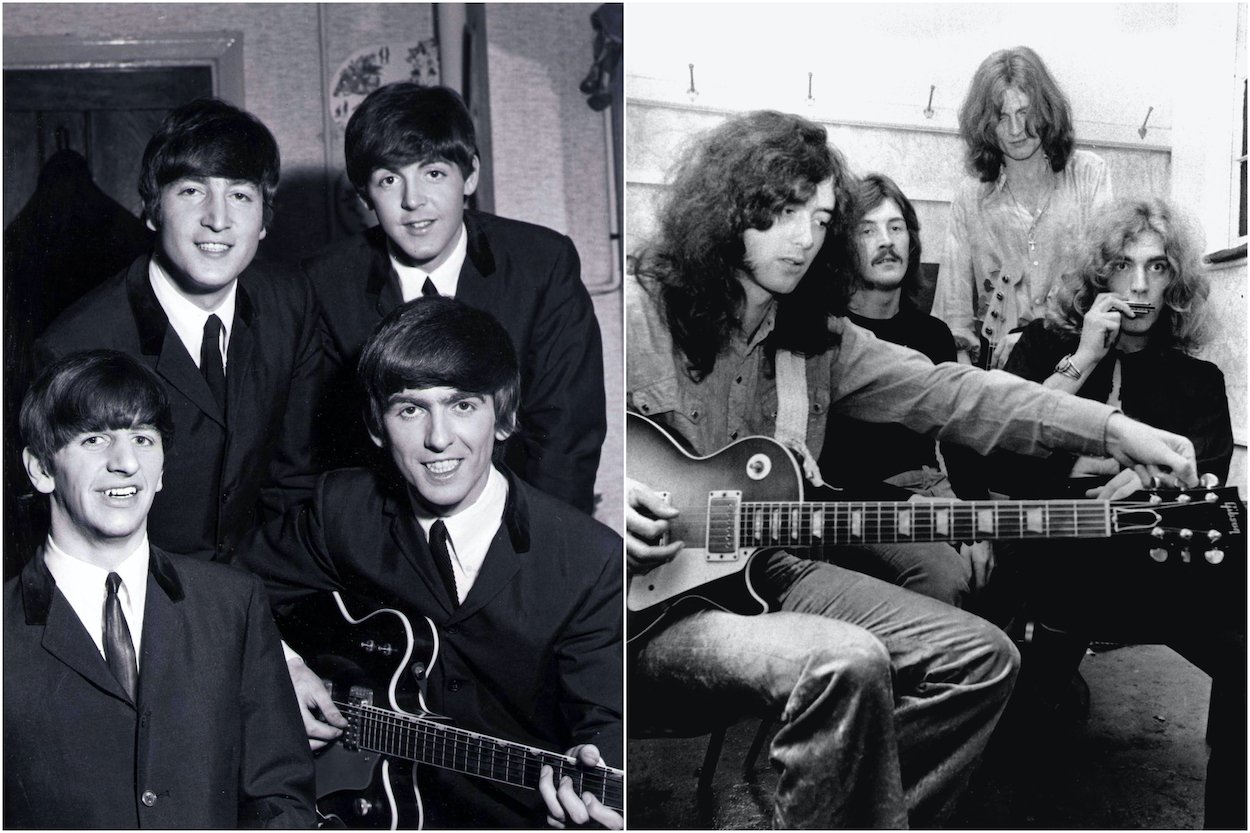 The Surprising Way Led Zeppelin Copied The Beatles' Playbook
Led Zeppelin copied a page from The Beatles' playbook and achieved international stardom.
If The Beatles dominated the 1960s, then Led Zeppelin ruled the 1970s. England's musical tastes started changing in late 1969. That's when Zep knocked The Beatles out of the No. 1 spot on the charts with their second album. The Fab Four's breakup cleared the way for other bands to grab the spotlight. Led Zeppelin copied a page from The Beatles' playbook to do just that.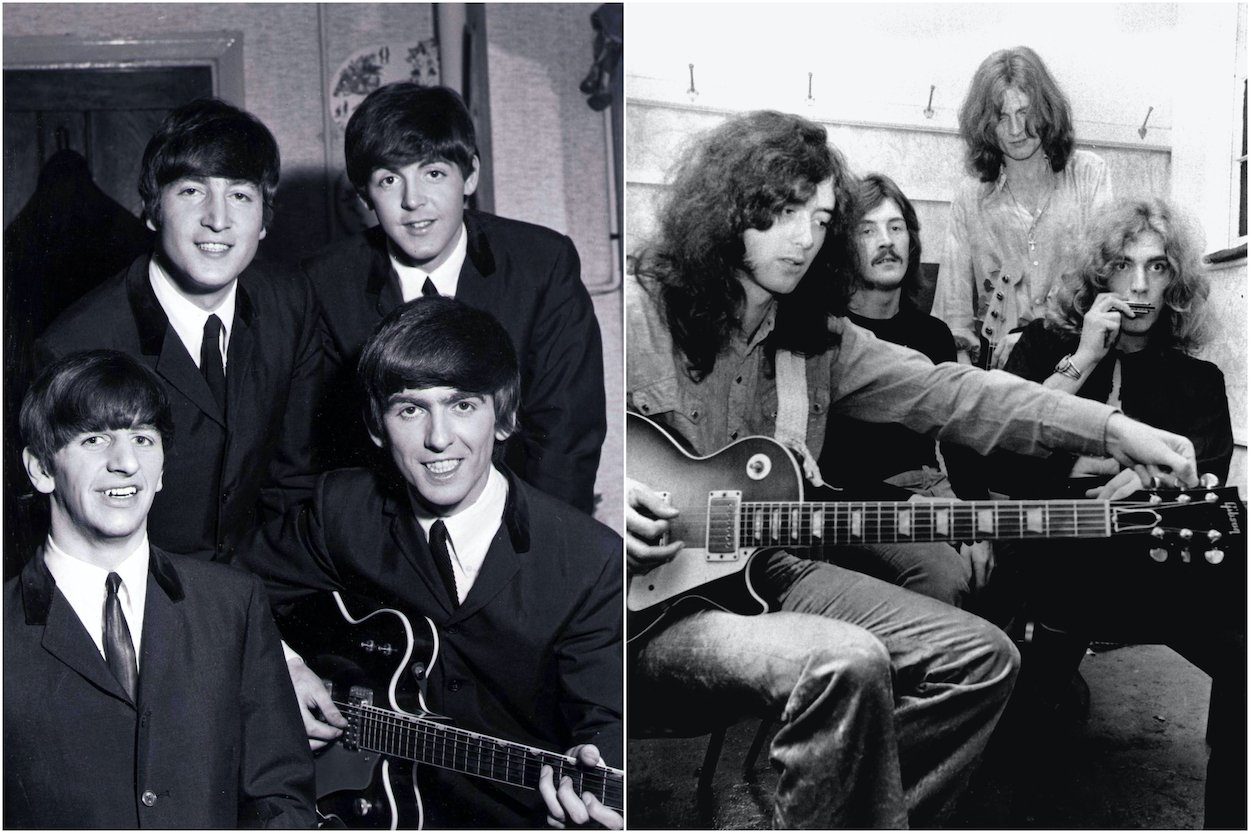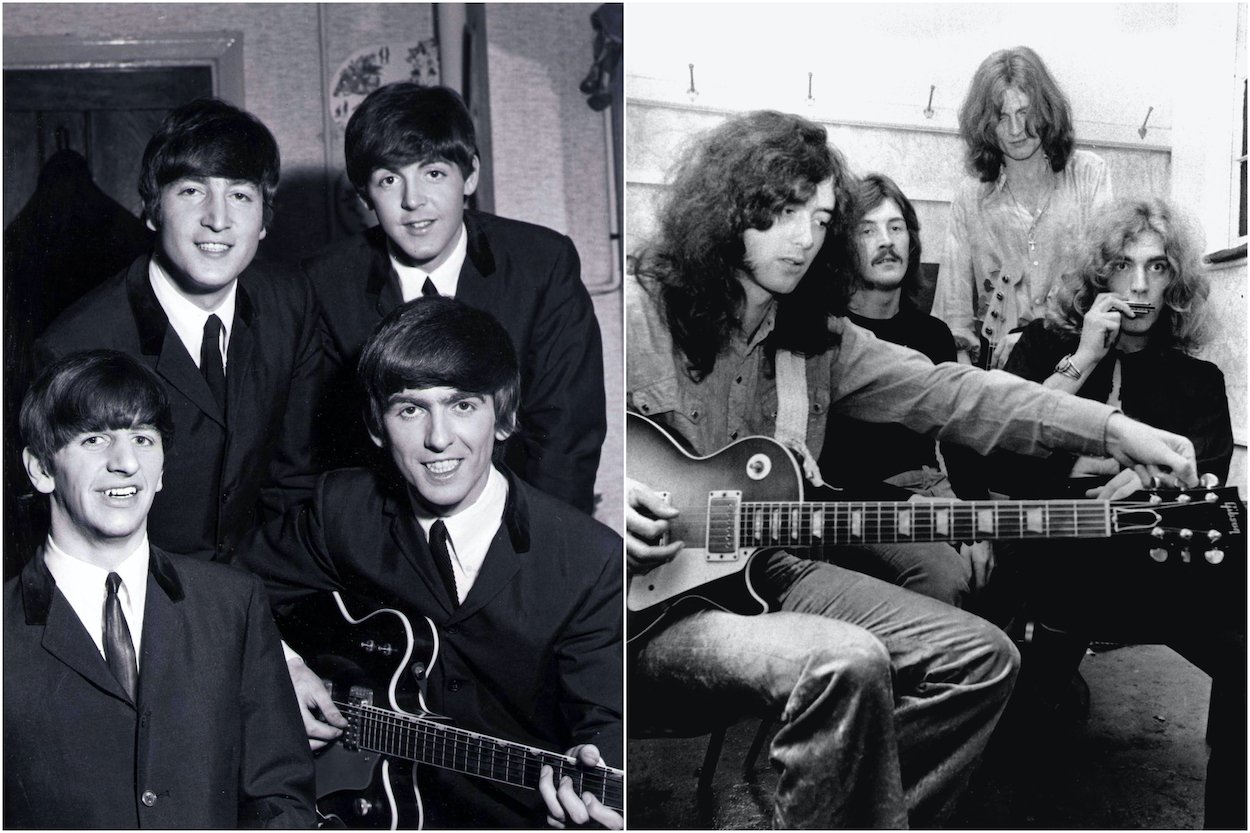 Led Zeppelin released their first two albums 10 months apart in 1969
Things happened fast for Led Zeppelin. Jimmy Page quickly recruited Robert Plant, John Bonham, and John Paul Jones to form a new band when the Yardbirds disintegrated in June 1968. Led Zeppelin recorded its first album and started touring before the year finished.
Page had a plan for Led Zeppelin I, which landed in January 1969 — capture listeners' attention right away. The band did, and fans came back for more when Led Zeppelin II dropped 10 months later. Zep put out its third album a little more than a year after the second, then gave the world a batch of great songs on Led Zeppelin IV in November 1971.
Led Zeppelin borrowed from The Beatles' gameplan as they began their career, even though their music had little in common with the Fab Four's.
Led Zeppelin copied The Beatles by cranking out albums early in their career
For those who weren't counting, Led Zeppelin released their first two albums within 10 months of each. The third and fourth records came over the next two years. So that's four albums in just under three years.
That's straight out of The Beatles' playbook. 
The Fab Four maintained a furious pace when they began their recording career. Please Please Me and With The Beatles hit store shelves eight months apart in March and November 1963, respectively. The following two Beatles albums, A Hard Day's Night and Beatles for Sale, followed in July and December 1964. 
They hardly slowed down after conquering the United States. Help!, Rubber Soul, and the landmark Revolver all hit shelves within a year of each other starting in August 1965.
Led Zeppelin was smart to borrow from The Beatles' playbook. 
The Fab Four found incredible success because of their music, of course. Led Zeppelin was the same way. Music fans won't fork over their hard-earned money for lousy tunes. The Beatles and Led Zeppelin maintained listeners' interest with top-shelf quality and a steady flow of new songs. By whetting fans' appetites, both bands ensured listeners didn't move on to another musical main course.
Zep and the Fab Four found success with their shared strategy
The shared roadmap eventually diverged for The Beatles and Led Zeppelin. Both bands arrived at the same destination anyway.
The Fab Four stopped touring in 1966, which gave them more time to work in the studio. They continued churning out at least one album a year until they broke up. Led Zeppelin, meanwhile, never stopped taking their music on the road. Extensive world tours left less time for recording work. Still, they released three studio albums — Houses of the Holy, the double album Physical Graffiti, and Presence — between 1973 and 1976.
Both bands achieved international success. 
Led Zeppelin had eight consecutive No. 1 albums in England, starting with Led Zeppelin II, per the Official Charts Company. Six of their eight studio records reached No. 1 on the Billboard charts, and the other two (Led Zeppelin I and Led Zeppelin IV) peaked in the top 10.
The Beatles saw every studio album except Magical Mystery Tour and Yellow Submarine take the top spot in England, per Official Charts. 
Led Zeppelin copied The Beatles' playbook with a torrent of album releases early in their career. Their respective gameplans soon diverged, but both groups ended up at the same place — an everlasting legacy of international stardom.
For more on the entertainment world and exclusive interviews, subscribe to Showbiz Cheat Sheet's YouTube channel.