'SurrealEstate': Fans of 'Schitt's Creek' Will See Some Familiar Faces
Tim Rozon and Sarah Levy may not have been the stars of Schitt's Creek, but now they have the chance to make another series their own. The two actors recently debuted their new SyFy series, SurrealEstate, to add a supernatural twist to their natural acting chops. However, their work on the former helped make the latter something special.
Up on 'Schitt's Creek'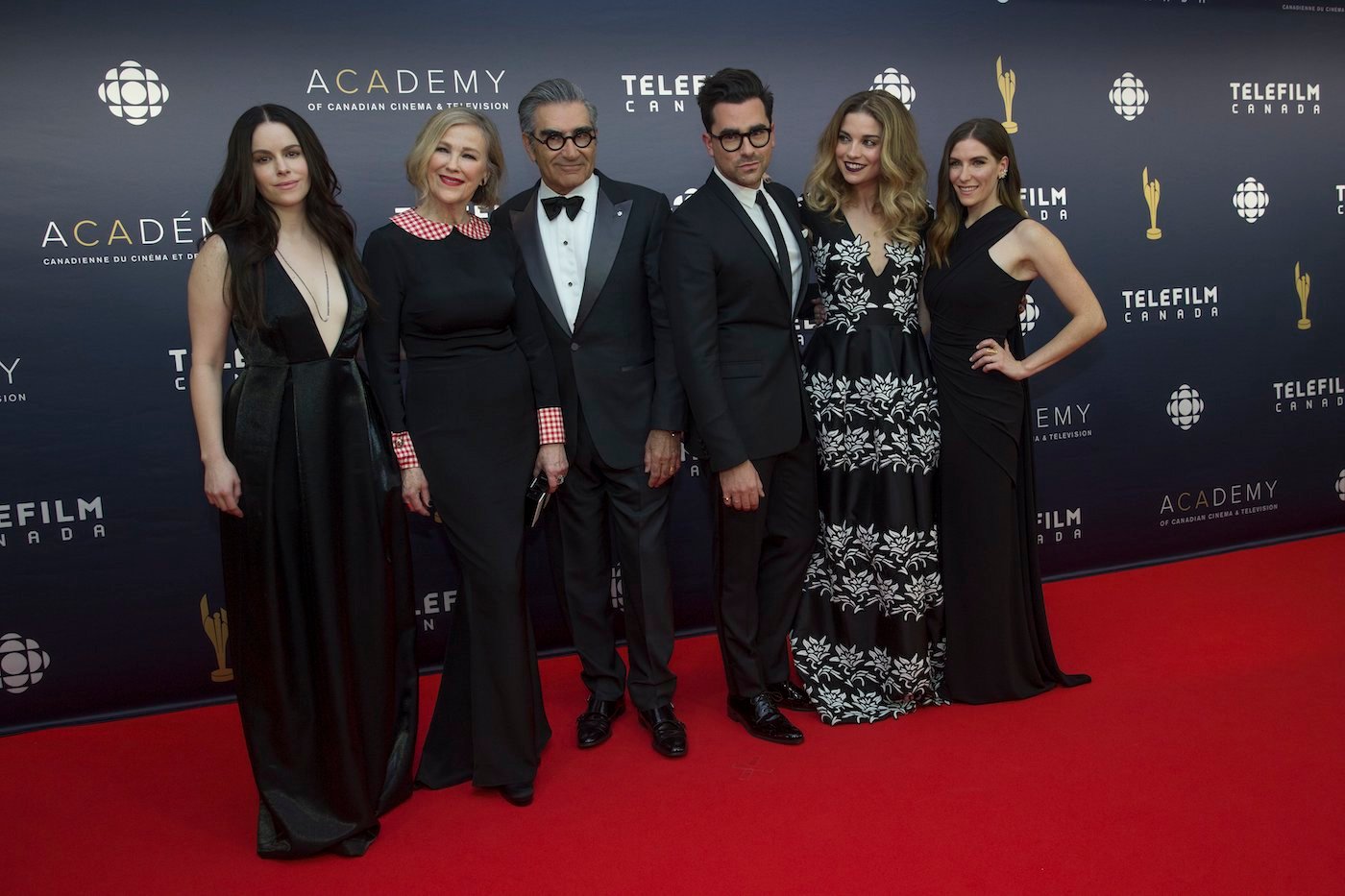 Schitt's Creek was the brainchild of Sarah Levy's father and brother, Eugene Levy and Dan Levy. It told the Rose family's story after some poor accounting leaves them with nothing but an upstate town with an unfortunate name. Throughout five seasons, the family members learned to love one another. They navigated their life of poverty while the family got back on its feet, IMDb explains.
Sarah Levy and Rozon didn't play the main protagonists. Still, their memorable turns as restaurant server Twyla and her on-again, off-again lover, Mutt, gave fans a glimpse at their natural chemistry. The pair shined amid a memorable cast that featured Sarah's family, Chris Elliott, and a scenery-chewing Catherine O'Hara.
Now that Schitt's Creek is off the air, Levy and Rozon have a new series that allows them to share their on-screen chemistry again.
Finding a new home on SyFy
After Schitt's Creek, Levy was most excited to spread her wings beyond her family's show. However, she didn't know where to go after such a successful sitcom. But when she got the script for SurrealEstate, she knew what she wanted to do.
"I feel like the entire pilot script was so exciting from start to finish," she told CBR. "I think what drew me to my character particularly were the two scenes that I actually auditioned with … It was such a relatable character, funny and all that. It was my audition scenes, I think, that really drew to the character, but the project itself was just fantastic from start to finish."
Rozon was equally excited to take on such a fascinating role. However, when he arrived on set and began performing the lines he had rehearsed, he realized just how big the series could be. Working with rookie writer George Olsen, Rozon was happy to see someone with unique instincts willing to let people have fun.
"George is one of the best writers that I've ever worked with. His scripts are so good on paper, and they just transfer over," Rozon told CBR. "You hope to just copy and paste because if you could put what's so [perfect] on paper on the screen, [we'd be] fine. It's amazing that they let us play in that area and go places because it's so perfect."
What is 'SurrealEstate'?
According to SyFy, SurrealEstate is dramatic, but the comedic roots of its two main actors help make their horror work more believable. SurrealEstate brings Rozon back to Syfy, where he had already enjoyed underground success with a stint on the popular fantasy series Wynonna Earp. Here, as Luke Roman, he's the unabashed star. Roman is a real estate agent who specializes in paranormal properties. The results are frightening, funny, and invigorating.
SurrealEstate is a throwback to the episodic days of The X-Files and similar series. Here, there's no main antagonist, and the characters take the wheel. Sarah plays Susan Ireland, Roman's perky associate who's an ace at her job. Together, they fight demons and other paranormal entities as they guide their own personal relationship.
Luckily, the actors behind these characters already have a rapport. SurrealEstate airs on SyFy every Friday, and if it hits with fans the way Schitt's Creek did, it could be around for a while.
RELATED: Annie Murphy Wanted to Get as Far Away From Alexis Rose as Possible