'Survivor 41': Eric Abraham Says He Wasn't 'Mentally Prepared' to Start With No Rice
Survivor 41 threw the cast for a loop in several ways. One of them is how little supplies they would get to start. Eric Abraham shared his reaction to not having any rice.
There will be no rice at the start of 'Survivor 41'
The show is back, and it has a few changes. It will last for just 26 days instead of 39, but host Jeff Probst promised it would be a very dangerous game.
"The conditions were very tough because they started with no food, very limited camp supplies, and very few rewards," he revealed to Entertainment Weekly. 
"So their cognitive abilities are diminished much faster than in the past," he added. "After only a handful of days with no food, they started to struggle to form clear thoughts. You'll see it. They struggle in all areas of the game. Nobody was complaining that 26 days was not enough!"
The eliminated stars revealed how not having rice affected their game.
Eric Abraham wasn't 'mentally prepared' to not have rice
Probst revealed the big changes for the new season and foreshadowed how fast things would move. The Yase tribe booted Eric Abraham first, and he felt blindsided. He revealed to Us Weekly how he felt about not having rice to start the game.
"I didn't see any of it, and I was hungry," he said. "I was looking forward to rice. I hadn't mentally prepared myself for rice, at a minimum, as one of our food sources.
"And to be told that, 'Hey, we're not going to give you anything,'" he continued. "And now you're like, 'Wait a minute. I understand we can eat coconut and everything else, but still, can I start with some rice?' That was a physical challenge for us and a mental challenge because now you've changed the game that we prepared for off of previous seasons."
The premiere showed some tribes gaining advantages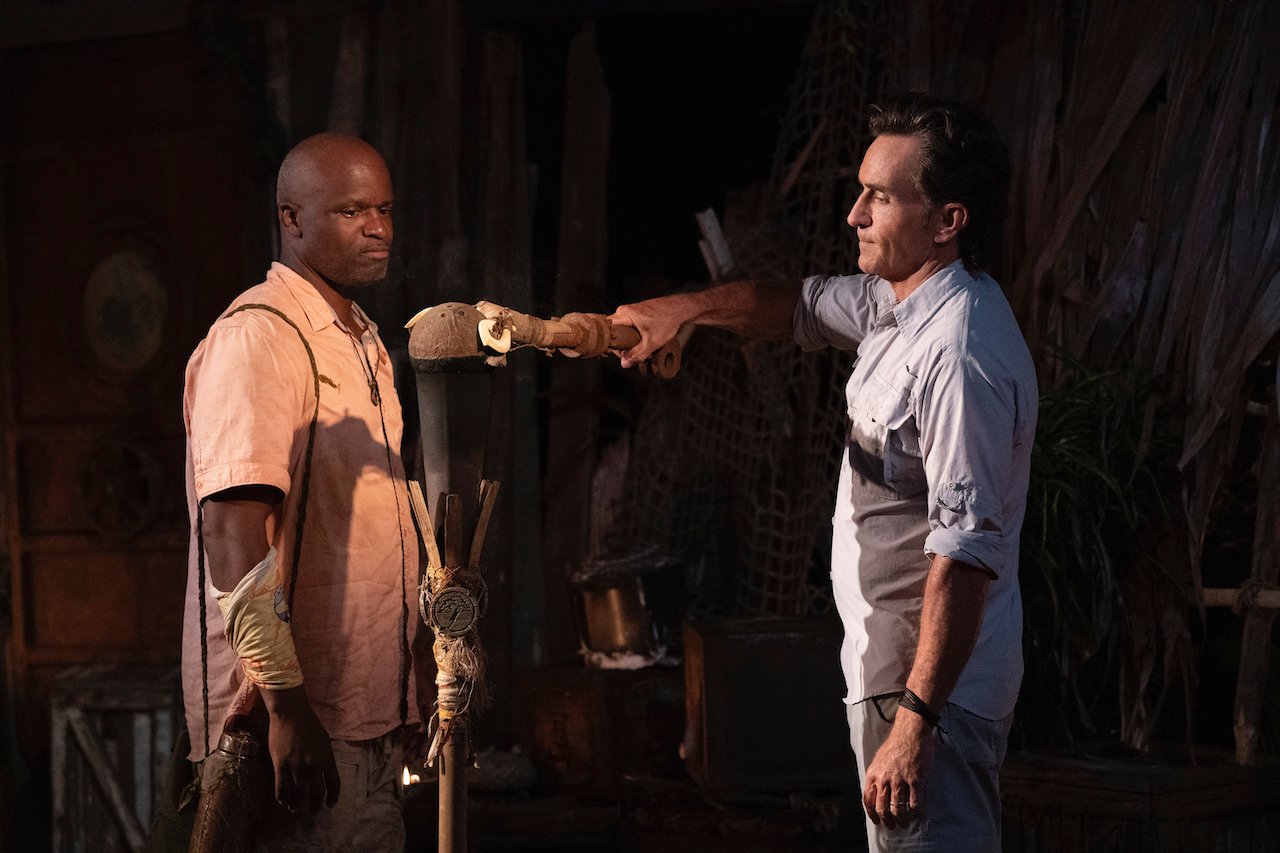 The season started with all three tribes jumping off a barge, finding their paddles, and doing a lap heading their boats back to flint hanging off the barge. The first to grab the flint won the pot, machete, and flint, while the other two tribes returned with nothing. 
Ua managed to win. That means Yase and Luvu will have to compete again to try to win the supplies.
The three tribes competed again, but this time for the immunity idol. The first tribe that finished the course doesn't go to Tribal Council. Ua and Yase lost, and they had to forfeit their flint and go to Tribal Council.
Survivor 41 airs Wednesday nights at 8:00 p.m. EST on CBS.