'Survivor' Fans Predict What Erika Picks for the Merge Twist
The castaways have been making hard decisions throughout Survivor 41. The merge is usually straightforward, but that won't be the case this season. Fans are reacting to that and are already predicting what Erika Capsupanan will decide.
[Spoiler alert: Survivor Season 41 Episode 6 spoilers ahead.]
Players had to play for the merge feast on 'Survivor 41'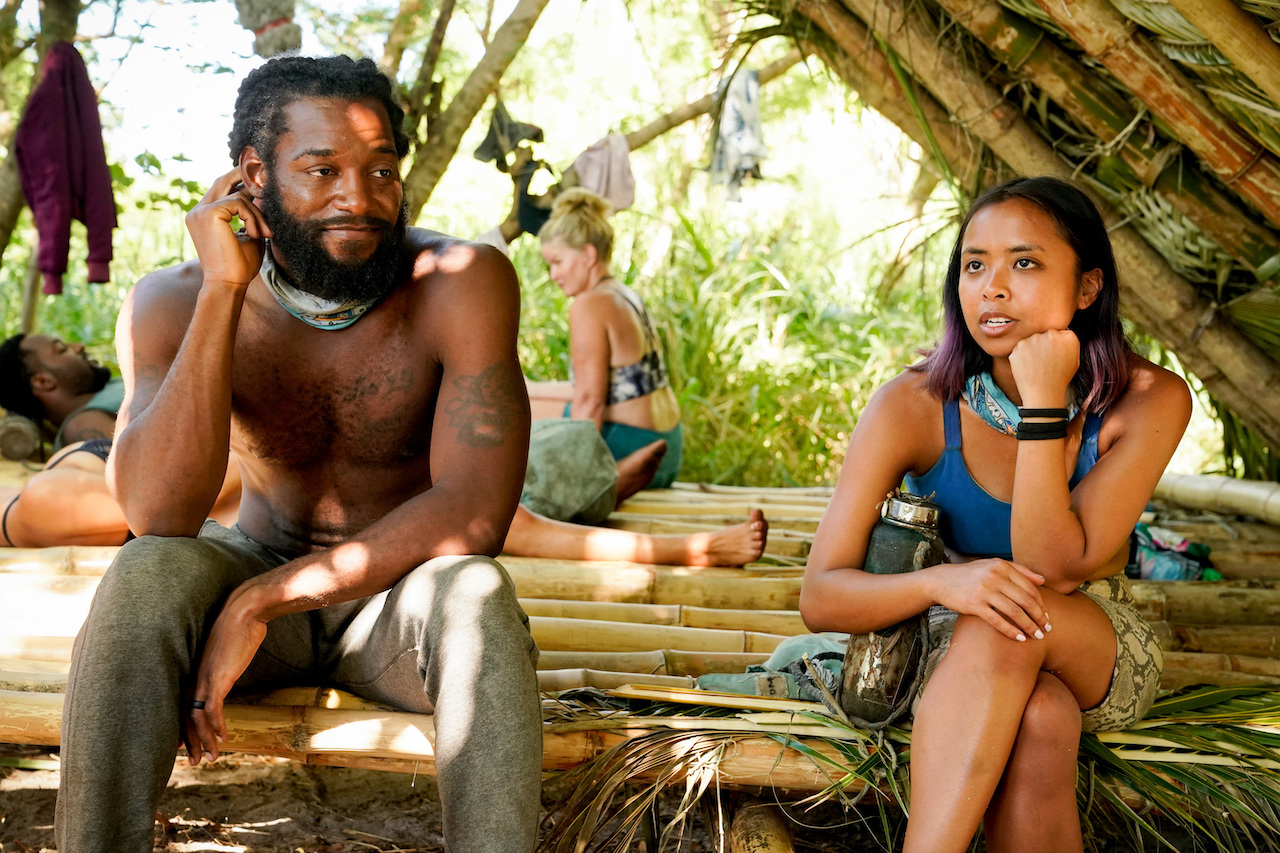 RELATED: 'Survivor 41': Jeff Probst Dishes On New Rebus Puzzles
Castaways usually are told they're merging tribes, and everyone officially plays for themselves. Jeff Probst announced to fans at the beginning of "Ready to Play Like a Lion" that it won't be that easy this season.
Everyone had to grab a stone, and the two people who got greystones would have to sit out. Erika and Naseer Muttalif were those two people.
Everyone else went into two teams based on the color of their stones. They competed, and the people who won got a merge feast and were safe. The losing team had to go back without food and were still in danger of going home.
The winning team also had to choose between Erika and Naseer to go to exile for two days. They did rock, paper, and scissors and landed on Erika to go.
Jeff Probst gave Erika an important decision
RELATED: 'Survivor 41' Features 3 Ways for Viewers to Play Along at Home
She was very upset about this and figured she was at the bottom for her former tribe, Luvu, because of their decision. Erika went to exile and focused on keeping her fire alive.
Probst eventually joined her and gave her an hourglass. She could do nothing and keep the game the same. Or she can smash it and turn back time. If she smashes it, then the results of the merge challenge will be reversed where she will be safe along with the five losing players. She had to make her decision by the morning.
'Survivor' fans predict what Erika picks for the merge twist
RELATED: 'Survivor 41': Shan Jokes About J.D.'s Awkward Exit and Compares It to a 'Big Brother 23' Eviction
Fans think the choice is actually an easy decision. Many made their predictions for the next episode on Reddit.
"There's no way in hell Erika doesn't smash the hourglass," the most-liked comment reads.
"I probably would've smashed it as soon as Jeff finished his sentence lol," someone else replied.
"Yeah it's a no-brainer decision. She knows she's at the bottom in the alliance with her former tribe mates, and all she has to do to save herself is play the free immunity she has just been handed," another person wrote.
"This twist was made to be used. Who would leave the hourglass unsmashed, giving up immunity, and most likely being voted out over the other 5 people who've been bonding with the immune 6 for two whole days?" another person asked.
It looks like everyone's money is on Erika turning back time. But we still have to wait for the next episode to see her announce her choice.