'Survivor' Ponderosa: Everything You Ever Wanted to Know About the Jury Holding Area
Survivor contestants don't get to fly home to their families right after they leave the game. Instead, they go to Ponderosa, a jury holding area where they wait to vote for the show's winner. Even castaways who are voted out very early, and not on the jury, go to Ponderosa. Recently, CBS released the Survivor: Winners at War Ponderosa videos, which share everything you want to know about what happens after players are voted out.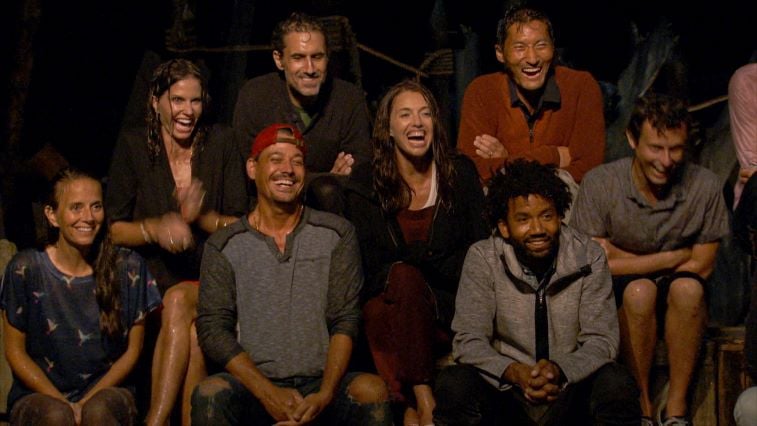 'Survivor 33: Millennials vs. Gen X' shared a little bit about Ponderosa
"Those who get voted off too early in the game to join the jury all gather at Ponderosa before they are shipped away," former player, Hannah Shapiro, explained on Mic. "Then, one by one, the jury heads to Ponderosa where they live, deliberate and drink. Each member of the jury gets a "Ponderosa video," a short clip about their first few days out of the game."
RELATED: 'Survivor: Winners at War': Natalie Anderson Finally Reveals Why She Gave Tyson Apostol an Immunity Idol
Fans of the show love to watch the Ponderosa videos to see snippets of life after the show.
"There was one large dining bungalow, complete with a bar and a buffet area," Shapiro continued.
The former player explained what a "fascinating place" Ponderosa is because the people who were competing against each other are now "forced to live together."
'Survivor 40: Winners at War' recently posted 6 chapters of Ponderosa footage
Previous seasons gave fans tidbits about life at Ponderosa. However, no other season shared so much footage of what happens at the resort after castaways are voted out. The videos detail the boat ride from the Edge of Extinction to the arrival at Ponderosa. These players already spent time together bonding on the Edge, so the situation is a bit different than in previous seasons.
The survivors are all weighed and find out how much they lost while competing. For Boston Rob Mariano, it was 34 pounds. Ethan Zohn was not far behind with a whopping 30 pounds lost due to being malnourished on the Edge of Extinction. Next, the contestants can stand in front of a massive mirror to see themselves for the first time.
RELATED: 'Survivor': The Heartbreaking Reason Why Season 39 Never Had an Opening Credits Clip
Later, they can either feast on a vast buffet or grab a hot shower. While at Ponderosa, the castaways stay together in bungalows. For many, the comfortable bed and a night of uninterrupted sleep is the best part. It is at a resort location, so they have a pool with clear blue water to relax in and even a basketball net to shoot some hoops.
The six chapters give a peek inside the rooms, the feasts, the pool, and a lot of Survivor silliness from many fan-favorite players.
Fans cannot stop talking about 'Survivor: Winners at War' Ponderosa Videos
"I'm so happy we're getting these Ponderosa videos," wrote one fan in the comments of Ponderosa Chapter 3.
Many other fans agree that the six chapters' content was almost as enjoyable as the show itself.
RELATED: Everything We Know About 'Survivor' Season 41
"If they could release several HOURS of Ponderosa footage, I think it'd make everyone's quarantine that much easier," another fan added.