'Survivor' Season 43 Premiere Release Date, Cast, and Everything Else We Know
Now that season 42 is over, fans can't help but look forward to Survivor Season 43 on CBS. Maryanne Oketch won the title of Sole Survivor and the $1 million prize on May 25. Since the finale, the Survivor social media accounts buzzed with excitement over the upcoming season. Here's everything we know about Survivor Season 43, including the release date of the two-hour premiere and the rumored cast. 
The 2022 'Survivor' Season 43 premiere date
Survivor Season 43 kicks off with a two-hour-long premiere on Wednesday, September 21, 2022. The Amazing Race Season 34 premiere rounds out the CBS evening of premieres at 10 p.m. Season 43 continues on Sept. 28 with a special 90-minute episode. The new Survivor Season 43 preview revealed little about the gameplay and more about the upcoming cast.
RELATED: 'Survivor' Isn't New Tonight, but Fans Already Think They Know Who Wins Season 43
'Survivor' Season 43 rumored cast
Although CBS did not release the Survivor Season 43 cast, there is a rumored list from Inside Survivor. Producers will probably split the group below into three groups of castaways when the show airs this fall 2022.
Cassidy Clark (25), a fashion merchandising major from San Marcos, TX
Cody Assenmacher (35), an account manager from Honolulu, HI
Dwight Moore (22), a computer science student from Memphis, TN
Elie Scott (31), a psychologist from Salt Lake City, UT
Geo Bustamante (35), a web designer from Honolulu, HI
Jay Jones (37), an event curator from Philadelphia, PA
Jeanine Zheng (24), a UX designer from Hamilton, MA
Jesse Lopez (26), a Ph.D. student from Durham, NC
Justine Brennan (29), a regional sales manager from Los Angeles, CA
Karla Godoy (28), an educator from Washington, D.C.
Lindsay Carmine (42), a pediatric nurse from Downingtown, PA
Mike Gabler (50), a heart valve specialist from Meridian, ID
Morriah Young (28), a content creator from Philadelphia, PA
Noelle Lambert (25), a Paralympian from Londonderry, NH
Nneka Ejere (42), a director of operations from Weatherford, TX
Owen Knight (29), an admission counselor from New Orleans, LA
Ryan Medrano (24), a fitness instructor from El Paso, TX
Sami Layadi (19), a student from Las Vegas, NV
How many days are season 43 castaways on the island?
For the first 40 seasons of Survivor, viewers became accustomed to 39-days of gameplay. However, with Survivor Season 41, Jeff Probst announced a change to the game format. New castaways only spent 26 days on the island in Fiji. The new number of days is here to stay for Survivor Season 43 and beyond.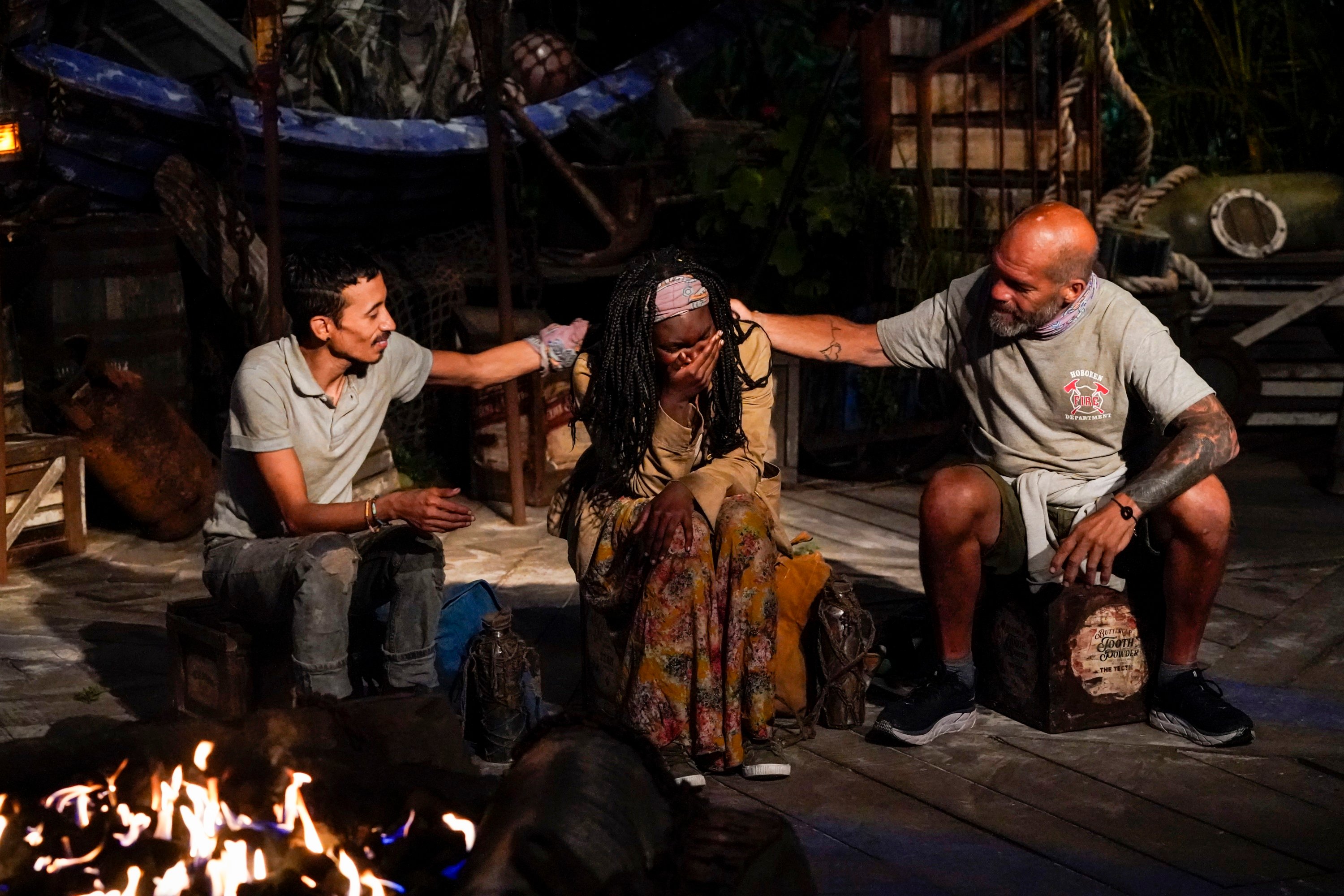 "This new 26-day game centered around limited supplies, no food, and penalties for losing was not designed as a one-off," Jeff Probst explained to TV Insider. "We designed this specifically to give us a new game to play. And we believe there are still a lot of layers in this new game that we haven't even begun to explore."
'Survivor' Season 43 gameplay and twists
In addition to the shortened gameplay, those new twists are here to stay for Survivor Season 43. Some advantages and disadvantages added to the game included the Prisoner's Dilemma, Shot in the Dark, Knowledge is Power, Beware Advantages, Hourglass, Do or Die, and many others.
"When we say this is a new era of the game, we mean it," Probst told Entertainment Weekly. "We are establishing new markers. So things like small tribes, earn the merge, no food, risk/reward dilemmas, Shot in the Dark, are here to stay. Other specific twists will come and go depending on the season. We changed the game because we wanted to give players a new series of problems to solve."
RELATED: 'Survivor' Fans Believe an Upcoming Season Will Feature Returning Castaways