'Survivor: Winners at War': The Person Who Lost the Most Weight Might Shock You
When Survivor players leave the game, they head straight to check in with the doctor on-site in Fiji. In addition to asking them how they are feeling mentally, he checks their vitals. One crucial step is to see how much weight they lost while they were undernourished on the island. This one castaway lost the most weight — 34 lbs while playing Survivor.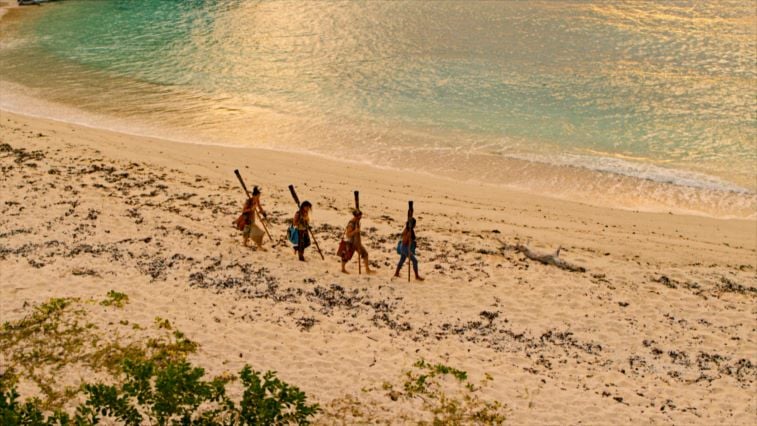 The Edge of Extinction players reveal their weight loss at Ponderosa on day 35
Survivor: Winners at War had a different feel for the doctors and production crew. Instead of heading to Ponderosa after being voted out, the players went to the Edge of Extinction. Finally, on day 35 of the game, the 13 remaining players on the Edge took a glorious boat ride to the resort at Ponderosa.
Once they arrived, they could see themselves in a large mirror to see how much they changed in their time on the island. Next, they head to the doctor and medical personnel for weight and vitals checks.
"I'm a 28-year-old in a child's body," Adam Klein said after discovering that he lost 18 pounds while playing Survivor.
RELATED: 'Survivor': The Heartbreaking Reason Why Season 39 Never Had an Opening Credits Clip
The castaways took turns looking at their reflections, shocked at how different they now were. After the weight check, the survivors head to a massive buffet for their first meal. They can choose from an extensive menu of options.
'Survivor: Winners at War': Who lost the most weight while playing the game?
Boston Rob Mariano lost the most weight with a whopping 34 pounds gone after his time playing Survivor: Winners at War. Ethan Zohn was next with 30 lbs. Since the players are only eating rice, coconuts, and an occasional fish, losing a lot of weight is common. Wendell lost 25 lbs., while Jeremy was close behind with 24 lbs.
"20 hours later, and I have already gained nine and a half pounds back — 9.6 to be exact," Rob told Ethan the next day.
RELATED: 'Survivor: Winners at War': The Ponderosa Videos Are Better Than the Whole Season
Luckily, the abundance of food and water available at Ponderosa helps the castaways return to eating regularly. Although, for many, the malnourishment can last for weeks and even months after they return home.
"You're my inspiration to gain more weight. Someday I hope I can look obese like you," Ethan joked with Rob.
The weight loss and malnourishment from 'Survivor' has lasting effects
"After winning Survivor, I came home 26 lbs. down," Wendell admitted to Men's Health after Survivor: Ghost Island. "I was emaciated. I was a skeleton. I went right back to playing basketball in leagues and with my buddies, and I was horrible! And I can hoop, I promise!"
He finally realized that the malnourishment caused him to become fatigued much faster than ever before. Wendell also explained that the mental struggle was more difficult than the physical one.
RELATED: When Will' Survivor' Season 41 premiere?
"What was even worse was my mindset—Survivor really does a number on your mental state," he continued. "And, if that isn't in order, other things easily crumble. Even though I ultimately won, being in a prolonged state of food and sleep deprivation, and amongst 19 other folks that solely want to lie, cheat, and backstab you, really does a number on your mind."