Sweet Fan Theory About The Flower Harley Quinn Gave Poison Ivy in Arkham Was Confirmed by 'Harley Quinn' Showrunner
With the renewal of Harley Quinn, fans are ecstatic. It's not only one of the best DC series, it also has one of the best (if not the best) Harley Quinn and Poison Ivy arcs. The characters really come to life, and it's great to hear that fans get to see what happens with Quinn and her crew going forward. 
In the meantime, though, fans are diving into theories and re-analyzing the episodes in the first two seasons. And one showrunner just confirmed a sweet theory about Harley and Ivy (aka Harlivy).
'Harley Quinn' showrunner confirmed Poison Ivy kept the flower Harley Quinn gave her the first time they met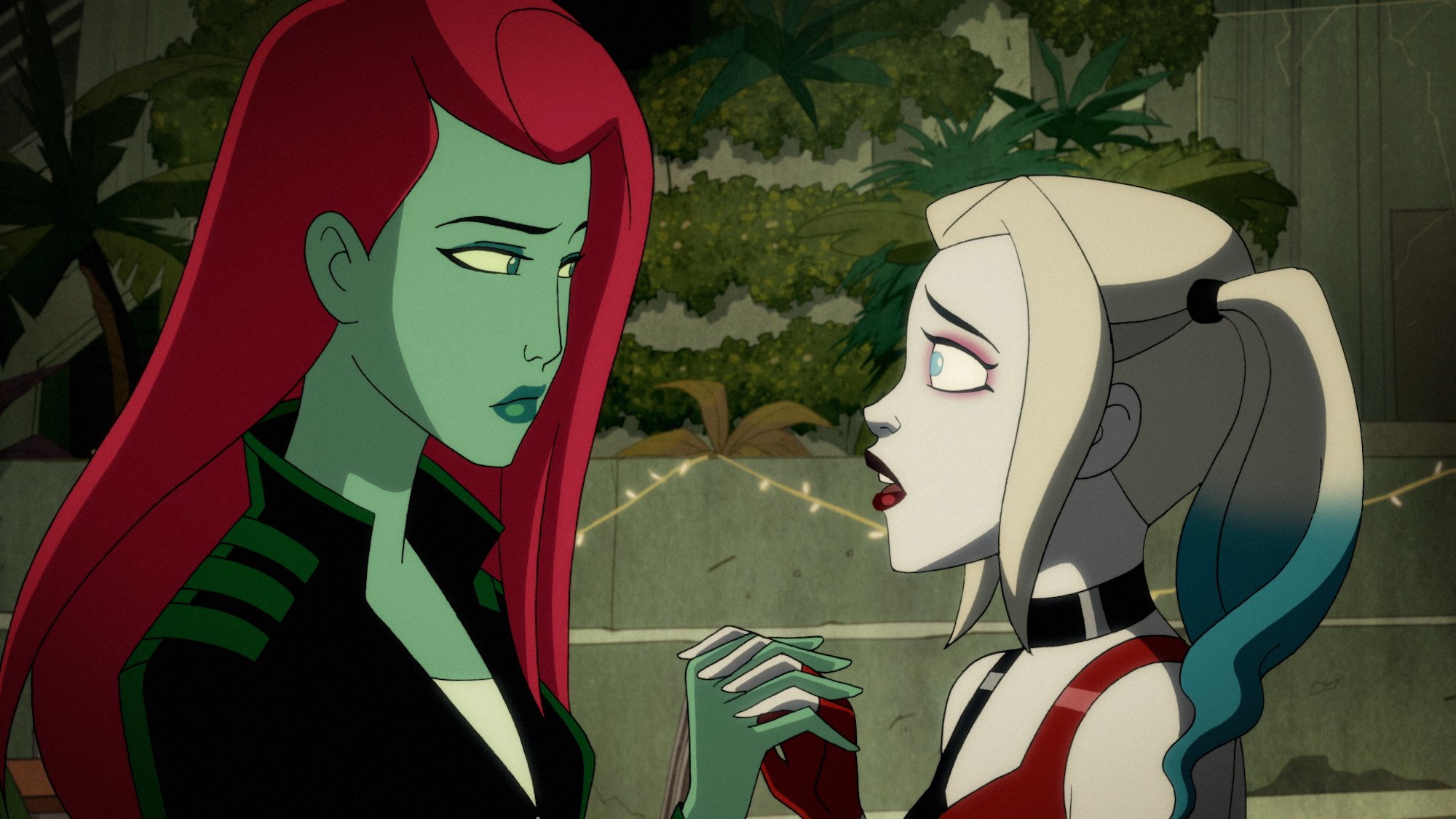 The series shows Ivy and Harley's first meeting and it's similar to canon; Ivy was an inmate at Arkham Asylum first and Dr. Quinn came in as a young, optimistic psychiatrist. That was before she fell in love with the Joker, though, and jumped into a vat of acid which turned her a bit insane. 
Season 2 showed more of Ivy's first meeting with Harley, and how she was really hostile toward her, as she is with everyone. Harley gives her a flower, which Ivy could easily use to escape or even kill Harley. But Harley shows that she's trusting Ivy, which is the first act of kindness the green eco-terrorist has seen. 
So on Twitter, a fan asked showrunner Patrick Schumacker if the flower Ivy has throughout the series is the same one. And it is.  
"Yes, her earrings are the same plant. I believe it was more of a pronounced connection in the script and an earlier cut (it's been a while!), but yes, your observation is correct," Schumacker tweeted on Sept. 28.  
To be clear, the flower actually just ends up being something Ivy pulls out of her jacket in another episode, years after Harley gave it to her in Arkham. Schumacker followed up and explained that because of "continuity" issues with Ivy having earrings, it was changed to that little personal item. But still, it looked the same, and with this confirmation, it's an endearing tidbit to know Ivy kept the flower with her all this time.
Harley and Ivy have great relationship progression
As stated above, Harley and Ivy go from being adversaries at Arkham to becoming best friends to eventually finding that they love each other as more than friends. Ivy has issues with humans, since she was neglected by her father and has to see the Earth polluted by them. But after Harley showed her that trust, their relationship blossomed. 
In Season 1, they're best friends who care for each other. Harley has to really dig into her selfishness and impulsive nature that sometimes has her choose the Joker over her friends, including Ivy. But by the end of that season, she realizes that Ivy and her crew are the most important things to her. Along with choosing herself, first and foremost. 
By Season 2, the two besties don't know their feelings are growing yet, but after experiencing Mr. Freeze's loving sacrifice for his wife and making her own sacrifice for Ivy at Bane's pit, it clicked. And even though it took Ivy longer to trust Harley with her heart, the two drove off together at the end of the season. 
Season 3 was confirmed and will focus on keeping these two a couple
Going into Season 3, though, fans don't have to worry about Harlivy taking any regressing steps. While Harley Quinn and Poison Ivy have been partners since the '90s when Harley was first introduced in Batman: The Animated Series, there have only been a handful of times in the comics that they're officially a couple. It's frustrating for fans, but Schumacker promises this series will do it differently. 
"If we're lucky enough to get a Season 3… we're not going to walk it back. They're a couple," Schumacker told Syfy Wire in June. "Any stakes that we want to build into the season moving forward are not going to involve [the question of] 'Will they be able to stay in a relationship?' They're going to be a couple."
Justin Halpern, the other showrunner, stated that they don't want the two to feel like the "stakes are [whether] Harley and Ivy stay together." There will, of course, be conflict and obstacles, but they'll face them as girlfriends. 
"It's much more interesting to do a show about how you navigate these very different personalities being in a relationship."