'Switched Before Birth': Is the New Lifetime Movie Based on a True Story?
Lifetime's new movie 'Switched Before Birth' concerns a disturbing mix-up at a fertility clinic. Is it based on a true story?
For those struggling to conceive, in vitro fertilization (IVF) can be a lifeline, giving them the chance to have the family of their dreams. But in Lifetime's new movie Switched Before Birth, the journey to motherhood through IVF turns into a nightmare for two women when one's embryo is mistakenly implanted into another by mistake. The troubling tale is sure to leave some viewers wondering if Switched Before Birth is based on a true story.
'Switched Before Birth' stars Justina Machado and Skyler Samuels 
In Switched Before Birth, Olivia Crawford (Skyler Samuels) and her husband Brian (Bo Yokely) have spent years — and thousands of dollars — trying to have a baby. At the fertility clinic where she's going through her latest round of IVF, Olivia meets Anna Ramirez (Justina Machado), a restaurateur who is also struggling to have a child. She's also dealing with the collapse of her marriage to Gabe (Yancey Arias) after a miscarriage. 
The two women become fast friends, and they celebrate together when Olivia learns she's pregnant with twins. But after Olivia gives birth, they get some horrifying news. A mistake at the clinic means that one of her two babies is actually Anna's biological daughter. The two former friends turn against each other. Olivia is determined to keep the child that she sees as her own. Meanwhile, Anna fights fiercely to bring her son home. 
Lifetime's 'Switched Before Birth' isn't based on a true story, but IVF mix-ups have happened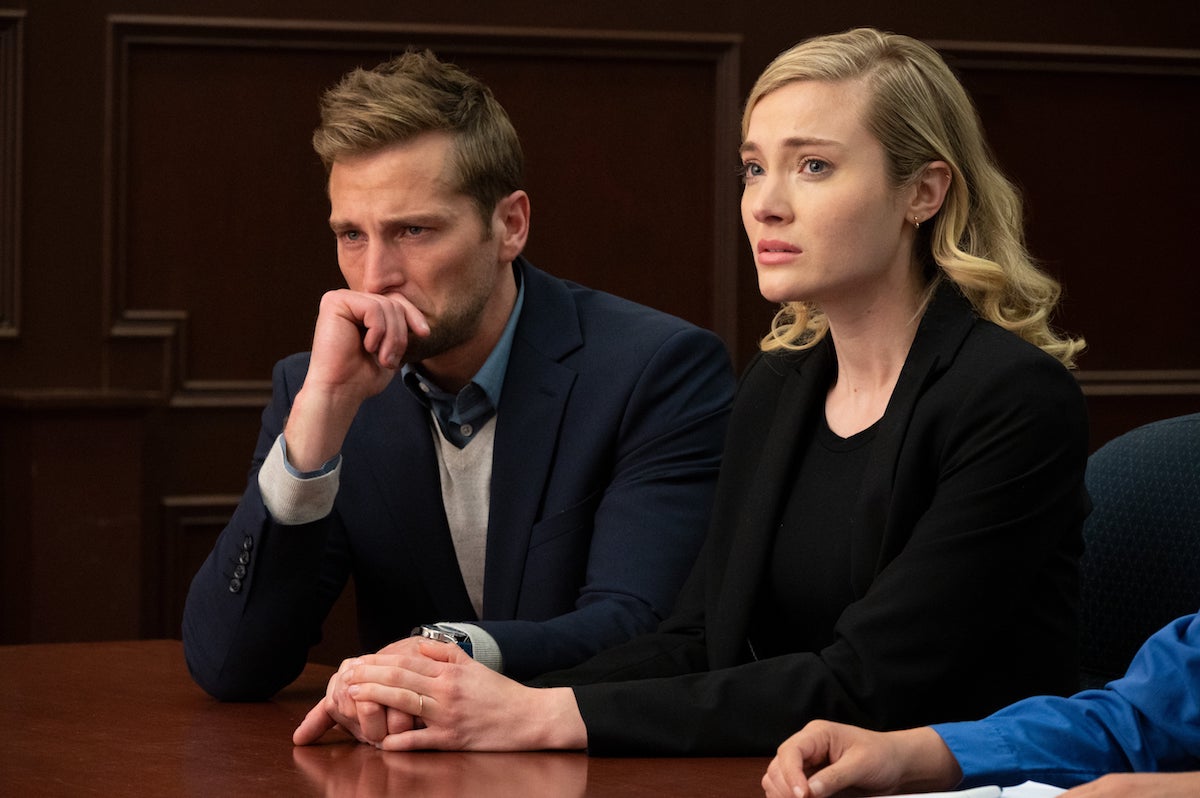 Switched Before Birth is inspired by the experiences of women and their partners who've gone through IVF. However, the story is fictional. Both Anna and Olivia are characters invented for the film, which is directed by Elisabeth Rohm. 
However, IVF mix-ups like the one depicted in the Lifetime movie have happened in real life. In 2019, a New York woman gave birth to children who were not biologically related to her (or each other), USA Today reported. It happened after doctors at a Los Angeles clinic implanted embryos belonging to two other women in the first woman. The two children were eventually returned to their biological parents. And a 2009 article in The Guardian details several other cases of women giving birth to children they were not biologically related to due to fertility clinic errors. 
Elisabeth Rohm's own experiences informed 'Switched Before Birth'
As the film's director, Rohm also drew on her own experiences with infertility and IVF, which she chronicled in her 2013 book Baby Steps. 
"I felt very privileged to be [allowed] to direct something about IVF because I really went through my own journey," she told MediaVillage. "It was painful and difficult, and these actresses really captured what is deeply personal to me. It's like lightning in a bottle, [watching] these two act together in this movie." 
Rohm also said that she hoped the movie drew attention to the fertility industry, which she said needs more regulation. 
"Statistically speaking, 15% of couples will struggle with getting pregnant naturally," the former Law & Order actor said. "I was one of those. It's not a federally regulated industry, so it's hard to say percentage-wise what kind of mishaps, or how many times a mishap like this one will happen, but it's frequent enough that we really hope that this film makes you take a good, long, hard look at the fertility industry."
Switched Before Birth airs Saturday, Oct. 23 at 8 p.m. ET on Lifetime.
Check out Showbiz Cheat Sheet on Facebook!