Taika Waititi Is Still Trolling and Suggests Tony Stark Lives in 'Thor: Love and Thunder'
Taika Waititi is known for his witty writing and hilarious persona off-screen. He also loves to lean into jokes and bits, so it's no surprise that he's a bit of a troll at times. And in a recent Instagram live session, fans might have noticed a major spoiler regarding Tony Stark in the background, from the Thor: Love and Thunder script. However, it's not what it seems.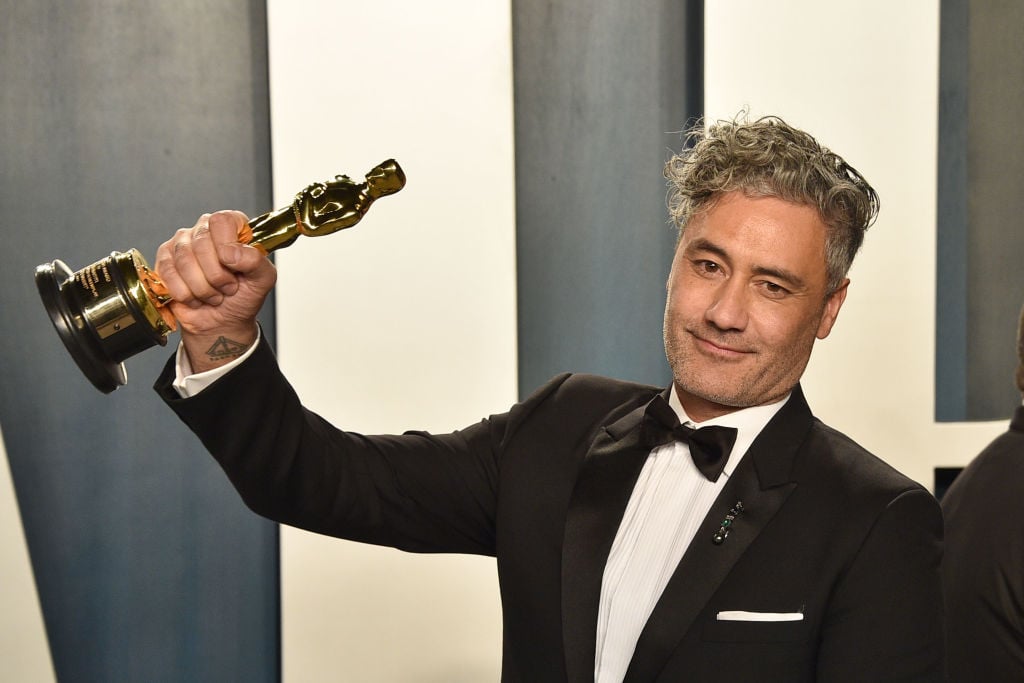 Taika Waititi went live on Instagram and had a very interesting script in the background
With the COVID-19 pandemic going on, everyone, including celebrities, are stuck inside for all nonessential activities. So, there's been an influx of Instagram live sessions from all, including Waititi. He's been doing a few, and even went live with Mark Ruffalo and Tessa Thompson. 
But, on April 9, he went live and wanted to give a sneak peek of new designs for the character Miek from Thor: Love and Thunder. Now, that alone might be another thing you can take with a grain of salt. While Miek might get a new, bionic body, there are a couple of designs, like the one of Miek in the new body and wearing Earth clothing that might be a little too silly to be true 
But underneath those images, is a script. As BuzzFeed reports, it seems like it's for Thor: Love and Thunder, and it weirdly has Tony Stark in it? If you look closer, it's actually a scene where Thor realizes Tony is back from the dead? And Thanos has returned too? 
Well, as Thor says in the "script': "Mother frigga, no." Other than the fact that the dialogue is too silly even for a Waititi Thor film, it's just not real. For one, this is the type of slip-up for Tom Holland or Ruffalo, not Waititi. For another, Tony calls them "The Avengererers." While some people commented in the live and seemed convinced, don't get it twisted: Tony Stark is still dead. 
It's not crazy to think Tony Stark could come back, though
While this is definitely a joke — and a fun one at that — but it's not the first time people have thought Iron Man could come back. It's hard to say goodbye to such a beloved character like Tony Stark, considering his movie is the one that launched the Marvel Cinematic Universe as it's known today. 
There are theories that Stark is backed up as an AI somewhere, ready to be implemented into a new suit or system for the Avengers to use in the future. Plus, in the comics, Ironheart (aka Riri Williams) is closely tied to Stark. With a rumor that she could enter the MCU, many thought that meant Robert Downey Jr.'s Tony could somehow come back as her AI (like J.A.R.V.I.S. or F.R.I.D.A.Y.). Odds are, he won't, but it'll always be an interesting theory. 
What do we know about 'Thor: Love and Thunder' so far?
Announced at 2019's San Diego Comic-Con, Thor: Love and Thunder is going to bring back Natalie Portman as Jane Foster. She sat out Ragnarok, mostly because it took place off of Earth. But she's back, and excited. 
"They came to me with the idea and said, 'We have this idea for you that was a storyline in some of the comics where Jane becomes Lady Thor,' and I was like, 'This is very exciting!'" Portman told Entertainment Tonight in September, also stating that she's very hype to hold Thor's hammer. 
Jane is going to become Mighty Thor, a popular comic book arc for the character. In the comics, Jane has breast cancer and then becomes worthy of Mjolnir, but it's not clear yet if Portman's Jane will follow that storyline.  
"We don't know. That comics run was a big inspiration and was an influence on the first few drafts," Waititi told Variety in October. "But at Marvel, we always change everything. I could say one thing right now, and in two years, it will be the complete opposite — or that thing won't exist. We continue writing even in post-production."
Waititi did say that this film is also going to be just as "outlandish" and "bombastic" as Ragnarok, if not more, so watch out. Tony Stark or not, Thor: Love and Thunder will be a doozy.