Who Is Taller: Taylor Swift or Dua Lipa?
Taylor Swift and Dua Lipa are Grammy Award-winning artists. Here's what we know about these performers, their friendship, and their respective heights.
Taylor Swift and Dua Lipa are both Grammy Award-winning artists with millions of streams on their recently released albums — Red (Taylor's Version) and Future Nostalgia, respectively. They are also known for being tall, but which artist is taller?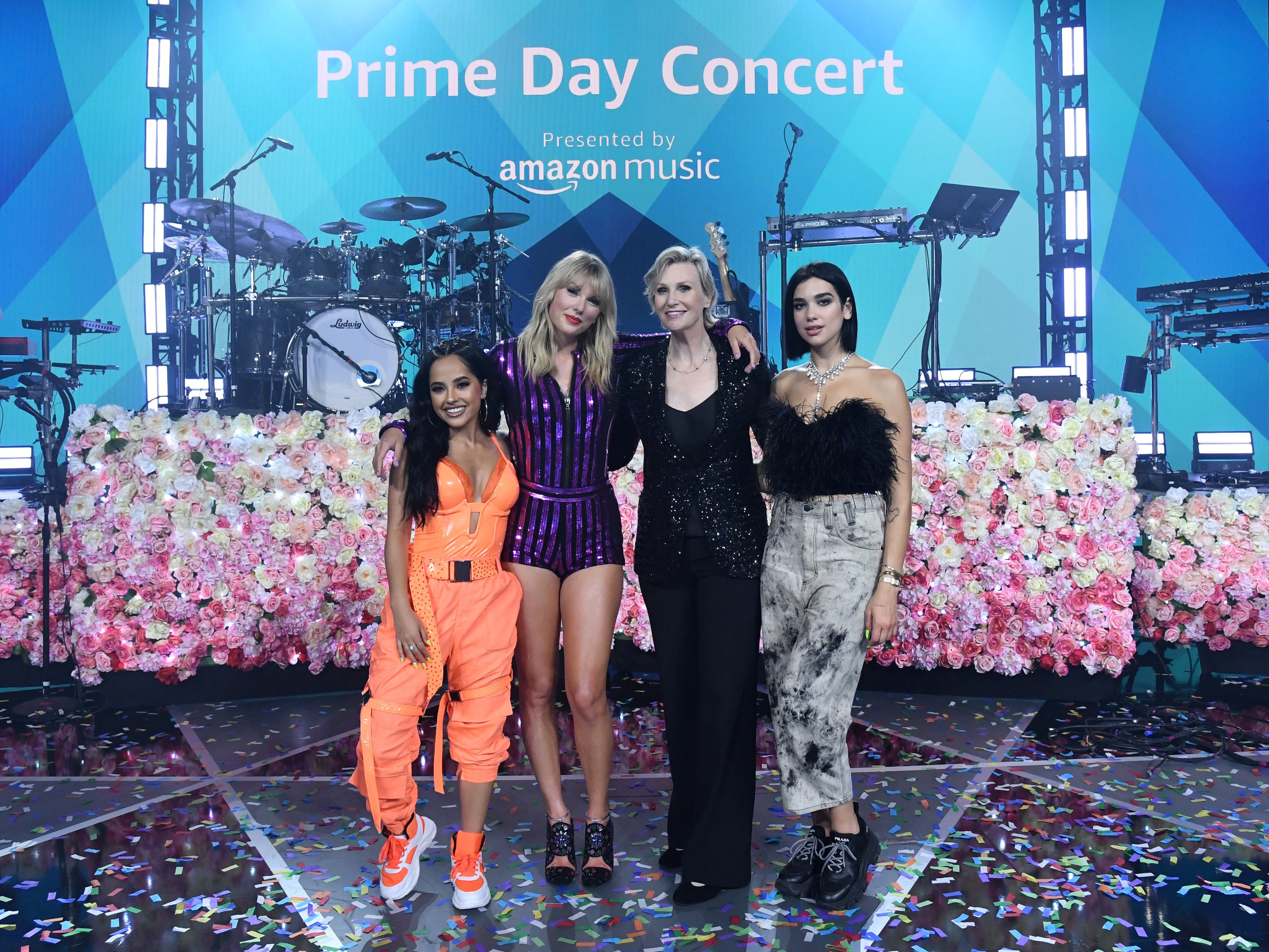 Taylor Swift and Dua Lipa have supported each other over the years
After bursting onto the music scene with songs like "You Belong With Me" and "Fifteen," Swift has collaborated with several musicians. She's also shared her support for up-and-coming artists, including Lipa. Following the 2018 Billboard Music Awards, Swift sent Lipa a bouquet of roses with a note, Billboard reported. And prior to that in 2017, Swift commented that she was "screeching with joy" on a photo of Lipa wearing a Speak Now shirt, according to iHeart Country.
In a 2020 interview with Wired, Lipa answered some of the internet's most-asked questions, including one about whether she and Swift are friends.
"I love Taylor," Lipa said. "We've met a couple times. She's amazing, what an incredible artist."
Who is taller: Taylor Swift or Dua Lipa?
Fans of both Swift and Lipa have noticed the artists' heights, with both towering over many dancers and some of their celebrity friends. (Lady Gaga even released a documentary titled Gaga: Five Foot Two.) 
In the Wired interview, Lipa shared that she is 5 feet, 8 inches tall. Taylor Swift's height is around 5 feet, 10 inches. That gives her the height advantage on Lipa. Born on Dec. 13, 1989, Swift is also older than Lipa, who was born on Aug. 22, 1995.
Regarding her height, Swift once told Girls' Life: "I didn't like being tall when I would walk up to a group of girls, and they were all a head shorter than me." However, her outlook changed as she got older. "When I can put on a pair of four inch heels and walk into a room and be taller than everybody else, now I look at it as a good thing," she said.
Swift and Lipa both earned 2021 Grammy Awards
Swift and Lipa both earned recognition during the 2021 Grammys. Swift's Folklore earned the Grammy for Album of the Year. And Lipa's Future Nostalgia earned the Grammy for Pop Vocal Album.
Additionally, both artists performed at the 2021 Grammys. Lipa performed two tracks off Future Nostalgia: "Levitating" and "Don't Start Now." And Swift gave the audience a medley from Folklore and Evermore. 
As for a collaboration between the two successful artists, it hasn't happened yet. But many fans are holding out hope that they combine their talents on something.