Taylor Swift Admitted She 'Couldn't Really Bounce Back' From Her Infamous Feud With Kanye West; 'When People Fall out of Love With You, There's Nothing You Can Do'
In her 2020 Netflx documentary, 'Miss Americana', Taylor Swift got candid about her infamous feud with Kanye West, sharing that it affected her a lot more than what she let on.
Most pop culture fans know all about Taylor Swift's infamous feud with rapper Kanye West. Though their bad blood has been heavily covered in the media since it kicked off in 2009, the singer's 2020 Netflix documentary Miss Americana also touches upon their long-standing beef. In the film, Swift got candid about the drama that ensued, sharing that she wasn't able to bounce back after her falling out with West, which resulted in her stepping out of the spotlight for a while.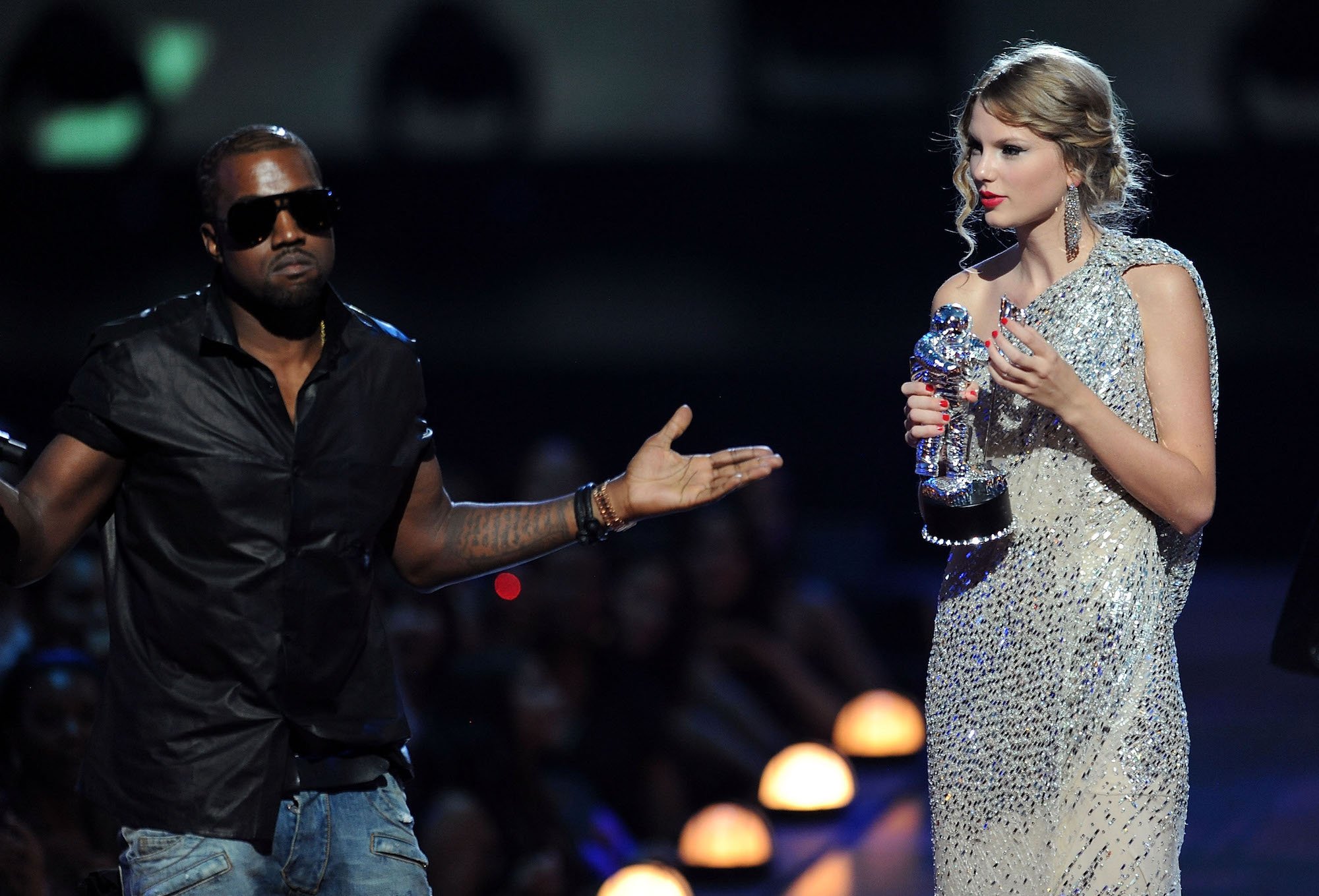 Taylor Swift and Kanye West's feud began at the 2009 MTV Video Music Awards
The 2009 MTV Video Music Awards delivered one of the biggest OMG moments in pop culture history. During the event, Taylor Swift won the award for Best Video by a Female Artist. While giving her acceptance speech onstage, the "You Belong With Me" singer was interrupted by Kanye West, who took the microphone and declared that Beyoncé should have won the award instead.
"Yo, Taylor, I'm really happy for you, I'mma let you finish. But Beyoncé had one of the best videos of all time!" the rapper said.
Though the moment took the singer and everyone watching by surprise, she didn't let the incident get the best of her and eventually moved on. After a few years had passed, it seemed that Taylor Swift and Kanye West's feud was behind them. However, in 2016, it came back with a vengeance when the rapper released his hit single "Famous," in which he says, "I made that b—- famous," referring to Swift.
But the drama didn't stop there.
Shortly after the song's release, West claimed that Swift gave him permission to use her name in the lyrics. When the singer denied this, the rapper's wife Kim Kardashian West back him up by sharing a video of him on the phone with Swift discussing the song.
The singer later acknowledged that she and West did speak about the single but noted that she was never made aware that she would be called a "b—-."
The singer's drama with Kanye West messed her up more than she let on
Not long after the video of Kanye West and Taylor Swift's conversation began circulating through the internet, the singer found herself trending on Twitter — but not in a good way.
Seeing as the video showed her and West discussing the use of her name in the song, many felt that the singer was trying to play the victim in the situation and immediately began calling her out using "#TaylorSwiftIsOverParty."
The hashtag quickly became the No. 1 global trending topic on Twitter, which significantly impacted Swift.
In her 2020 Netflix documentary Miss Americana, the multi-Grammy winner opened up about this ordeal, sharing that she struggled to get past the negative things people were saying about her.
"When people decided I was wicked and evil and conniving and not a good person, that was the one that I couldn't really bounce back from, because my whole life was centered around it," she said in the film.
The situation had affected her so profoundly that she began questioning almost everything about herself.
"We're people who got into this life because we wanted people to like us, because we were intrinsically insecure," Swift said, according to Vulture. "Because we liked the sound of people clapping because it made us forget about how much we feel like we're not good enough."
She continued, "When people fall out of love with you, there's nothing you can do to make them change their mind. They just don't love you anymore. I just wanted to disappear."
And so, she did.
Once the backlash became too much to handle, Swift disappeared from the spotlight, thinking that's what people wanted her to do.
Taylor Swift found happiness again
While taking a break from the the spotlight, Taylor Swift basked in the joy of living her life away from prying eyes. Not only did she use this time to focus on herself and her craft, but Swift also fell in love, which she found to be a key element in her personal growth.
"I also was falling in love with someone who had a really wonderfully normal, balanced, grounded life. And we decided together that we wanted our relationship to be private," she said about her boyfriend Joe Alwyn in the documentary. "I was happy. But I wasn't happy in the way I was trained to be happy. It was happiness without anyone else's input. It's, just, we were happy."
Eventually, Swift returned to the public eye stronger, and more mature than ever, all while showing the world and Kanye West that they no longer had power over her.