Taylor Swift Didn't Even Tell Her Friends She Was Making 'folklore'
When Taylor Swift announced her eighth studio album, folklore, on July 23, 2020, millions of people were shocked. Swift is known for long and meticulous
When Taylor Swift announced her eighth studio album, folklore, on July 23, 2020, millions of people were shocked. Swift is known for long and meticulous build-ups to her albums featuring over the top singles and Easter eggs. Naturally, fans weren't prepared for the "this is me trying" singer to drop her album with less than 24 hours' notice. But fans weren't the only ones who were surprised by the now Grammy-nominated musical compilation.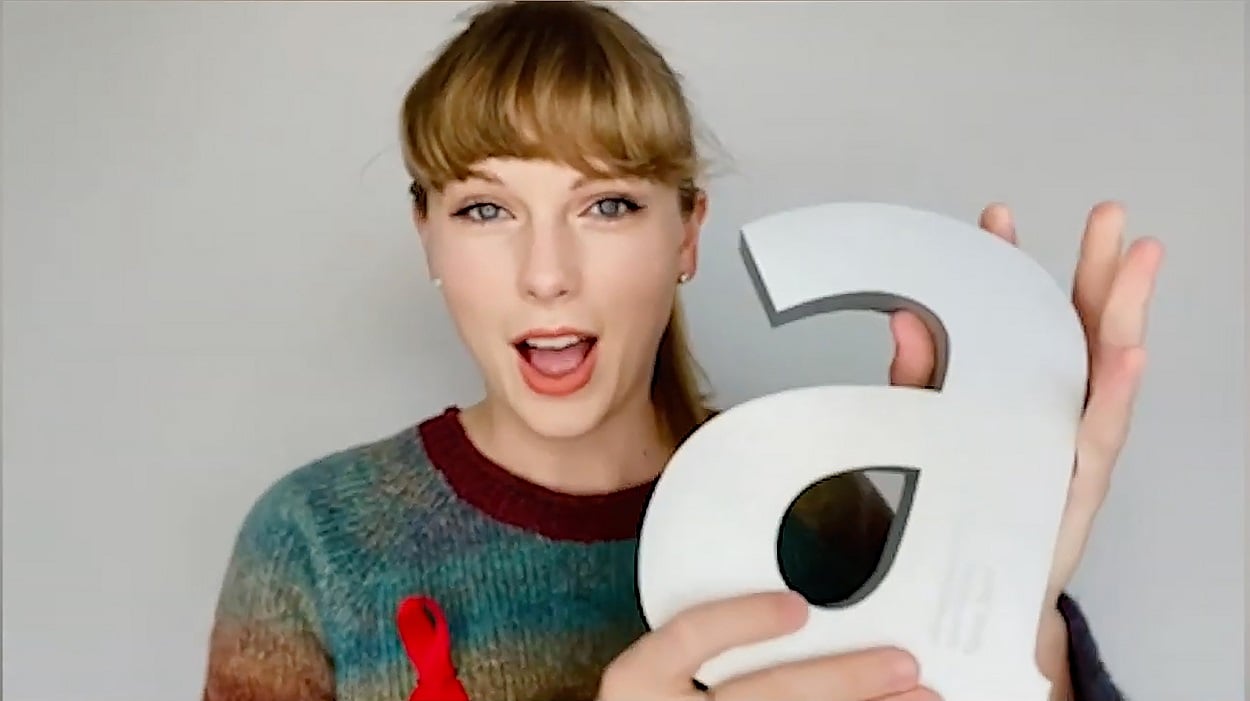 In fact, Swift's label wasn't even aware that she was working on folklore until about a week before the album released. In Swift's newest documentary concert, folklore: the long pond studio sessions the songwriter shared that she was very nervous about going to her label and presenting them with the idea for her latest album. She assumed she'd have to convince her record label that a surprise drop was the right way forward. But she was pleasantly surprised that Republic Records were all for her doing what she thought was best.
Taylor Swift didn't tell her friends she was making 'foklore'
But Swift didn't just keep her record label in the dark, most people in her life had no clue folklore existed until she released it to the masses. Even Swift's best friends were kept out of the loop. In the past, Swift has always given her friends previews of her albums. Her long-time best friend, Selena Gomez, even got to listen to Swift's sophomore album, Fearless, in its entirety before Swift shared it with the world.
But Swift was hellbent on breaking all of her rules for folklore and that included keeping the album mostly to herself until the last moment. In an interview with Entertainment Weekly, Swift got candid about exactly who knew she was making an album and what it was like when her friends finally learned of folklore's existence.
Only a few people knew that the 'august' singer was working on new songs
"It was weird because I had never made an album and not played it for my girlfriends or told my friends," Swift confessed. "The only people who knew were the people that I was making it with, my boyfriend, my family, and then my management team. So that's the smallest number of people I've ever had know about something. I'm usually playing it for everyone that I'm friends with. So I had a lot of friends texting me things like, 'Why didn't you say on our everyday FaceTimes you were making a record?'"
But what did it feel like for the "my tears ricochet" singer to keep a body of work so close to the chest? According to Swift, it felt like a bit of an escapism. She was free to explore an imaginative space without putting pressure on herself of what she thought an album should look and sound like. The result of this secrecy has become one of Swift's best albums in recent years.
Why Swift sees her latest album as a dream space
"Well, it felt like it was only my thing," Swift shared about folklore. "It felt like such an inner world I was escaping to every day that it almost didn't feel like an album. Because I wasn't making a song and finishing it and going, 'Oh my God, that is catchy.' I wasn't making these things with any purpose in mind. And so it was almost like having it just be mine was this really sweet, nice, pure part of the world as everything else in the world was burning and crashing and feeling this sickness and sadness. I almost didn't process it as an album. This was just my daydream space."
This new approach to creating an album certainly seemed to work well for Swift. Considering how well-received her album was, we're sure her friends forgive her for keeping them out of the loop.