Taylor Swift Fan Predicts '22' Is the Next Single Release After These Clues
Taylor Swift can't post on social media without fans immediately speculating what it all means. The star took to her Instagram and Twitter accounts showing off her outfit for the Brit Awards on May 11. She rocked a glittery silver two-piece set that resembled her outfits during the 1989 era. But her red lipstick and bangs gave fans flashbacks to the Red era, too. So what did it mean? One fan had a prediction that could hint to the next single of Swift's re-recordings.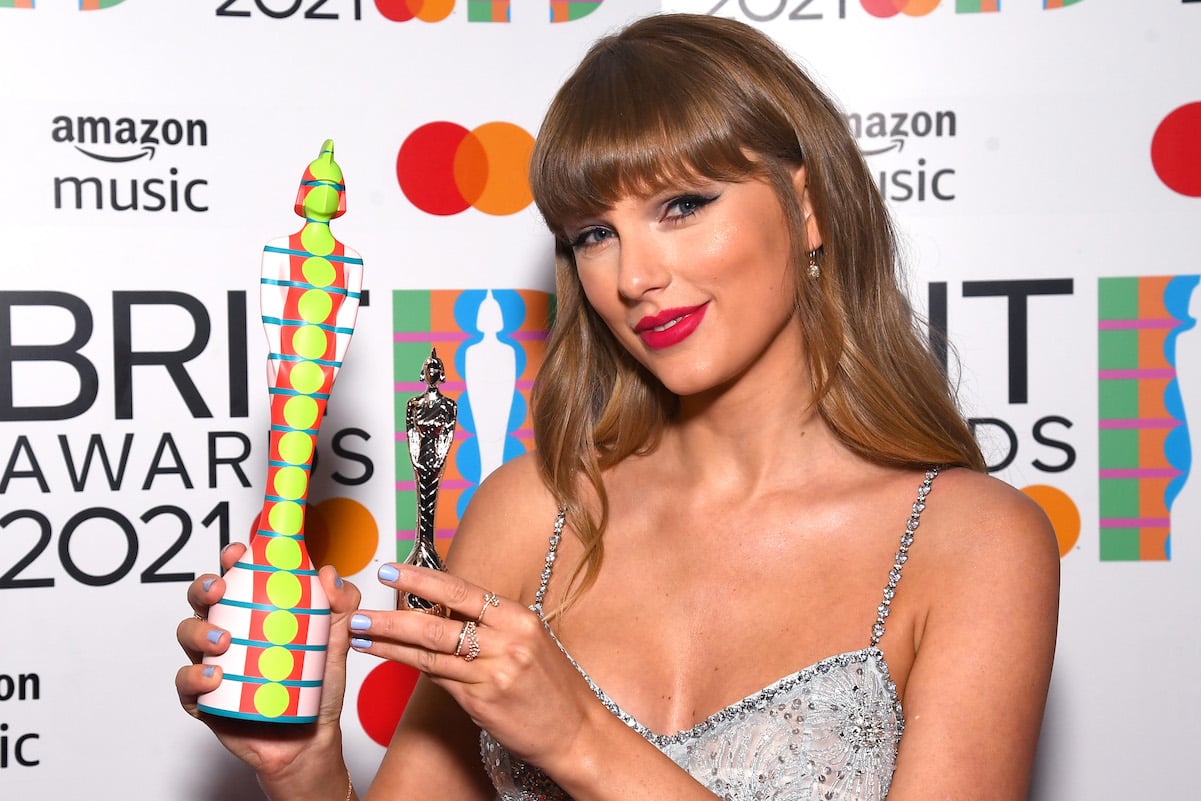 Taylor Swift accepted a Global Icon Award at the Brit Awards on May 11
Swift accepted the award for Global Icon at the Brit Awards after coming out with folklore and evermore in 2020.
"I want to think the Brits or anyone who decided I would be worthy of this incredible honor," she said in her speech. "I'm really, really proud to be part of this musical community. Especially in a year when we needed music so much."
She also thanked the NHS — the National Health Service — for their work during the coronavirus pandemic that affected the world in 2020.
"Making folklore and evermore was one of the most unique, cathartic, extraordinary experiences I've ever had," Swift continued.
The singer then took the opportunity to address newer artists just beginning their journey in music.
"There is no career path that comes free of negativity," she advised. "If you're being met with resistance, that probably means that you're doing something new. If you're experiencing turbulence or pressure, that probably means that you're rising."
"There might be times when you put your whole heart and soul into something, and it is met with cynicism, or skepticism — you cannot let that crush you," Swift concluded. "You have to let it fuel you."
A Taylor Swift fan on TikTok thinks '22' is the next single due to clues
RELATED: Taylor Swift Keeps Using 3 Emojis on Social Media and Here's What Fans Think It Means
A fan on TikTok theorized a new clue based on Swift's two social media posts on May 11. Swift first shared two pictures of her Brits look and captioned the post: "Spinning in my highest heels, luv." The lyric referenced "mirrorball" from folklore.
Swift's second post from the Brit Awards was of her and the Haim sisters. She captioned the picture: "We meet up every Tuesday night for dinner and a glass of wine." The lyric was from "no body, no crime," the collaborative song between Swift and Haim on evermore.
Both songs were the sixth track on the sister albums. The fan acknowledged that others think Swift might release "Shake It Off" next. The TikTok user rejected that hypothesis by pointing out Swift's hair, lips, and red glass in the Haim picture.
"She posted twice on May 11," the fan said. "11 times 2 is 22, which is track 6 on Red. I'm right."
Here are some other Taylor Swift theories fans have had recently
This is only one of plenty of Swift fan theories floating around the internet.
Other Swift fan theories have suggested that 1989 (Taylor's Version), Red (Taylor's Version), Speak Now (Taylor's Version), or a third folklore album could be next.
People were suspicious of Swift's heavy insinuation toward pizzas on The Late Show with Stephen Colbert interview. Pizzas were most commonly affiliated with the 1989 album. Also, Swift dropped a teaser of "Wildest Dreams (Taylor's Version)." She did that with "Love Story (Taylor's Version)" before she released Fearless (Taylor's Version).
But Swift's latest posts do lean toward the Red era. So far, it seems like Swift is intentionally sending mixed signals to have fun with her fans. None of us will truly know until Swift releases the tracks.