Taylor Swift Framed a Photo of That Infamous Moment With Kanye West
Taylor Swift and Kanye West are back in the news together yet again. Recently, The New York Times revealed that both West and Swift were last-minute Grammy nominees for album of the year. Swift, who won the prestigious award just last year for her album, folklore, has also received a nomination for folklore's sister album, evermore. Meanwhile, West received the nomination for his album, Donda, which is named for his late mother.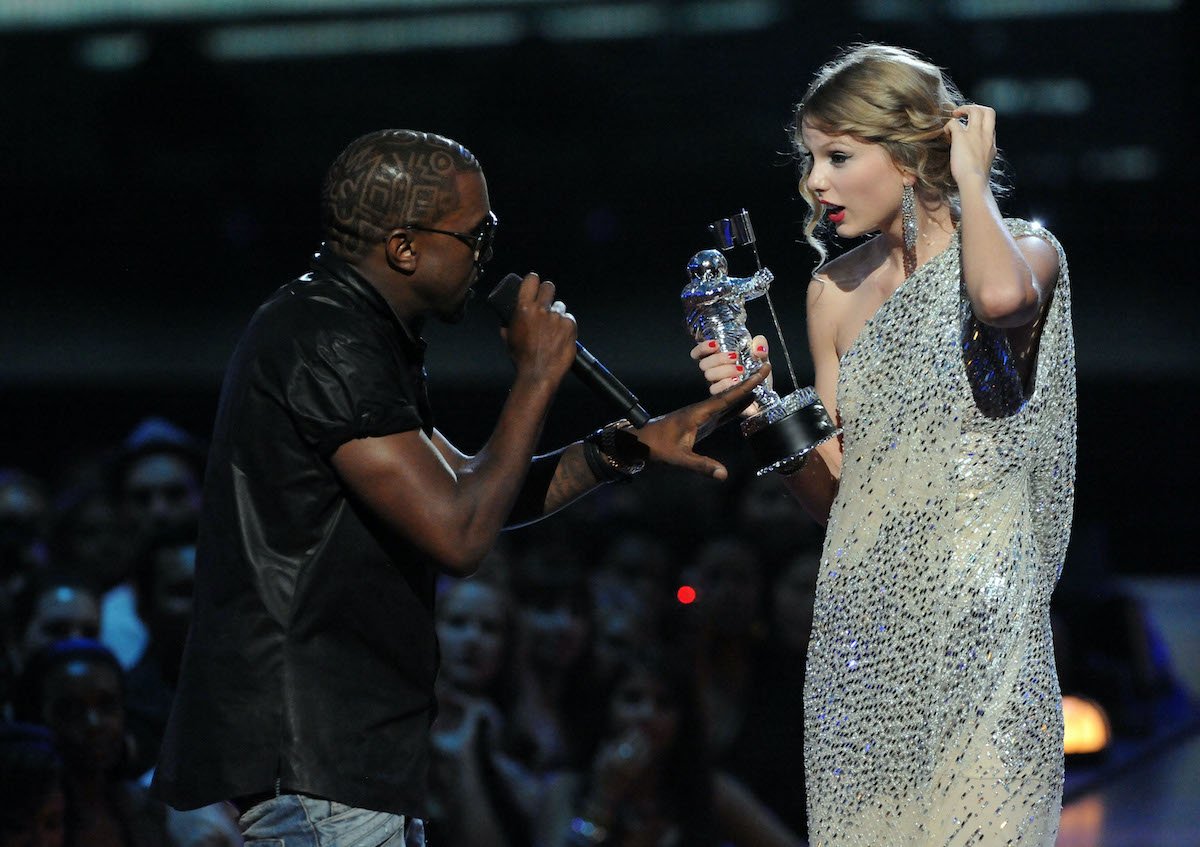 Naturally, once the news circulated that the All Too Well director and the Chicago native were nominated in the final hour, rumors began flying. Some people even speculated that the Grammys intentionally nominated West and Swift in a bid to boost ratings. As the pair have a long-standing and intense rivalry, getting them both to attend the ceremony could potentially cause more people to tune in.
The Recording Academy denies that Taylor Swift and Kanye West were nominated for last-minute Grammys to boost ratings
Of course, a representative from the Recording Academy was quick to share that Swift and West were nominated solely on the votes they received. Harvey Mason Jr., who serves as Chief Executive for the Recording Academy assured the Times that the artists were not selected for their Grammy appeal. "A thousand percent no," Mason declared when questioned. "That was not a consideration."
But even with Mason's statements, some people truly aren't convinced. It's no secret that the tension between Swift and West draws views and media attention. After all, their infamous feud spans back over a decade. It all began at the 2009 MTV Video Music Awards. When Swift won the best female video award for her song, "You Belong With Me", West famously interrupted her speech.
The 'All Too Well' singer framed a photo of the infamous VMA moment with West
"Yo Taylor," West began. "I'm really happy for you, Imma let you finish, but Beyoncé has one of the best videos of all time," West claimed. The "Homecoming" artist didn't get much further before he was booed. However, years later in her documentary Miss Americana, Swift revealed that she initially thought the boos were directed at her.
Swift has been candid about how that moment with West affected her. Still, it might be surprising to fans that the "I Bet You Think About Me" singer had a photo of that moment framed and displayed in her house. Back in 2013, Swift was interviewed by Vanity Fair, and the journalist revealed that "she also had a framed photograph of that moment at the 2009 MTV Video Music Awards when Kanye West interrupted her acceptance speech."
Why did Swift choose to immortalize such an intense moment and display it in her house?
But why did Swift choose to immortalize such a painful moment in her career? While her reasoning wasn't revealed in the aforementioned interview, it makes sense given what Swift has shared. In an interview with Variety, Swift got candid about how that tense moment with West pushed her to work harder. Perhaps the photograph served as a reminder for Swift to keep striving to prove people wrong.
"As a teenager who had only been in country music, attending my very first pop awards show, somebody stood up and sent me the message: 'You are not respected here. You shouldn't be here on this stage,'" Swift recalled. "That message was received, and it burrowed into my psyche more than anyone knew. … That can push you one of two ways: I could have just curled up and decided I'm never going to one of those events ever again, or it could make me work harder than anyone expects me to, and try things no one expected, and crave that respect — and hopefully, one day get it."
Swift certainly has received tons of respect since West interrupted her speech. While some might find it strange that she chose to display that moment in her home, clearly it worked out for her in the end.