Taylor Swift May Have Hinted at the Next Album She's Re-Recording
Taylor Swift has given her loyal fans plenty of reasons to be happy today. Red (Taylor's Version) has officially been released. The new album is, of course, Swift's rendition of one of her most iconic and beloved albums. In a bid to own all of her masters, the Pennsylvania native is re-recording her first six albums. However, she's making sure to incentivize fans along the way with easter eggs, new releases, exclusive merch, and more.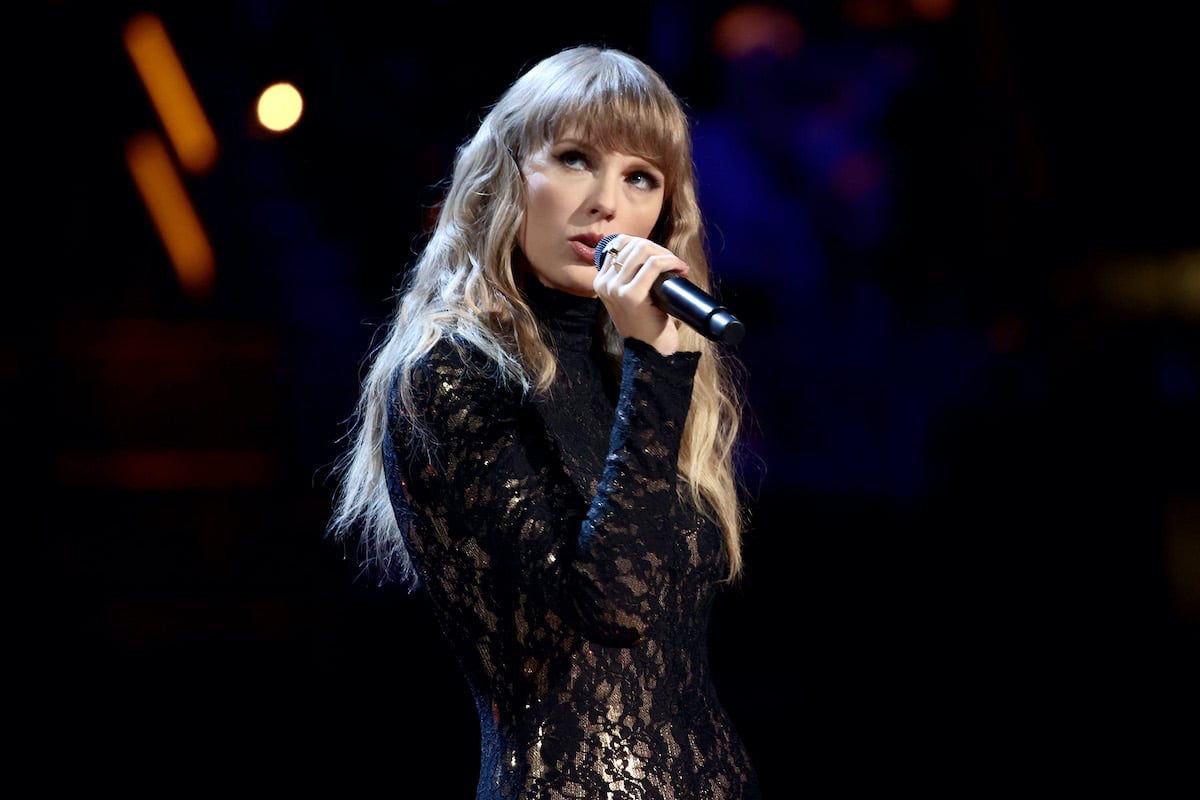 Swift seems to be enjoying promoting Red (Taylor's Version). She recently spoke about the new album on two late-night talk shows. Furthermore, she will be the musical guest on Saturday Night Live! on November 13. Swift has shared that she will be performing All Too Well (10 Minute Version) on the live show. If that wasn't enough, Swift will be releasing a short film for the song starring Sadie Sink and Dylan O'Brien.
Taylor Swift explains how her tradition of dropping easter eggs began
But even as fans are devouring the new album, which boasts a whopping 30 songs, they are still looking into the future. The "Blank Space" artist has a penchant for dropping hints and clues, or easter eggs, that tease what comes next. Over the years, Swift has teased songs, music videos, albums, and more weeks, months, or even years in advance. The "Red (Taylor's Version)" singer has all but trained her fans to look at everything she does as a clue. But how did this tradition begin?
Swift actually started dropping easter eggs when she was recording her first self-titled album. By purposely stylizing her lyrics in all lowercase letters, with the occasional uppercase letters, she spelled out secret messages for her fans. On The Tonight Show Starring Jimmy Fallon, Swift shared that she hoped that her secret clues would incentivize fans to read all of her lyrics.
The 'Red (Taylor's Version)' artist has teased new albums and songs years in advance
"It was really fun, it would tell them a story about the album or a hint about what the song was about," Swift shared. "And so that's when it started. But when it got out of control was — was when I started to realize that it wasn't just me who had fun with this, that they had fun with it too. And I should never have learned that because then I couldn't stop. And then all I started thinking of was how do I hint at things? Like, how far is too far in advance? Can I hint at something three years in advance? Can I even plan things out that far? I think I'm gonna try to do it."
Eventually, Swift tried and succeeded at hinting at things years in advance. So, naturally, fans are convinced she has already cryptically shared the next album that she is re-recording. But which one will it be? There are two distinct schools of thought.
Some fans believe the songwriter will re-record her album, '1989' next
In the aforementioned interview, Swift encouraged people to join on the easter egg fun if they were interested. "If you wanna go down a rabbit hole with us, come along the water's great," she said. "Jump in, we're all mad here." A seemingly innocuous statement to most people, but not for a Swiftie. "We're all made here" is a quote from Alice In Wonderland. And as Swift has a song called "Wonderland" on the deluxe edition of her album, 1989, some fans believe that will be the next re-recording.
But, Swift's post announcing Red (Taylor's Version) has other fans believe that a different album could be next on Swift's list to re-record. "Just a friendly reminder that I would never have thought it was possible to go back and remake my previous work, uncovering lost art and forgotten gems along the way, if you hadn't emboldened me," Swift penned. "Red is about to be mine again, but it has always been ours. Tonight we begin again. Red (my version) is out now."
Swift may have hinted that 'Speak Now' is her next project
Swift's message celebrating Red (Taylor's Version) contains both the words "mine" and "ours" in the same sentence. Both are song titles from the deluxe edition of Swift's third album, Speak Now. Therefore some people believe that will be the next album she re-records. Only time will tell who ends up being right. However, Swift may just surprise both groups and go with a different album altogether. In the meantime though, we're sure fans are excited about re-experiencing Red.