Is Taylor Swift Performing at the 2021 MTV VMAs?
Taylor Swift doesn't always attend the MTV VMAs. But when she does, her performances always draw a crowd. Is she going to sing at the 2021 event?
It's that time of year again: time for the MTV's Video Music Awards. The popular award show highlights the past year's releases and music videos. Past winner Taylor Swift is up for multiple VMAs in 2021, including Artist of the Year. But is she scheduled to perform at the event?
Taylor Swift's history at the VMAs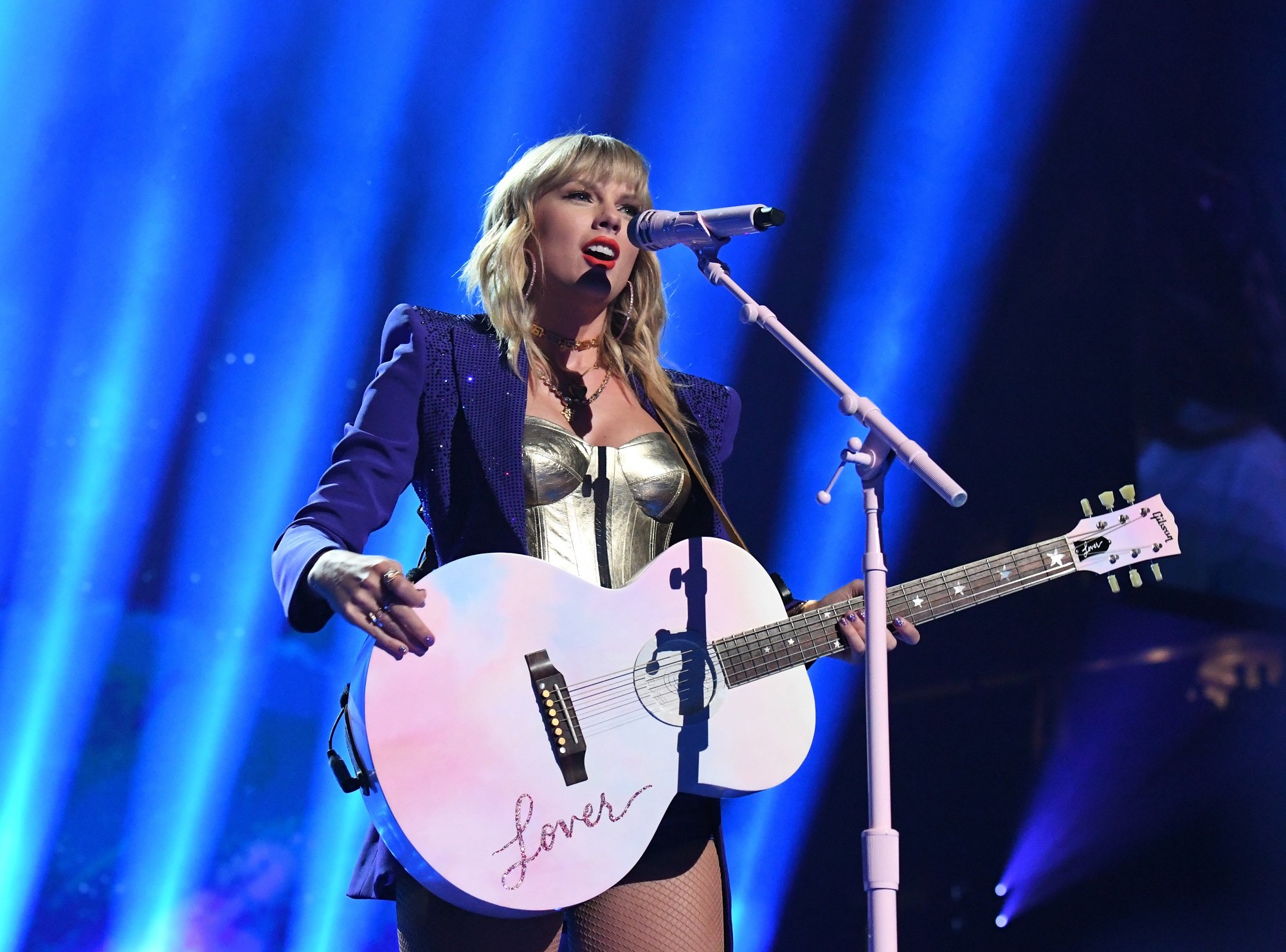 Swift's history with the VMAs is a rocky road. Beginning with her second year of nominations and second year she attended the awards ceremony in 2009. The win she left with was overshadowed by her new feud with Kanye West. The award for Best Female Video for "You Belong With Me" did not smooth over West's uttered words: "Taylor, I'm really happy for you, and Imma let you finish, but Beyoncé had one of the best videos of all time!"
The musician attended in 2010 where she performed "Innocent" — a rebuttal to the ordeal with West. Swift won again at the 2013 VMAs and performed in 2014 at the award. But 2015 marked her biggest year. She earned ten nominations, more than any other artist that year.  Swift won in four categories that year including Video of the Year, for "Bad Blood." Swift also presented at the awards in 2015.
Swift did not decide to attend the VMAs from 2016 to 2018, despite receiving nominations. For the first time in four years, Swift returned for the 2019 award show. Once again, she earned the designation of the most nominated artist at the event with a whopping 12 nominations. She left with three awards including her second Video of the Year for "You Need to Calm Down."
Swift hasn't performed live in awhile
Swift has been busy at home during the last two years. She has been writing new songs and released two surprise albums in 2020 to fan's delight. Her eighth album, Folklore, debuted in July 2020. Her second surprise release for 2020, Evermore, came out months later, in December.
A new project began around the same time. Swift recorded Fearless (Taylor's Version), releasing it in April 2021. Then came the announcement for her second re-recorded album, Red (Taylor's Version), scheduled to come out in November 2021. Swift continues to work on new music, but what about live shows?
Swift was scheduled to begin her Lover Fest tour shows in April 2020. However, the coronavirus (COVID-19) pandemic put a stop to this. She lamented having to postpone the tour, later canceling it altogether after authorities deemed it unsafe again in 2021. However, she did perform live at the 2021 Grammy Awards. But there's no word on Swift at the VMAs.
Who's performing at the 2021 VMAs?
The VMAs will be held Sunday, September 12, 2021. Doja Cat serves as host for the show in Barclays Center, Brooklyn. The VMAs will honor the fallen victims of 9/11 after its 20th anniversary by working with nonprofits in the area to promote awareness and positive action. The awards will be aired across MTV, MTV Live, MTVU, CMT, and CMT Music as well as on the ViacomCBS billboard in Times Square.
Taylor Swift once again joined the ranks of the greats with her nomination of Artist of the Year at the 2021 VMAs. She also scored nominations for Best Pop, Best Direction, and her art directors Ethan Tobman and Regina Fernadez are nominated for Best Art Direction.
Announced performers include Kacey Musgraves, Camila Cabello, Chlöe, Doja Cat, Lil Nas X, Lorde, Machine Gun Kelly, Shawn Mendes, and Olivia Rodrigo, and Twenty One Pilots, according to MTV.