Taylor Swift and Selena Gomez Have Both Been the Butt of 'Degrading' Jokes on TV
Long-time best friends Taylor Swift and Selena Gomez have quite a lot in common. They're both highly-successful singers who have been in the spotlight for more than half their lives. They also both have millions of fans who comprise two of the most intense fandoms in existence. While their successes have afforded them many privileges, life in the spotlight also means that they've had to deal with their fair share of criticism also.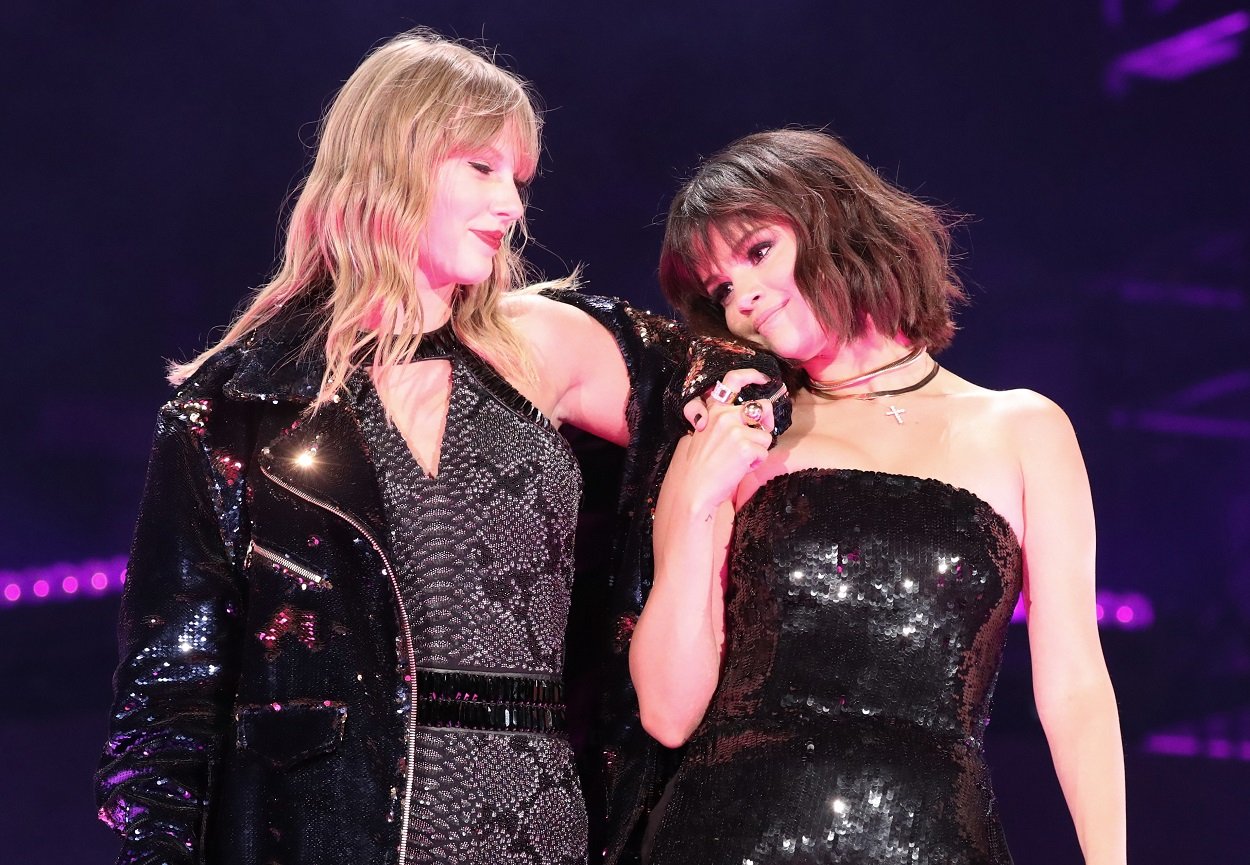 Both Gomez and Swift have faced criticism for their dating lives over the years. Critics have called out the "Lose You to Love Me" singer for who she had an off-and-on relationship with for years. Meanwhile, the evermore artist has been consistently called out for the number of men she dated during her late teens and early 20s.
Taylor Swift was ridiculed about her dating history for years
For years, Swift has been candid about how the slut-shaming she faced in her formative years affected her. She even managed to take control of the narrative with her song "Blank Space" back in 2014. However, since Swift has been dating Joe Alwyn for a number of years, that criticism has slowly died. Unfortunately, a new Netflix show, Ginny and Georgia, recently made a tasteless joke about Swift's dating history.
"What do you care? You got through men faster than Taylor Swift," was the line of dialogue in Ginny and Georgia that Swift's fans took offense to. After they saw it, they started a hashtag on Twitter demanding respect for the "Fearless" singer. Eventually, the joke reached Swift herself and she took to her Twitter to directly address the situation.
The 'Fearless' singer slams 'Ginny and Georgia' and Netflix for a sexist joke
"Hey Ginny & Georgia, 2010 called and it wants its lazy, deeply sexist joke back," Swift penned, also sharing the joke that was made about her. "How about we stop degrading hard-working women by defining this horse sh*t as FuNnY. Also, @netflix after Miss Americana this outfit doesn't look cute on you Happy Women's History Month I guess," Swift shared, referencing her documentary that released on Netflix back in January of 2020.
This situation with Swift may feel eerily to some fans because a similar situation happened to Gomez recently. Back in November of 2020, Selenators were deeply offended by a joke that was made at Gomez's expense in the Saved by the Bell reboot. The Peacock show was openly speculating about who Gomez's kidney donor is, even though it is public knowledge that Francia Raisa, was the donor for Gome's life-saving surgery.
'Saved by the Bell' made a joke about Selena Gomez's kidney transplant
"Now, I know for a fact that Selena Gomez's kidney donor was Justin Bieber's mom," one character stated. "God, I wish that I had my phone so that I could prove it." Another character quickly chimed in with an alternative theory. "Prove what, that you're an idiot?" the other character fires back. "It was Demi Lovato's kidney! They're best friends like you and I were."
Naturally, Gomez's fans were deeply disturbed by the joke and, much like Swift's fans, demanded respect for the singer. Eventually, Gomez was issued an apology, and a donation to her charity, which supports Lupus research, was made. Thus far, neither Ginny and Georgia nor Netflix have responded to Swift. Only time will tell if they address the poorly written joke.