Taylor Swift's Favorite Drinks Are Anything But Healthy
A lot of tasty drinks are high in calories. It can often surprise calorie counters to see just how many calories they're taking in from liquids. Delicious Starbucks drinks often have a lot of sweetener, which makes them a poor diet option. Juices are in the same boat. 
That's why it may surprise fans to know that Taylor Swift, who is known for her slim figure, loves to indulge in calorie-loaded drinks. She certainly keeps herself in shape despite those treats. She has a vigorous exercise routine, plus she drinks lots of water. It's so much that it almost sounds impossible.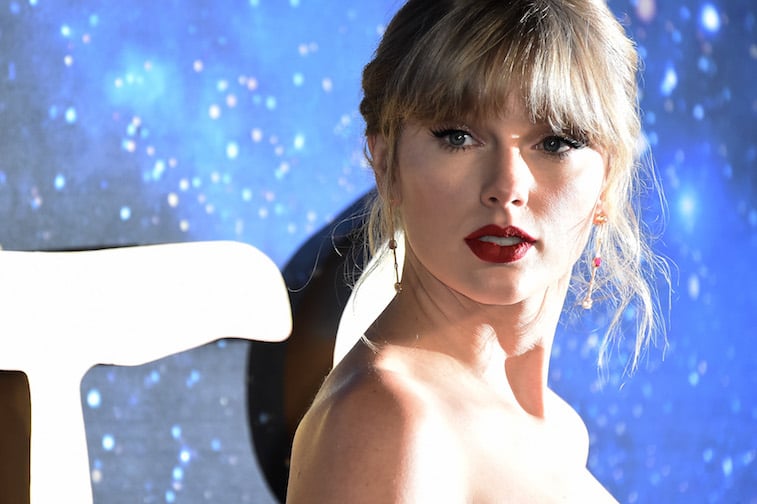 Taylor Swift drinks 10 bottles of water a day
It's not clear how she finds the time, but somehow Swift drinks 10 bottles of water a day. Not just any water. She's very specific about her brand. She carries a case of her favorite water in her car with her, so she's never caught without it.
Swift's water drinking habit is probably one of the reasons she looks so good. Swift is usually very radiant looking. Good hydration is good for the skin, so the two might be related.
Even though she tries to drink only water, she indulges in sugary drinks and alcohol. Her go-to juice is OJ, and she'll usually have a bottle in her fridge. She tries to only indulge on weekends. During the week she sticks to a healthy diet. 
She loves pumpkin spice lattes
These sweet and spicy Starbucks lattes are a favorite of Swift. That's no surprise to fans. Swift loves fall, and all things pumpkin. She makes pumpkin bread for her family in fall and likes to cook. 
She loves fall so much she wrote a poem about it, which included a nod to her favorite Starbucks drink. The poem, which Swift posted on Tumblr, has the lines "ANKLE BOOTS and not caring when people make fun of pumpkin flavored stuff cause you LOVE IT and are happy it's all the rage."
The poem is in a stream-of-consciousness style. It definitely gets the point across. Swift loves fall and her PSLs. 
The other drink she writes about? Alcohol. Swift did not drink at all until she turned 21, but she seems to have acquired a taste for it. She includes references to alcohol in her songs often. At least she does now. The album Reputation contains more than 10 references to alcohol or drinking. That's a lot more than her previous album, 1989.
Tracks on that album only mentioned alcohol twice. "Red," the album before that, contained no mention of alcohol. 
Taylor Swift's exercise routine is intense 
Fans may be wondering how Swift stays in shape, considering she loves high-calorie drinks. The answer is two-fold. First, she doesn't indulge often. Second, she has a killer exercise routine that keeps her in shape even when she does treat herself. 
Swift's exercise routine is cardio heavy. Unlike other stars who focus on strength training, Swift prefers to get her heart rate up. Cardio is very healthy, and her intense workouts likely give Swift more energy. She runs a few miles every day. She's been photographed running outside, but she'll do her miles inside on a treadmill also.
She likes the elliptical as well, which is another cardio workout. She's not afraid to get sweaty, even if it means the paparazzi have an opportunity to take an unflattering photo. Her workout routine is intense, but friends say she's not a fitness fanatic. She enjoys exercising, and so her workout is fun for her.
Fans may be disappointed to learn that they can't drink PSLs all day and end up with a body like Swift. A lot of thought and planning goes into Swift's diet and exercise routine. Because of her dedication to fitness, she can have unhealthy drinks and still look great.