Taylor Swift's Original Albums Were Removed From Her Spotify Page — but Not Because of Scooter Braun
On May 8, fans trended the hashtag #TaylorSwiftSpotify on Twitter to call out Scooter Braun. With the hashtag, fans accused Braun of hiding Taylor Swift's original albums from her Spotify page while leaving Big Machine Records' radio release versions up. However, it was revealed Braun was not the reason this change occurred on Swift's Spotify page.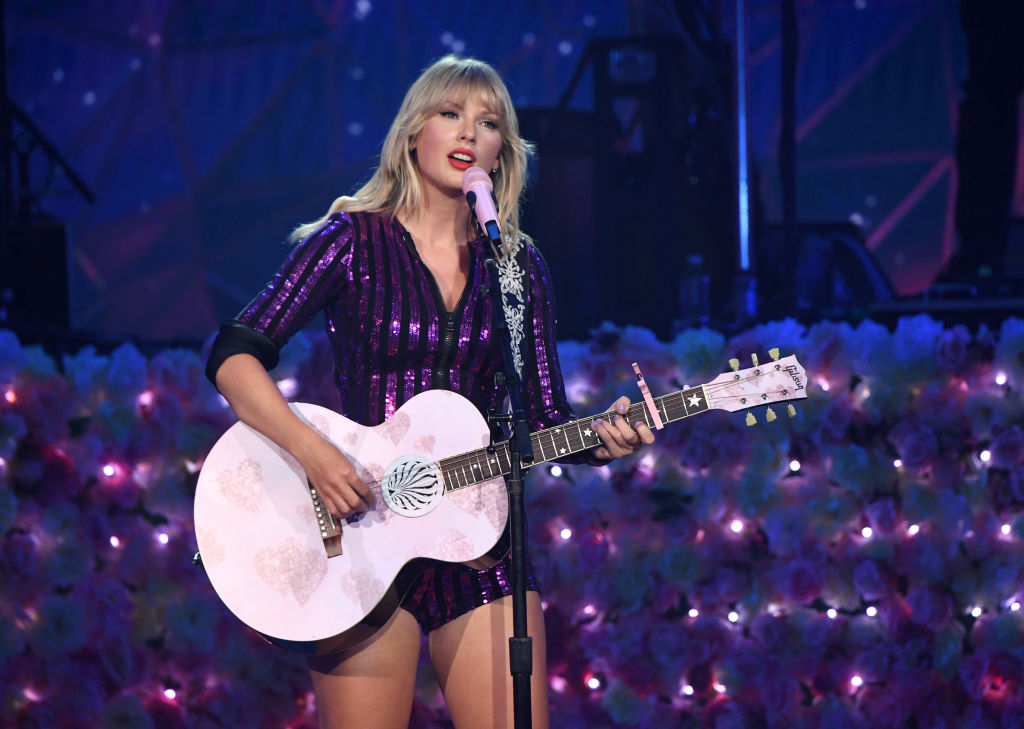 Scooter Braun bought Big Machine Label Group in 2019
Braun purchased Big Machine Label Group and the masters to Swift's first six albums in June 2019. In a Tumblr post, Swift expressed her disappointment at Braun purchasing the label and called out Scott Borchetta for not giving her the chance to purchase her own music.
"For years I asked, pleaded for a chance to own my work," Swift wrote on Tumblr. "Instead I was given an opportunity to sign back up to Big Machine Records and 'earn' one album back at a time, one for every new one I turned in. I walked away because I knew once I signed that contract, Scott Borchetta would sell the label, thereby selling me and my future."
Swift told fans that Braun buying the label was her "worst case scenario."
"This is what happens when you sign a deal at fifteen to someone for whom the term 'loyalty' is clearly just a contractual concept," Swift wrote. "… Never in my worst nightmares did I imagine the buyer would be Scooter. Any time Scott Borchetta has heard the words 'Scooter Braun' escape my lips, it was when I was either crying or trying not to. He knew what he was doing; they both did. Controlling a woman who didn't want to be associated with them. In perpetuity. That means forever."
Taylor Swift called out Scooter Braun for 'shameless greed'
On April 23, Swift called out Braun and her old record label for "shameless greed" during the coronavirus (COVID-19) outbreak after she learned Big Machine Label Group planned to release an album of a live performance of hers without her approval.
In her Instagram story she wrote:
"Hey guys – I want to thank my fans for making me aware that my former record label is putting out an 'album' of live performances of mine tonight. This recording is from a 2008 radio show performance I did when I was 18. Big Machine has listed the date as a 2017 release but they're actually releasing it tonight at midnight.

I'm always honest with you guys about this stuff so I just wanted to tell you that this release is not approved by me. It looks to me like Scooter Braun and his financial backers, 23 Capital, Alex Soros and the Soros family and the Carlyle Group have seen the latest balance sheets and realized that paying $330 MILLION for my music wasn't exactly a wise choice and they need money

In my opinion…Just another case of shameless greed in the time of Coronavirus. So tasteless, but very transparent."
Fans spoke up for the singer
On May 8, Swift's fans accused Braun and the label of greed. According to fans, Swift's original albums were only available on Spotify if one searched for them, but the radio release versions by Big Machine Records were still available on the singer's page.
"Taylor Swift's original albums are no longer available on Spotify unless you search for them. However, The Big Machine Specials have been kept, yet another DISGUSTING act of shameless greed. Reply with #TaylorSwiftSpotify," a fan account tweeted.
"Scooter and Scott hid the original albums because not many people will notice this change and if we stream the big machine releases, the money from the streams goes straight into their pockets. They're exploiting Taylor and it needs to STOP. #TaylorSwiftSpotify," another fan tweeted.
And yet another fan called the situation "absolutely disgusting."
"Scooter thinks using Taylor for money and exploiting her work during a pandemic is a clever move, it's absolutely disgusting. As Taylor said 'In my opinion…just another case of shameless greed in the time of Coronavirus. So tasteless, but very transparent.' #TaylorSwiftSpotify," the Twitter user wrote.
Scooter Braun did not hide Taylor Swift's albums on Spotify
After the hashtag trended, Insider confirmed that an internal glitch caused the error on Swift's Spotify page.
According to Insider, "the glitch occurred during a routine cleanup from the brand's operations team."
Spotify also released a statement on the company's Twitter account.
"Unfortunately, we woke up to an internal issue with Taylor Swift's artist page, as well as the pages of some Big Machine artists," the statement said. "The issue has been resolved and will be updated for all users momentarily."