Tayshia Adams Is Done Dating Bachelor Nation: 'Respectfully, I Think I'm Good'
Tayshia Adams fell in love and got engaged in her season of The Bachelorette. But since her breakup, the reality star and TV host now says she's no longer interested in dating anyone from Bachelor Nation.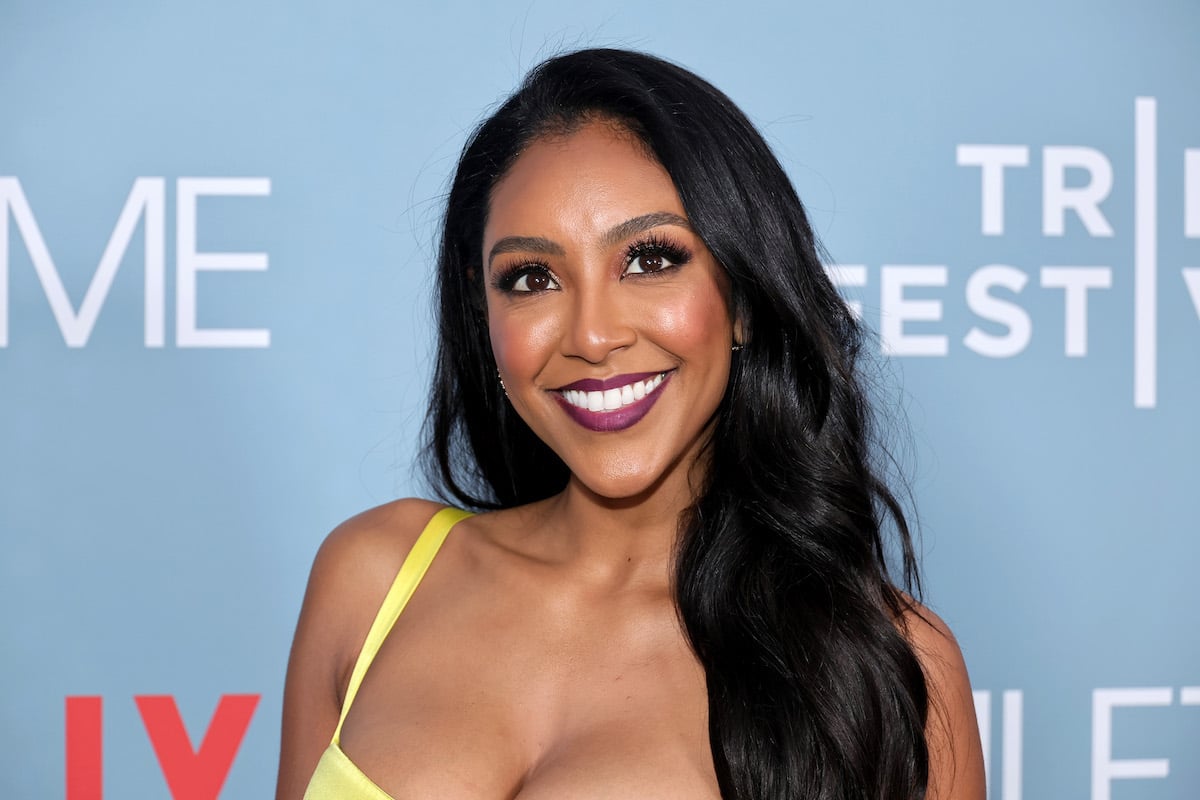 Tayshia Adams broke up with her 'The Bachelorette' pick Zac Clark in 2021
Adams fell in love with contestant Zac Clark during season 16 of The Bachelorette. The two were engaged in the season finale and continued their romance for a little over a year.
In late 2021, Adams and Clark confirmed they had split. And during The Bachelorette Season 18 "Men Tell All" special, the reality star tearfully revealed how difficult their breakup had been. 
"All in all, all I have to say is that I'm heartbroken," Adams told her co-host and fellow Bachelorette star Kaitlyn Bristowe. "But we tried really hard, and I still love him very much. And I'm not sure that the future holds."
"I mean, you know how it is," she added, alluding to Bristowe's split with Shawn Booth. "It's really tough."
Talking about the breakup so publicly left Adams emotional. And before the episode ended, she walked off stage to give herself some time to reset.
Tayshia Adams doesn't want to date men from Bachelor Nation 
Bachelor Nation features a pool of dozens of single men and women. But after her experience with Clark, the 31-year-old wants to steer clear of inter-franchise relationships.
"I think I'm good, respectfully," Adams said in a recent chat with ET when asked whether she'd be interested in dating within Bachelor Nation again. "Respectfully, I think I'm good. I think I'm good."
Adams revealed that she's been doing her "own thing" since her November 2021 breakup with Clark. And she suggested she's focusing on "coming back" to her "center."
'The Bachelorette' star is done with the franchise for now
Adams made her TV debut on Colton Underwood's season of The Bachelor in 2019. Then after her 2020 season of The Bachelorette, she appeared on season 6 of Bachelor in Paradise and went on to co-host the last two seasons of The Bachelorette with Bristowe. 
Adams has since worked in television outside of the Bachelor franchise, with gigs hosting Entertainment Tonight and E! Daily Pop. And ahead of her 2022 MTV Movie and TV Awards Unscripted hosting duties, Adams suggested she's enjoying these outside endeavors and has no immediate intentions of returning to host The Bachelorette.
"We'll see what happens," she told ET. "I feel like I'm doing pretty well doing [with] some other things."
In a March 2022 episode of The Drew Barrymore Show, host Drew Barrymore asked Adams whether she wanted to return to the franchise. "I have to say, at least, that time really served me," she replied. "It's taken up a lot of 'me time' for the last four years. I'm ready to just do the next thing — it's a pause."
While Tayshia Adams has closed the door to Bachelor Nation dating, it looks like she's still keeping her professional options open. So there is a chance that Bachelor Nation fans will see her back in a hosting role sometime in the future. 
RELATED: 'The Bachelorette': What Is Tayshia Adams' Job? The Bachelor Nation Star Explains What She Does For Living Now